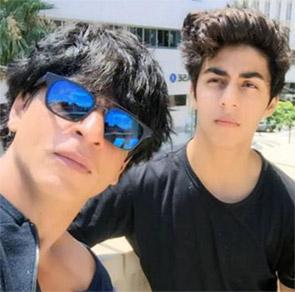 Karan Johar has always been a bestie to Shah Rukh Khan.
But the director now claims that he has called dibs on launching SRK's son, Aryan Khan, when he's ready to step into the glamour industry.
The 43-year-old director claims that the 50-year-old actor is beyond family to him, reports the Dawn.
He added, 'In fact, my equation with him has moved from him to his kids now. I always tell him that I am going to maintain my youth quotient only because I want to launch Aryan. No one else can launch Aryan but me.'
Karan credits his career as an esteemed filmmaker to SRK, along with Aditya Chopra.
He said, 'Shah Rukh was the one who felt that I could be a filmmaker. Working with him hasn't just been an honour but a big thing for my career. When he chose me, it was a big deal for me.
'Working with him has taught me everything about movies. His technical expertise and intuition as an actor has made me a better filmmaker.
It was them who made me realise that perhaps I have the potential to become a director. Otherwise, it didn't cross my mind.'
In the picture: Shah Rukh Khan with son Aryan. Photograph: Shah Rukh Khan/ Twitter