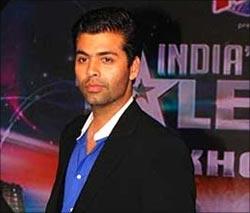 Karan Johar has obviously not had enough of reality TV shows yet.

He returns with yet another reality show called India's Got Talent, which starts on September 22 on Colors, and he's quite thrilled about it.

"This show happened as I was doing Jhalak Dikhhla Jaa. I loved watching this show. Ironically, I was offered the first season but I couldn't make it then. So I was fourth time lucky to be part of the show," he said.

"I have got a lot more from India's Got Talent than I have contributed. There are so many talented people from different parts of the country," he says.

"What moves me is the human story; it amazes me that some of them leave their daily jobs just to keep their passion alive. I am glad that I did this show."

He said some of the contestants do such strange things, "you want to kill and send them back. Luckily, those buzzers help us to stop those acts."

One of the contestants that touched his heart was the three-year-old drummer.
"I couldn't get over it; he was drumming like a rock star. I went on the stage to see whether he was really playing drums or were there some special effects. When kids are involved, I can't break their hearts."
Another thing that he feels very strongly about is his close friend Shah Rukh Khan, and his latest romantic film, Jab Tak Hai Jaan, directed by Yash Chopra, written and produced by Aditya Chopra.
"I think no one can beat Shah Rukh in romance; he owns that space. If and when I am challenged to write a love story which I feel I can justify, I will definitely make it. Right now, I don't know if there is enough in me to make another love story."
Karan says he can't wait to see Jab Tak Hai Jaan. "It's a film by Yash uncle, coupled with Shah Rukh's romance with Katrina and Anushka. It will be spectacular."
Karan and Shah Rukh have created wonders whenever they have worked together. Is he planning to direct a romantic film with SRK? 
"There are so many love stories that are being made. I feel there should be something unusual about the love story for me to make it into a film.
"Working with Shah Rukh is always great. I hope and pray that I come up with films that would justify his tremendous star presence," he signs off.