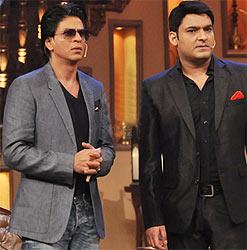 After a major fire broke out on the sets of Comedy Nights with Kapil at Goregaon's Film City, a suburb in Mumbai, there were reports that Kapil Sharma was questioned by officials of the service tax department for allegedly not paying tax amounting to nearly Rs 65 lakh.

Kapil is upset at the amount of publicity the tax issue has got.

He clarified, "It pertained only to the service tax and not income tax. I am very upset with reports saying that I am a tax evader."

He says he has not been interrogated by the tax department. "I have been mislead and misquoted and whatever you all are reading with regard to the IT news raid is all rubbish.

"This service tax department imposed service tax on artistes since July last year, and I have already paid Rs 35 lakh as service tax. I have to pay the remaining Rs 30 lakh in October," he said.

The fire has added to his woes. Kapil was unable to shoot with Sonu Nigam due to the mishap.

"We were even planning to shoot with Akshay Kumar and Hrithik Roshan for the promotion of their forthcoming films. But, unfortunately, due to the tragedy we have changed our plans. Akshay is going out of the country and once the set up is ready, we will work out on that too."

Some high-end equipment used in the show was destroyed in the fire. Reports put the losses at Rs 20-22 crore.

"God knows who gave that figure. Even the channels and I am not aware about it. The sets were ready for the shoot with Sonu Nigam on that particular day. We had all the lights,
expensive sound systems, camera and other properties ready.
"The exact cause of the fire is yet to be ascertained. Investigations are still on. We will come to know the exact loss/figures only after the police verification."
The comedian is overwhelmed at being offered help from legendary singer Lata Mangeshkar, Shah Rukh Khan, and Rohit Shetty.
"I would like to make a special mention of this. Lata
ji
(Mangeshkar) called me and said if you need any kind of help, whether monetary or anything, let me know.
"I felt like telling Lataji please sing a song for me. But I couldn't say that.
Woh sochengi ki maine afsos jatane ke liye phone kiya aur ye bandha kya bol raha hai
(She would think I called to extend sympathies and this is what he is asking me).
"It was a big thing for me. I told her that my father was a big fan of hers. I forgot about my troubles for a while. I didn't know what to talk to her about.
"Rohit Shetty, Shah Rukh and a lot of people from the industry called me and said '
Hum tumhare saath hain batao kitne din mein set khada karna hai
(
We are with you, tell us in how many days do you want to get the set ready
).' This industry is like a family," Kapil said.
The episodes which aired on the weekend were recorded earlier. For upcoming episodes the shooting will be done on the sets of
Bigg Boss
.
Kapil said Viacom18 has been very supportive and is trying to get the best floor to reconstruct a new set. Not a single episode will be missed and in fact some new elements will be added.
"When celebrities go on other shows they sit and just give comments. But on our show we create such an atmosphere that they also participate with us in the act.
"They don't even realise that they have acted for free and gone! Everybody has fun and the common man also relates to our show," he said.