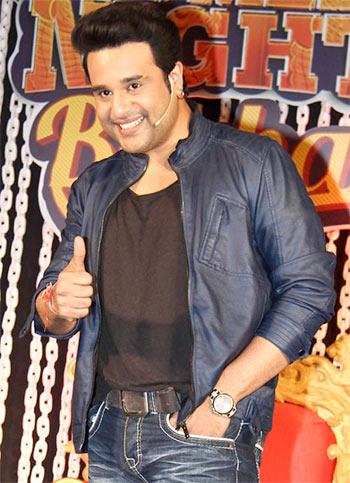 'I want to be known by my name, not as a character. I have my own branding. I think Kapil Sharma is angry with that. That could be one of the reasons why he did not invite me (on Comedy Nights With Kapil) during my film promotions.'
Krushna Abhishek sets the record straight.
The Krushna Abhishek-Kapil Sharma war seems to be out in the open.
After Kapil's unceremonious exit from Comedy Nights With Kapil, Krushna took over as the host, and the show was re-titled Comedy Nights Live.
The two do not talk with each other, and Krushna has his own theories about who's inciting the trouble.
He vents out to Rediff.com contributor Rajul Hegde.
Why do you think Kapil left Comedy Nights Live With Kapil?
I wanted Kapil to stay back. I was very happy with Comedy Bachao and did not have any interest of taking over his show. When I started my career, I never knew I would get into comedy. I came here as a blank slate. I discovered the comedy in me through Comedy Circus.
I am not here to make a big name as a stand-up comedian. I am an actor, not a stand-up comedian. With a good script, I perform well.
I wouldn't call Kapil a complete actor but for me, he is the best stand-up comedian in India.
Go on…
But ask him why he left the show. Since Bachao was new, we were getting good TRPs and it surpassed their show. They had an issue with that. Also, they knew they had reached a saturation point.
Actually, we had a healthy competition but he quit. I replaced him because he left the show and channel decided to come up with Krushna's family in Comedy Nights Live.
It will take at least a couple of months for any show to settle in. This show will also get set. The opening was mind blowing. People were angry that Kapil was not there but now he is coming back with his own show.
When we were doing Comedy Classes, Kapil was on top and our show was not doing well. We were happy for him, not jealous. But we wanted to reach there too. Now, we have reached there with our hard work.
Earlier, it was no fun because we were not on par. Now, we are in neck-to-neck competition with them. There will be a face-off between us.
Do you think you are a brand like Kapil?
Brand mein pheley bhi tha (I was always a brand) but the brand value has gone up now. I am doing more shows, getting more money after Comedy Bachao. People are paying more attention to me. I am getting more live shows.
Our shows are interesting, sometimes there is a dip in the TRPs but that happens with all shows.
Kapil Sharma and you have always had a cold war. He did not invite you to promote your film Entertainment with Akshay Kumar on his show.
May be he felt that why should he sit and interview me on his show when we are contemporaries. It's okay, never mind. It's a healthy career fight.
Preeti Simoes (the creative head of Comedy Nights With Kapil) and other people around him have created the rivalry, not Kapil.
Preeti made a statement: 'How can anyone compare themselves to Kapil? These are two different worlds. It is like Bajirao Mastani being compared to Kya Kool Hai Hum.'
But I want to tell her that I was a part of Kya Kool Hai Hum, but I didn't see them in Bajirao Mastani.
Are you on talking terms with Kapil?
No, he doesn't talk to me. We have met four-five times in the last couple of years. He invited me on his show but I declined.
I made a statement as well, saying, 'I am an actor and cannot be slotted as a stand-up comedian like him. If I am invited to his show, I will need my own space to do my act rather than be one among the 10 people performing. Firstly, you cannot afford me. If you do, I will not make a two-three minutes entry."
I want to be known by my name, not as a character. I have my own branding. I think he is angry with that. That could be one of the reasons why he did not invite me during my film promotions.
Kismat mein yeh nahi pata thi ki woh jis show may mujhe nahi bulayega woh hi show ki kursi main le lunga (He did not know that I was destined to take over the show that he once refused to invite me to.)
How will OMG! Yeh Hai Mera India be different than your two other shows, Comedy Bachao and Comedy Nights Live?
I have done various dance reality and comedy shows for years now. But I have always wanted to do a sophisticated show that would project my refined side, that would be funny yet not over-the-top.
I do not do comedy all the time in real life. I am a different person on stage.
I was offered this show at the right time but I was worried about balancing the three shows. But you learn to manage time. OMG came as a breaker between these two comedy shows.
This show is for the History channel and caters to a different class of audience. There is no slapstick. I have to be myself and talk about the uniqueness of people and the places in India. Most of the stories in the show have surprised me.
What is your OMG moment in life?
When I replaced Kapil Sharma on his show. It was a mixed feeling. I was nervous and excited at the same time. But it was a big opportunity.
What kind of feedback have you got for Comedy Nights Live?
People are berating us on social media.
Honestly, a majority of the people have not liked it and we expected that. When we were planning Comedy Bachao, I was asked if people like Shah Rukh Khan would come on my show to get roasted. Why would any big personality come on a show to get insulted?
Luckily, our show is doing well and the channel is happy. Everybody is talking about the show and most of them have liked it. Everybody wants to come on Comedy Bachao. Shah Rukh, Salman Khan, Deepika Padukone and Ranveer Singh have already come on our show. Now, we have set a bar for the show.
After Salmanbhai, everyone starting coming on Comedy Bachao. He had come to meet Katrina Kaif during Comedy Nights Live but when he learnt we were shooting, he came on stage to give a boost to our show. It's such a big thing for us. He also tweets about our show.
Even Shah Rukh sir showered lot of love when he was on the show.
I am waiting for Abhishek Bachchan during Houseful 3. I have a different connect with him since I have worked with him. I may not roast him if he comes on Bachao but we will have more fun if he comes on Comedy Nights Live.
Do you get time for yourself and your family?
I need a good sleep.
I crash as soon as I reach home. Sometimes I hardly sleep for four-five hours. There is no time for others, so I do have fights. But they all are happy for me.
All actors do not get these opportunities, and we need to respect that. We are running the two biggest comedy shows of India till Kapil's show goes on air. What can be bigger than this?