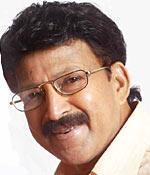 Leading Kannada film actor Dr Vishnuvardhan passed away at Mysore in the wee hours of Wednesday following a cardiac arrest.
The 59-year-old actor, popularly known as Sahasasimha, had complained of chest pain on Tuesday night. However, he passed away at around 2.30 am while being taken to Vikram Hospital in Mysore, where he was being treated for a leg problem. 
The actor's body has been kept at National College grounds in Bengaluru for visitors to pay their last respects on Wednesday.
Thousands of fans and celebrities had gathered at Vishnuvardhan's Bengaluru residence at 4th block, Jayanagar, where his body was first kept.
The actor is married to Bharathi, a Kannada actress, and has two adopted daughters Keerthi and Chandana.
Karnataka Chief Minister B S Yeddyurappa, who was one of the first to reach the residence, said the state had lost one of its greatest actors.
He said he would declare the mourning period in the state and that Vishnuvardhan's last rites would be done with complete state honours.
Yeddyurappa also called on the Fans Association to maintain calm.
Vishnuvardhan's wife Bharathi also appealed for calm among the fans, saying her husband was a peace loving person.
Movie theatres in Karnataka will remain shut on Wednesday in respect to the departed star.
Just a day ago, the Karnataka film industry had lost another great artiste, music composer C Aswath.
Vishnuvardhan, who has acted in 190 films, was not only known as one of the greatest actors of Kannada film industry following Dr Raj Kumar, but also as a simple and generous human being.
Two of his films Aaptha Rakshaka -- his 200th film -- and Aaptha Mithra were to be released shortly.
Born on September 18, 1950, in Mysore as Samapth Kumar, the actor adopted the screen name Vishnuvardhan at the insistence of Puttana Kanagal, who directed him in his film Nagarahavu.
He made his debut in the film Vamshavruksha directed by Girish Karnad. The movie won a National Award.
However, it was the film Nagarahavu that took the actor to meteoric heights of fame.
Prior to becoming an actor, Vishnuvardhan had started off as a singer and has sung for selected films and devotional albums.
Karnataka minister Suresh Kumar said the state was "devastated over the death of the greatest actor of the Kannada film industry".  
Some of his biggest hits were Vamsha Vruksha, Nagarahaavu, Suprabhatha, Leela,   Bandhana, Kaidhi,  Yajamana  and Aaptha Mithra among others.
The actor has also won many prestigious awards, including seven state awards and five Filmfare awards.
Image: Kannada film actor Vishnuvardhan