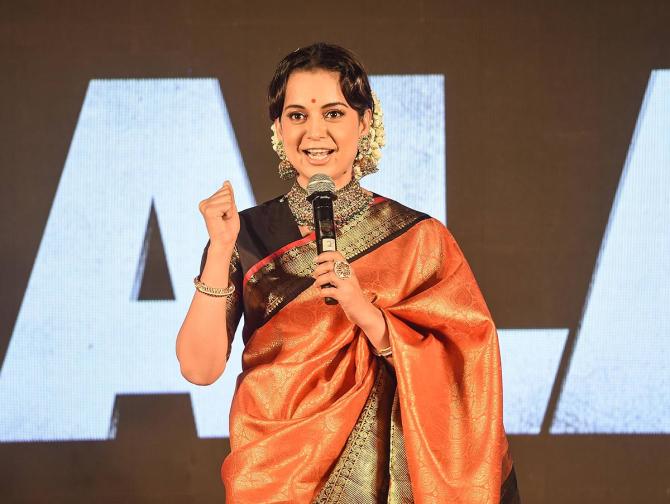 Kangana Ranaut released the trailer of her film Thalaivi on her birthday on March 23.
The actress was in a good mood as she had won a National Award for her performances in the films, Manikarnika and Panga, just the day before.
Kangana discusses her experience of playing former Tamil Nadu chief minister J Jayalalithaa in Thalaivi, but she can't help but comment on the way Bollywood has treated her.
"Whether it's friction with the media, me getting banned by the media, or getting banned by the film industry or heroes, everywhere, I am getting banned," she said as Rediff.com Contributor Mohnish Singh took notes.
How important is Thalaivi for you?
This film is very important for me.
I get offered a lot of strong women characters, but deep down, I know that I have borrowed their lives, their achievements.
Jayalalithaa had gone through this entire journey.
This is her life, and I will always be indebted to her.
People almost consider her as a God in Tamil Nadu, and even though I do not belong to that part of the country, they accepted me wholeheartedly.
Writer (K V) Vijayendra Prasadji, who understands the culture and traditions of Tamil Nadu so well, offered me this film.
It was an emotional moment for me.
It comes with a lot of responsibility as well.
I am happy to see the response that we have received for the trailer.
Were there any apprehensions before coming onboard the film?
Initially, I had thought that people would criticise me, especially from the south, as we always point fingers at how actors from the region are not signed for these specific roles.
During Manikarnika also, a lot of people felt that why not a Marathi should have played the part.
I thank each and every one for such a great response and encouragement.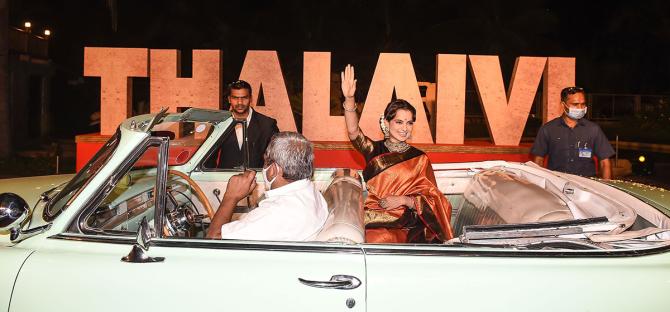 What kind of challenges did the team face while working on this project?
We faced a lot of problems during the pandemic.
There were several scenes involving crowds, like political rallies, parliament scenes, etc.
At one point, we thought that we would not be able to make the film, and even if we did, it would be a compromised product.
We started the film towards the end of 2019 and we had to stop the shoot in March 2020 because of the pandemic.
Then I had to go through a political comedy in Mumbai (referring to her row with the BMC over alleged alterations carried at her office).
When I resumed the shoot, there would be scenes of political rallies or the parliament.
It all looked so uncanny and eerie.
I was surrounded by everything political at that time, on screen and off.
Tell us about the emotional transformation that you underwent to get into the skin of this character.
When Vijayendra Prasadji said he wanted me to play this role, I wondered why, as I never thought that there were similarities between Jayalalithaa and me.
When I met Director Vijay sir, we felt Jayalalithaa and me are poles apart.
My framework is skinny, I have an angular jawline and cheekbones.
Then we went to America and did a lot of look tests, but Vijay sir was not convinced with them.
At the same time, I was researching her and watching her movies.
For the young age, I started gaining weight as she was curvaceous and beautiful.
It is so surprising that I actually started to look exactly like Jaya Maa.
That was a strange thing that I experienced. It was either her blessing or a desire that this film should get made.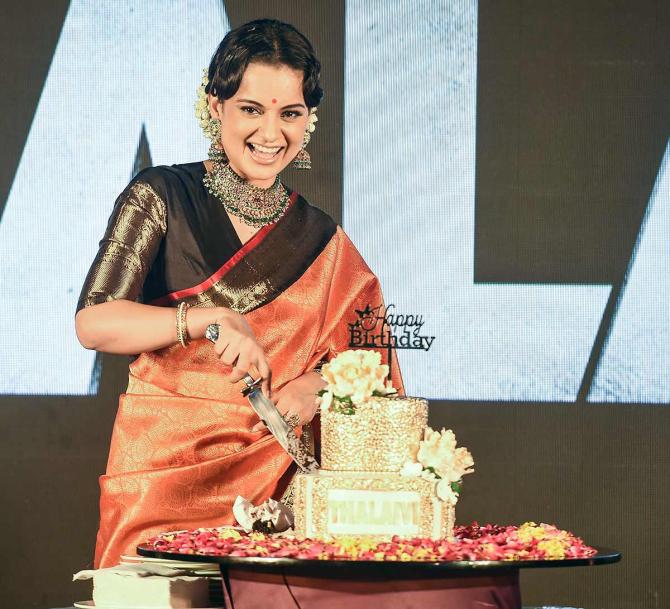 Do you feel your outspoken nature gets you into trouble?
I feel that a lot of things that I do and say are for light-hearted interactions. But some people are so serious in life that they do not get it.
Having said that, most of the times, I may criticise people and express my hurt which arose from certain things that they have done, but I find myself very comfortable about meeting them after that because my interactions are real.
Many people cannot do that.
Somehow, I believe, people are not very comfortable with those who are clear and honest in their interactions.
So I feel I get extreme reactions at times.
Sometimes I am taken aback also.
But if you have no agenda in your heart and you are not doing it for your personal ulterior motives, you will always win.
The tagline of Thalaivi says: Cinema Se CM Tak. Will your life take the same route?
For me, the world of politics is quite unknown.
If today, I talk about the country -- nationalism, farmers or laws which directly affect me -- I am told that I want to become a politician. It's not like that.
I react to everything as a citizen of this country.
I have nothing to do with politics at all.
Some people get really angry when I talk about nationalism or when I share my opinion on farm laws.
They feel that they are entitled to share their opinion on everything, but when I do the same, it causes pain in their bellies.
What sort of ruckus they created after that is there to see for everybody.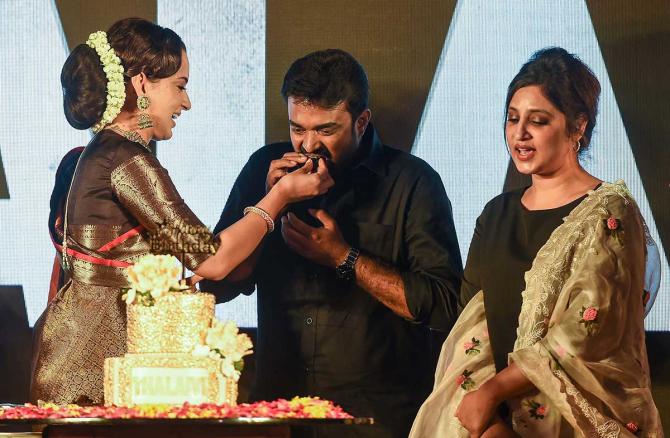 Thalaivi is a trilingual film. How difficult was it to get the diction and language right in Tamil and Telugu?
I learnt the language, but I would not say that my accent was right.
It is nowhere close to being right.
I could just learn the words and that was also very difficult for me, to be honest.
Tamil, particularly, is very difficult, like Sanskrit.
I don't think Vijay sir is okay with my Tamil; he is auditioning a lot of people to dub the film (laughs).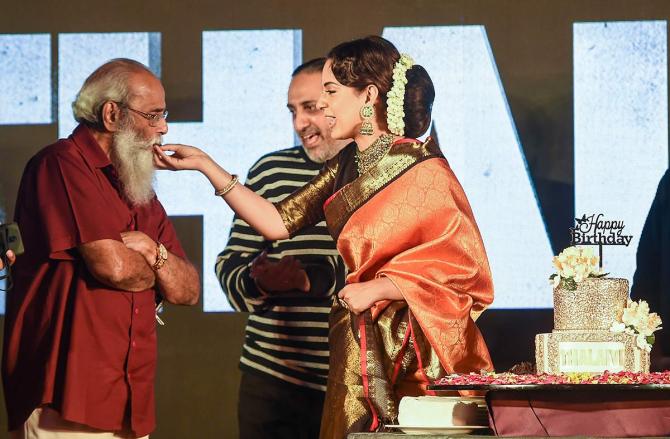 A few films have postponed their release as COVID-19 cases are on the rise across the country. Will Thalaivi stick to its release date on April 23?
Audiences are ready.
Maybe the films that are coming are not performing to their full potential, but it is not that they are under-performing.
They are definitely making a good impact.
We have to collectively fight it.
The vaccine is here and we still have four weeks.
We are hopeful that the situation will improve and we will have 100 percent occupancy in theatres. Maybe in a few areas, we don't have that but we are prepared for it.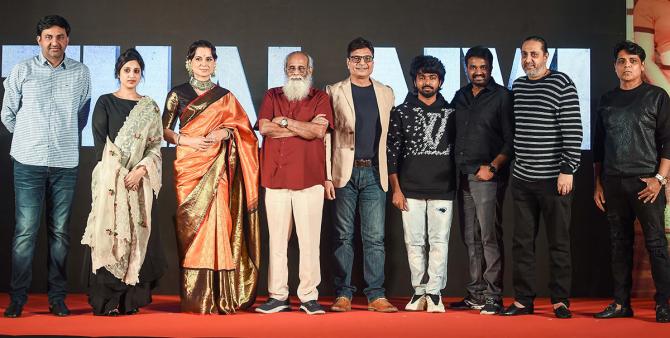 How was it like working with the entire crew?
There might be nepotism in the south Indian film industry, but there is no group-ism or gang-ism.
There is no subjecting outsiders to bullying and harassment.
In fact, you do not feel like an outsider.
They own you, involve you and they are very inclusive of people who come from outside.
They are respectful.
The way they respect you as a woman and interact with you is overwhelmingly nice.
Whether it is friction with the media, me getting banned by the media, or getting banned by the film industry or heroes, everywhere, I am getting banned.
Then suddenly, I find this amazing group of people who have their interest only in the film, they only care about the product.
Everybody goes home and nobody does blind items about anyone.
You do not wake up in the morning and say, 'Who has done this nasty piece of PR?'
Nobody is spreading nasty stories about you there.
Nobody is ganging on you.
Nothing.
Just pure work and pure talent.
It has been such an overwhelming experience and I have been enjoying it.
My director has gifted me such a beautiful piece of cinema and the team has been very kind to launch the trailer on my birthday.
The National Award also happened.
I just felt so full.
I wonder how many of us feel that way every morning.
I just felt so happy to be alive and to be born and brought into this world.
I was so full of gratitude for my parents and everyone that I just broke down.
I will always remember this very special birthday.
IMAGES FROM THE THALAIVI PARTY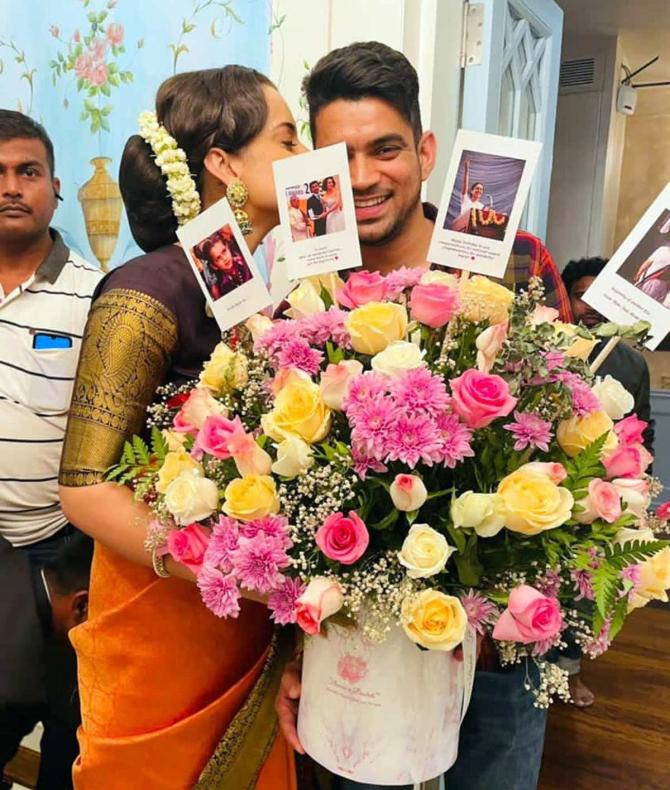 Kangana's brother Akshit Ranaut hosted a party for her after the trailer launch.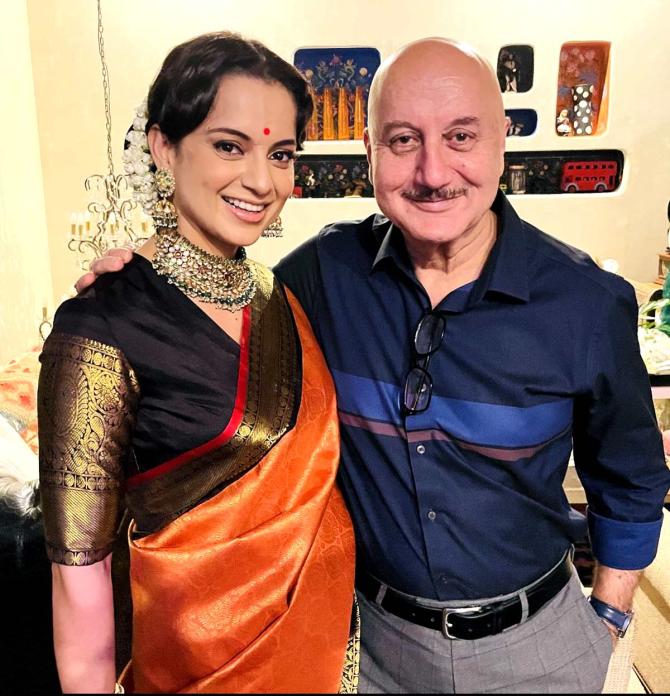 Anupam Kher tweets a picture from the party and writes, 'Thank you dearest @KanganaTeam for a great evening. Congratulations for the #NationalAward. Happy birthday. May God give you all the happiness in the world. And what a power packed trailer of #Thalaivi. You really hit where it hurts. Stay safe. Love & prayers always!!'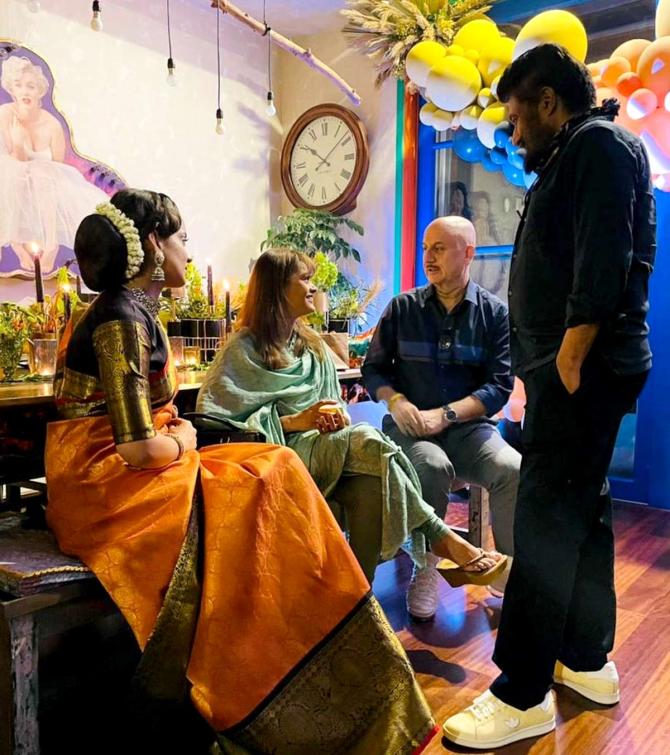 Pallavi Joshi won a National Award for her film The Tashkent Files, directed by her husband Vivek Agnihotri, standing.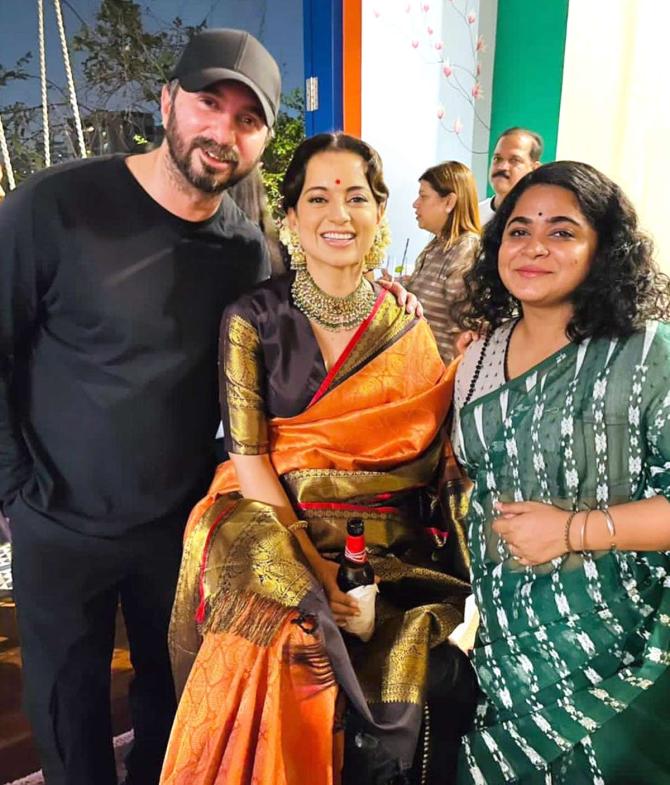 With Panga Director Ashwiny Iyer Tiwari, right.