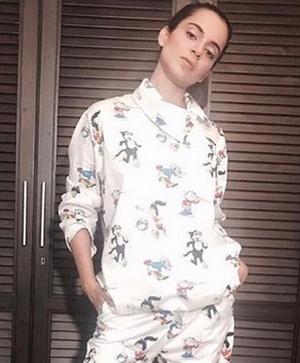 Is Kangana single?
'I have an answer to everything, but not this,' she replies.
Rediff.com's Jahnavi Patel reports.
When Kangana Ranaut walks into a room, she makes sure all eyes are on her.
Wearing a white shirt and pants, with cartoons on it, and hair tied in a high pony tail, Kangana has minimal make up on her face. Her pregnant sister Rangoli is also present.
Kangana is promoting her latest film Simran, directed by Hansal Mehta, and its latest song Single Rehne De -- which was shot by Suparn Verma -- at the event.
She's been mouthing off in recent interviews about the controversies plaguing her -- especially the one concerning a Bollywood star (you know :)) -- but she wants to wrap up the press conference quickly.
That doesn't mean, of course, that she won't talk about it.
She explains why she gave Rajat Sharma an explosive interview on Aap Ki Adalat.
"Rajat sir was calling me for three years. I told my producer Shailesh (Singh) I will not go. But he asked me, 'Why are you scared?' Uspe mera itna khoon khola (I got so angry)! I said, 'Nahin, main kisi se nahin darti (I don't get scared of anyone)'," she says.
Is it necessary to talk about Hrithik Roshan and Karan Johar while promoting a film?
"What to do?" she asks.
"If they (the media) ask and I give an answer, then there's a problem. If I don't, that is also a problem. I am not among those who run around the bush."
"You do one thing: Don't call me for interviews. Then sab shaant rahenge (everything will be peaceful) and everyone's problems will be solved."
Kangana complains that people still ask her about her relationship with Aditya Pancholi.
"I was 18 then and now I am 30!" she exclaims.
Composer Sachin Sanghvi, of the Sachin-Jigar duo, feels girls will be able to associate with the Simran song.
"Papas will get to hear this in the mornings now," he says with a grin.
"I would like to say something to girls. See how Praful's story is," Kangana adds, referring to her character in the film.
"She's a divorcee. Usne shaadi ke laddoo khaya hai aur usse badazmi ho gayi hai. Ab usko please single rehne do. (She got married and it didn't suit her. So let her remain single)."
What are the advantages of being single?
"Like when Kajol said, 'Mere khwaabo mein jo aaye,' you always think about the one you will end up with. You have a glorious picture of that."
These days, her sister Rangoli is looking for a bride for their brother Akshit.
"My sister keeps looking for a girl for for him. I tell her I'm elder than him. So she asks me, 'How can I find a guy for you?'"
"Mujhe thodi toh raahat chaiye apna ghar basane ke liye (I need some relief to set up my home)," she adds.
"If you give me some months, main apna ghar basa lungi (I will set up home), but I don't have any relief and that department is stuck."
"Hopefully, Simran will do well and Hansal sir and my house will be set," she says.
Is Kangana single then?
"I have an answer to everything, but not this," she replies.
Is it complicated?
"Aisa hi hai kuch," she says with a smile.
Photograph: Kind courtesy Kangana Ranaut/ Instagram