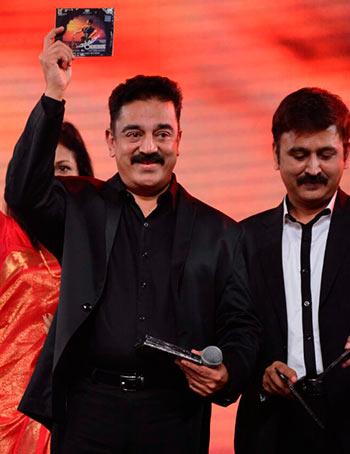 Kamal Hassan launched the audio of his forthcoming film Uttama Villain on Sunday, in Chennai.
Breaking from the practice of opening an oversized CD packed with ribbons, he announced that the music is available for download online, and one doesn't need to buy it from a store.
Producer, Lingusamy of Thirupati Brothers Productions announced that the audio was launched by uploading the music files on the Internet.
Hassan called his daughter Shruti in Mumbai on a video call and told her the music was available online.
Director Ramesh Aravind said, "I feel I have directed two films in one film. On one hand there's a 21st century tale of a reigning superstar, and on other hand is an 8th century tale of a folk artist. One is a social drama about human relationships, the other is a musical comedy in folk pattern.
What connects the two threads is the common theme of both sectors -- a universal truth about life.
"Beyond the words on the page, every good script has a soul. It's the director's job to understand that soul and bring it on screen in the best way possible using all the talents of his team.
"It was a huge responsibility. In a single shot, there would be K Balachander with a hundred movies to his credit, K Viswanath with 80 films under his belt, Urvasi with 500, Jayram with 400, Nazar with 300 more and Kamal Hassan with 200. So a single frame in Uttam Villain has 1500 films' experience behind it! To direct such an army of talent was an honour and privilege."

He added, "I have admired Lingusamy as a director in films like Run. Now I admire him as a producer too for allowing us the creative space to make the film exactly as we started out to.
"My special thanks to Tamil and Kannada film industry for making me what I am.
"Gibran's music will be a cinematic experience of a new kind when you watch it with visuals of the film. Lyrics by Subbu Arumugam, Viveka and Kamal Hassan will be a treat for lovers of the Tamil language.
"We miss KB sir on this day," he concluded.