'I thought either Rajnikanth or Kamal Haasan should do Papanasam.'
'Rajni sir liked it but was not sure about how his fans would accept certain scenes, if he were to do it. Like the scene where he is beaten up by a cop.'
'Kamal sir loved the film and agreed to do it.'
'Later, Rajni sir was willing to take it up but by then, the project was already on with Kamal sir.'
Director Jeethu Joseph discusses his well-reviewed film.
Malayalam filmmaker Jeethu Joseph's latest film Papanasam, starring Kamal Haasan, is getting rave reviews.
The film is the Tamil version of Mohanlal's Malayalam blockbuster Drishyam, directed by Jeethu himself.
In an exclusive interview with Rediff.com contributor Vijay George, the ace director talks about Papanasam and his forthcoming projects.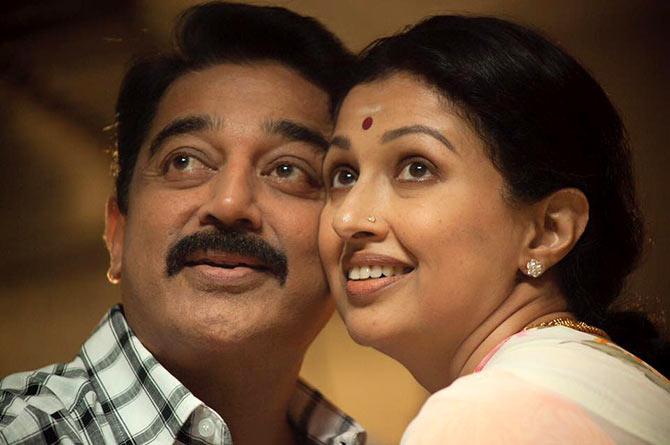 Image: Kamal Haasan and Gauthami in Papanasam
How is the reaction to Papanasam?
I am feeling very happy. If you ask me if such reviews were expected, I would say since there is a cultural difference, we were curious about how the viewers would react.
But the original had a fabulous run in Malayalam and receiving such a response from the Tamil audience is so exciting.
There are reports that Papanasam was rejected by Rajnikanth, before Kamal Haasan agreed to do it.
Not exactly. During the initial discussions, the producers asked about my favourite choices to play the lead in Tamil. I thought either Rajni sir or Kamal sir should do it. Both of them saw Drishyam.
Rajni sir liked it but he was not sure about how his fans would accept certain scenes, if he were to do it. Like the scene where he is beaten up by a cop.
Meanwhile, Kamal sir loved the film and agreed to do it.
Later, Rajni sir was willing to take it up but by then, the project was already on with Kamal sir. We conveyed it to Rajni sir and he was fine with it.
You made the film in Malayalam and Tamil. Was the second experience any different?
I couldn't add more to the original beyond a point and obviously, the fun of creating something new was missing.
The main area of difference was the characterisation of Kamal Haasan.
When Swayambhulingam was created, his mannerisms and behavior was given a different dimension. Whenever such a change was made, I felt interested.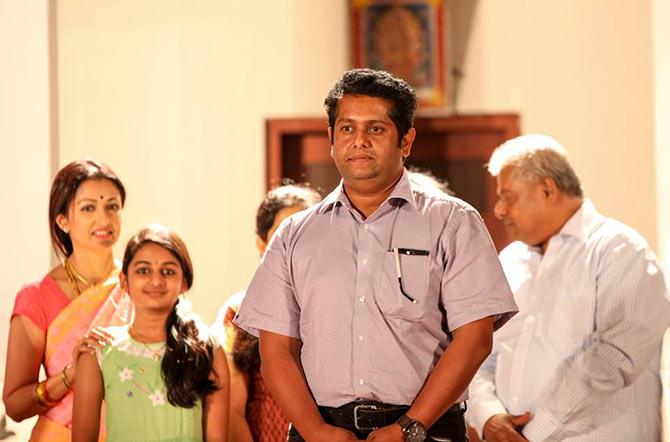 Image: Gauthami, Esther Anil, director Jeethu Joseph and Delhi Ganesh on the sets of Papanasam

There have been obvious comparisons made between the acting styles of Kamal Haasan and Mohanlal. Did you discuss them while venturing into this project?
Even during our initial discussions, Kamal sir said his greatest challenge was that a terrific actor like Mohanlal did the original. He had to look different, without the core of the subject being changed.
He asked me what kind of person Georgekutty (Mohanlal's character in Drishyam) is. I told him that he is bold and even when he is scared, Georgekutty won't show it.
Kamal sir's character Swayambhulingam has been presented as a normal guy, who is not that bold. We have also worked on the mannerisms and style.
You have directed the Malayalam and Tamil versions of Drishyam. What is your opinion about the Telugu and Kannada versions, which were directed by other filmmakers?
I have not seen the Kannada and Telugu versions yet.
What is your reaction to the trailer of Hindi version, starring Ajay Devgn?
I loved the trailer and it has been presented in a really different way, revealing more about the story than what I did in the Malayalam or Tamil versions. I am looking forward to watching it.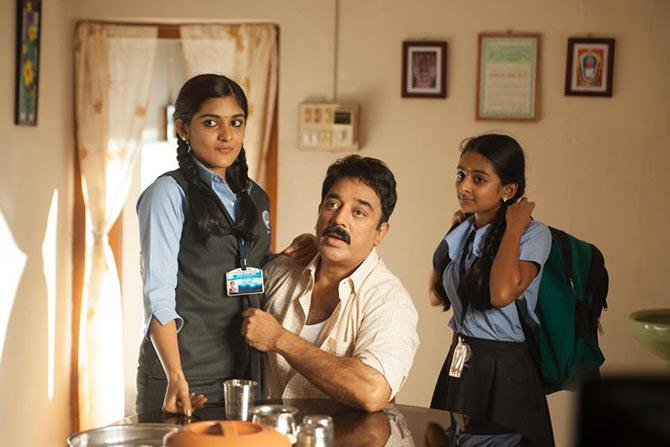 Image: Niveda Thomas, Kamal Haasan and Esther Anil in Papanasam
The pirated copies of Papanasam have created a crisis of sorts. What is your take on the issue of piracy?
It is so sad. Even if we forget the efforts put in by the artistes and technicians, what about the investment made by the producer? There should be strict measures against this menace.
You have also completed Life of Josootty, with Dileep in the lead. What is the film about?
It's the life of a person from 10 to 40 years. It's a simple tale, with no real twists or suspense.
What next?
I am in the process of completing the script for my next film, with Prithviraj. It's an action film. I have also announced another film with Kavya Madhavan in the lead. There are also a few offers from Tamil.