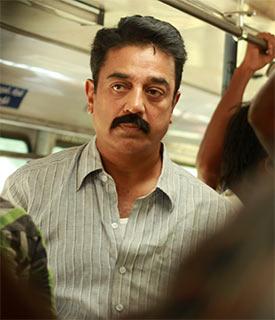 'I am a product of many so called small films that went on to become big.'
'I am fortunate to at least have a voice to lend to causes I believe in'
Kamal Haasan talks to Subhash K Jha about his new film Paapnasam, and how it may affect Ajay Devgn-starrer Drishyam.

Left: Kamal Haasan in Paapnasam

After the huge success of his Mohanlal starrer 2013 Malayalam thriller Drishyam, filmmaker Jeetu Joseph took over the reigns of the film's Tamil version titled Paapnasam while the Hindi remake (out on July 31), starring Ajay Devgn, is directed by Nishikant Kamat.
Starring Kamal Haasan and Gautami Tadimalla in lead roles, Paapnasam opens in theatres July 3.
Kamal Haasan tells Subhash K Jha what to expect from the film.

Your new film Paapnasam (remake of the 2013 Malayalam blockbuster Drishyam) is an important film.
Thank you for calling it an important film. I did the film only because I thought it was important, too.
I have always hated calling films big and small while they're still being made.

I am a product of many so called small films that went on to become big, like Ek Duuje Ke Liye.
Paapnasam is about a man protecting his family from anti-social elements. How threatening are such forces to the civil society in real life, according to you?
All families are exposed to these kinds of threats.

Today, family kitchens are exposed to spurious cooking material.

Children's education is threatened by dubious methods.
The whole country is threatened by substandard politics.
You play the father of two daughters in the film. How much did you identify with the character?
Even if I had three sons instead of three daughters, I would still feel threatened in this intolerant country.

I am fortunate to at least have a voice to lend to causes I believe in.
Incidentally, you have also played a protective father looking out for his daughter in the 1994 Tamil film Mahanadi. Was there a sense of deja vu?
Mahanadi is a trend-setter and many filmmakers have been kind enough to openly express keenness to make similar films.

I don't know if Mr Jeetu (director of Malayalam Drishyam and Paapnasam) watched Mahanadi. I would put this film in the same genre but with a more positive approach and hence more populist.
What was it like working with Gautami (Tadimalla, Haasan's costar from films like Kuruthipunal and Nammavar) again?
I am capable of decrying Kamal Haasan's bad performance fearlessly and supporting good ones shamelessly.

So it would be unjust not to laud Gautami's performance in Paapnasam. She has done very well and has grown in her understanding of her craft better in absentia.

I think the years away from celluloid have helped her get a vantage view.

The tragedy with female actors is that they're learning on the job and just when they fully grasp their craft, it's time for them to retire. Gautami has beaten that tragedy, thanks to Paapanaasam.
Drishyam's Hindi version features Ajay Devgn in the lead role. Reports in Mumbai suggest that you've stolen a march over Devgn by getting Paapnasam to release before his Drishyam.
Whatever the tabloids say, the fact is... if someone stole a march, it was my friends Mohanlal and Jeetu.

Mr Devgan and I are not even targeting a similar audience.
If at all Paapanasam's success would fuel the success of Drishyam's Hindi version