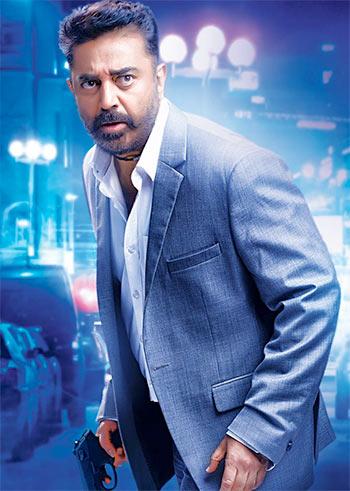 'I was a very late child of my father. I was suddenly a little toy, who appeared from nowhere. Everybody experimented.'
'I don't know why I took up dancing. I think I wanted to find one more excuse to drop out from school.'
'I was fortunate I found kind gurus who paid me and taught me.'
Kamal Haasan gives us beautiful nuggets from his life. P Rajendran/Rediff.com reports from New York.
Viking boats, football teams and prepping nations for war were all allusions Kamal Haasan made at an interaction with fans and the media at the Metropolitan Museum of Art, New York, on March 26.
Covering issues as varied as freedom of speech, skill development in India, family history, reminiscences of Tamil film icons, dance, favourite films, and more, Haasan answered with patience, good humour and wit, with only an irregular tapping of his right leg suggestive of any stress.
With help from Donna Williams, the Met's chief audience development officer, Sreenath Sreenivasan, the museum's chief digital officer, spoke of all the Met had to offer -- including at its new museum, the Met Breuer. Sreenivisan made sure the pronunciation and memory of the Breuer were nailed into the audience's consciousness if only by the simple expedient of having them to chant its name.
Getting back to Haasan, Sreenivasan spoke of the many Indian film actors his family met as it wandered across the world with his diplomat father (Rediff.com contributor Ambassador T P Sreenivasan). But he said there were none like Haasan in that, besides fans, in the US he also was a welcome visitor at Google, Harvard, and the Wharton India Economic Forum.
Haasan said he was primarily in the US to recce for a new comedy, 90 percent of which is set in the US.
"For me, it's a busman's holiday," he said.
Sreenivasan asked Haasan about his work with FICCI (the Federation of Chambers of Commerce in India) and the effectiveness of education in India.
"What India has to do in education is not optimal," he said, adding that critics often talked about how the Indian system was more about making clerks than innovators.
"We had a very broad spectrum plan of educating everybody -- whomever we can," he said.
"That is large, Utopian idea, but not easily executable -- not in 50, 60, 70 years. Because without the people coming forward you can't do much. We tried feeding (students), free education... In spite of it, we even brought down the quality of education," he says with a laugh.
But he is now the chairman of the media and entertainment section of a group devoted to developing specialised skillets, Haasan said, and explained why that was required.
"The world requirement for engineers is about a million per annum," he said. "We (in India) produce ... 900,000 of them every year. (There are now) engineers ready to become chauffeurs, engineers ready to take up any job. But what we need is skilled workers -- not just skilled workers, but (those) of international quality."
He said he had thought about it rather selfishly from his own industry's needs and increase the quality of workers. He said it was hard to learn skills in India.
"I was fortunate I found kind gurus who paid me and taught me." He laughed and then added, "Not all are going to be that lucky."
He said there were now efforts to create a master's in carpentry, on the same lines as a master's in literature or other academic courses. The areas of learning would be purely practical: Beauty, prosthetics, wig-making, boom operation, radio jockeying, etc.
"The government is putting in some money, but I don't believe doles would work. I think we have to work towards it. The industry has not yet invested money, only time. In future, too, they will have to have social responsibility, come forward and spend, instead of complaining and saying our quality is not good. Now with Indian cinema producing in (large) numbers, we have to increase the quality also to meet international standards. We are so complacent that we have a captive market at home. We must take pride in our work to improve the skill," he said.
IMAGE: Kamal Haasan and Pooja Kumar in Vishwaroopam.
He spoke about the need for innovation, using as an example his failed experiment to premiere one of his films (Vishwaroopam) using direct-to-home providers.
"The whole industry, like an American football team, fell on me... They sued me, banned the film. They did everything possible because that's the knee-jerk response to modern technology."
He pointed out that such a reaction was not limited to India; it was seen in the US, too.
Sreenivasan said one his favourite sayings was that people think, 'I'm all for progress; it's change I cannot stand,' and spoke of a start-up (The Screening Room) that's going to charge $50 to let people see films released the same day.
Speaking about the influence of Indian cinema and possible competition for it, he spoke of China being a possible formidable competitor. But he said that one advantage India still had was the use of English, which can help Indians reach Western audiences.
"Yes, we need to add another new accent to English -- for the Western English audience," Haasan said.
Asked what India could do to match China, Haasan said he spoke to some professors at Wharton who told him it could be done. He himself said China's transformation in the last 20 years had been phenomenal, and that "there's no harm in cannibalizing some of their ideas and fixing it to (fit) our system."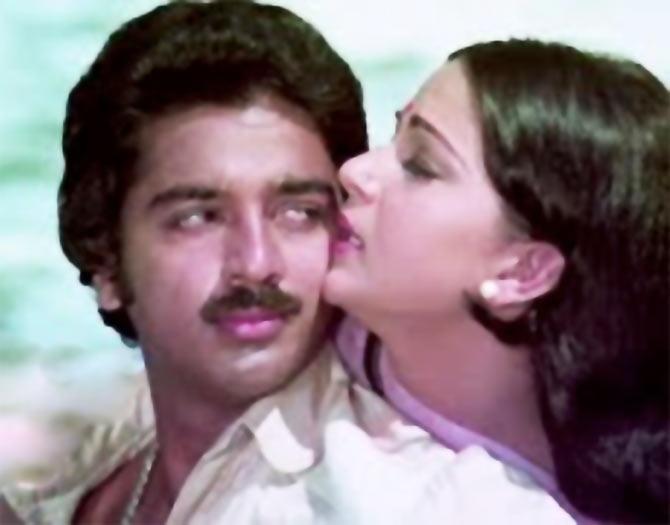 IMAGE: Kamal Haasan and Rati Agnihotri in Ek Duje Ke Liye,
Asked why he called himself a reluctant actor despite having acted in 200 films, having seven of his films becoming the Indian contender for the Oscars, having won four National Awards and 19 Filmfare Awards.
"Anybody, however reluctant, has a price," Haasan responded and laughed. "As the price kept increasing, my reluctance decreased."
He said that when he chose to enter the film industry, he dreamed of becoming a technician and, finally, a director. He remembered his mentor K Balachander, who heard that, and told him, 'Hmm, so you want to come to the studio in an autorickshaw?'
When Haasan pointed out that Balachander himself came in a car, he replied, 'I'm lucky, but you could be luckier because you have something others don't have.'
So he soldiered on in Tamil films and when he tired of the kinds of roles he was doing, Haasan said, he fled to Kerala to do more 'sensible' films.
Asked to speak about five of his films, even if all the films could be like his children, Haasan responded, "They've all left home."
His Telugu film Maro Charitra became his debut in Hindi films, Ek Duje Ke Liye.
He followed that up with another Telugu film, Sagara Sangamam.
"There were other films that were celebrated a little belatedly," he said. He cited K Balachander's Avargal (with a strong female lead), whose failure embittered the director so much that he decided if kitsch was what the audience wanted, he'd provide it. So Balachander made the romance-laden Maro Charitra, and its remake, Ek Duje Ke Liye, both of which were enormous successes, a fact that perhaps perversely confirmed his analysis.
Haasan spoke of Balu Mahendra's Kokila and Moondram Pirai (later made in Hindi as Sadma).
He said the team was very confident about Sadma's success, but it failed at the box office.
They found that the audience, going by previous experience, expected him to sing and dance.
Haasan paraphrased their concerns: "'Why the hell is he doing something which is supposed be done by (character actor) Sanjeev Kumar?'"
"We didn't prep the audience. Even for war, we have to prep the nation, not the soldiers," he said.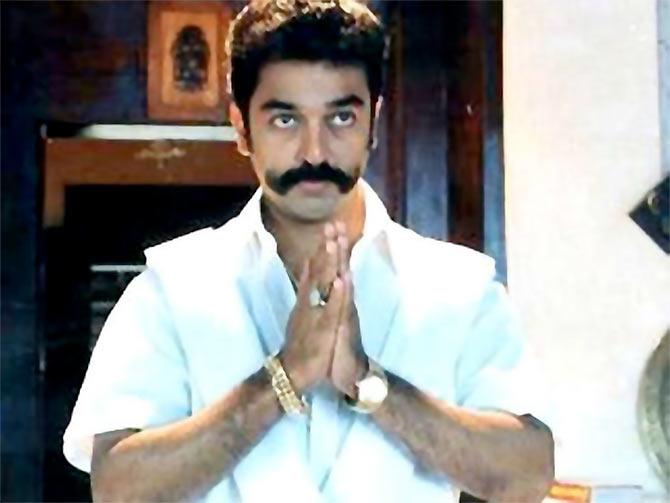 IMAGE: Kamal Haasan in Thevar Magan.
Actor and director Trilok Malik remembered asking director Gautham Menon about directing Kamal Haasan and being told, 'You don't direct Kamal Haasan. Actors like that you don't direct. You just navigate him with the vision I have in my mind'."
Haasan joked that people who use GPS know how important direction is.
"The first mirror that an actor sees -- even before the camera -- is the director because very few actors can remember their (own) face. What happens when you twitch or smile or pout -- if you remember that face, it's fantastic. But very few can do that. That's where the director comes in... You need someone. However big you become, the more complacent you become."
He said everyone was needed to make a great film.
Asked about his film Thevar Magan, and working in with with Sivaji Ganesan, a legendary figure in Tamil cinema, Haasan pointed out that he wrote the story for the film.
He said he had indeed rehearsed some of the more explosive scenes in the film with Ganesan, but through their interactions over the years.
"I have spoken back to him and he was hurt that I spoke like that, including (about) my marriage. Exactly some of the words he said to me when I tried to invite him to my marriage (were) 'Are you inviting me or informing me?' And I said both. He didn't like it."
Ganesan told him he had heard Haasan's father was not attending the marriage, and that he himself was expected to.
Haasan told him, "Sir, you're right. I'm informing you."
Haasan said that when, as a writer, he read the lines to Ganesan, he smiled.
"He knew where I was coming from. (Thevar Magan) is a love story between Sivajisaab and me," Haasan said. "I wanted to become him, and he allowed me to become him. It very rarely happens that way."
Haasan said Ganesan's own sons accepted him as their elder brother.
Sreenivasan read out an online question from a person named Karthik about whether Haasan would do another movie with Rajinikanth.
"Well, we've been talking about it," Haasan said. "I think some business expert will have to work out how to make a (successful) film in that budget after Rajni and I have collected our fees."
Asked if he would be acting in films in Hindi and Malayalam, he said he was often asked by businessmen if someone from the Hindi film industry would also be acting with him. He was to make a film with Malayalam director Chanakyan in Tamil, Malayalam and Hindi, but for business reasons that was changed to Tamil, Telugu and Hindi.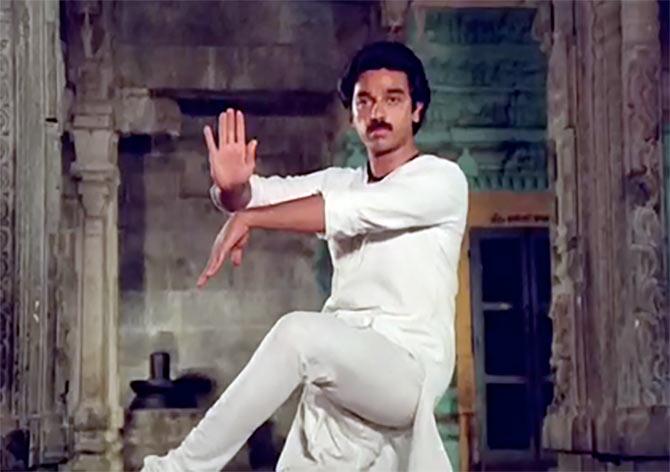 IMAGE: Kamal Haasan in Salangai Oli.
Sreenivasan's sister-in-law Deepa Unnikrishnan spoke about Haasan's performance in Salangai Oli (the Tamil version of the Telugu original Sagara Sangamam) and asked Haasan about his interest in dance.
"I don't know why I took up dancing," Haasan said. "I think I wanted to find one more excuse to drop out from school. My mother asked me, 'What are you going to do?' I said dance, because we'd just walked out of a dance show."
His mother was not impressed and told him that if he still held that view the day after, he would get a dance teacher.
"It started as a whim and I got sucked into the vortex of it," Haasan said, adding that the culture was not new to him since he'd seen his sister training.
Encouraged by the teacher, who lived with his family above his home, Haasan began training for seven hours a day, in the hope of becoming the next Uday Shankar.
When he found that there were no backers for his ambition, Haasan flung his anklets into the sea. But he got a job as a dance assistant to dancer master Thangappan. When Thankappan became a director, Haasan became an assistant director and, under the tutelage of another assistant director, R C Sakthi, became a co-writer at 18, and a year later acted in the resulting film.
Haasan said he got tired of being forced to dance in films, and avoided it.
When he came back to dancing in film after many years, in Vishwaroopam, Haasan said he was happy to train under Kathak dancer Birju Maharaj for two months. After the training, Haasan recalled, the veteran dancer blessed him, saying 'I see a young Birju in you.'
"Your style is not easily imitable, sir," Haasan recalled telling him. "It took 40 years. You calculate (the) two months (you taught me); I've been watching you for 40 years."
Asked if budgets determined the addition of unwanted scenes and songs, Haasan responded, "Absolutely. It's such a bare truth that we've been trying to hide."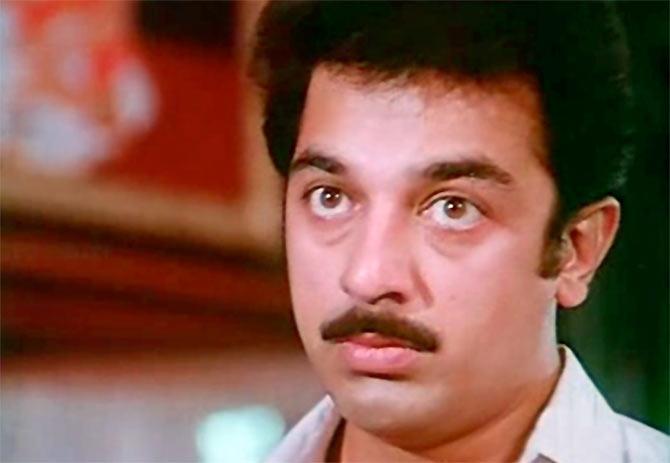 IMAGE: Kamal Haasan in Unnal Mudiyum Thambi.
Asked how he would remake his Unnal Mudiyum Thambi -- which dealt with social issues such as the pitfalls of alcoholism -- for an audience of millennials, Haasan said he has actually discouraged his mentor K Balachander from making it, resulting in a rift that lasted 15 years.
"So, if you ask me if I would remake it, no," he said.
Haasan was asked about the variety of roles that he has done, from the action-packed Kuruthipunal to the comic Singaravelan and Panchathantiram.
Asked about the issue of freedom of expression, which has become a big issue in India, Haasan replied there was a need for constant vigilance.
"Freedom of speech is not like money in the bank. It is something you will have to keep constant vigil about. There will be some government, some institution, some syllabus trying to coerce you, to silence you. They will give you the opportunity for soap box oratory but that's not freedom. Just allowing you to use expletives in cinema is not freedom."
Sreenivasan's wife Roopa Unnikrishnan asked the final question about how an Indian mother like his let him do all the things he did.
"I was a very late child of my father. I was suddenly a little toy, who appeared from nowhere. Everybody experimented," Haasan said, pointing out that his elder brothers were 24 and 18 years older than himself, and his father was 51 when Haasan was born.
"My eldest brother was Charu Haasan, (the second) Chandra Haasan. I should actually have been named Oops Haasan. Thanks to the influence of Charu Haasan, whose education in philosophy percolated down and diluted the Vaishnaivite rigor of the family, the youngest one was given the freedom to experiment."
He was asked, then, why he was not directing his own daughter in her new film.
"For convenience," he replied. "It's very difficult directing a daughter. Ask my mother."