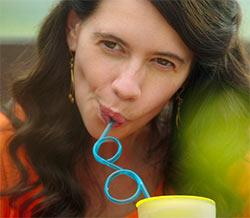 Kalki Koechlin, who is seen in a paraplegic avatar in Shonali Bose's Margarita With A Straw, is shown to share a lesbian relationship with a woman friend, played by the lovely newcomer Sayani Gupta.
The film was screened on Sunday at the ongoing Toronto International Film Festival.
On the eve of her departure, Kalki expressed her 'complete comfort level' with same-sex intimacy.
She also wondered if the censor board would be able to handle the content.
"We have worked very hard on the film. Now we have our fingers crossed," says Kalki.
Indian cinema is not a stranger to lesbian liaisons. Shabana Azmi and Nandita Das played lesbians in Deepa Mehta's Fire.
More recently, actress Mona Vasu was seen getting too close for comfort with another actress to get vital corporate information in the television series Yudh.
Margarita With A Straw is directed by Shonali Bose, the award-winning director of Amu. Shonali is the wife of the Chittagong director Bedabrata Pain. In September 2010, the couple lost their elder son in a freak accident.
The film appears to be a manifestation of the director's will to overcome unbearable adversity. The film's title Margarita With A Straw refers to the cocktail drink, suggests the immobilised wheelchair-bound girl's determination to have fun in life.
Kalki had to prepare for months for the part, and that included visiting a disability centre for a period of time.
"I worked hard to give it my best shot, and getting right the character who suffers from cerebral palsy. I worked for six months at a centre for disability in Bandra (in suburban Mumbai) called Adapt.
Kalki worked closely with a person suffering from cerebral palsy. "She is a lady named Malini Chib-Alur, one the prominent members of the disability centre," Kalki says.
Besides Kalki, the film also features Tamil actress Revathy and newcomer Sayani Gupta. Kalki and Sayani are real-life friends. They have recently toured the country with their play Trivial Disasters.