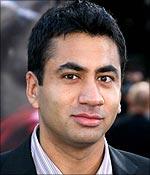 Indian American actor Kal Penn, born Kalpen Modi, is headed back to the White House!
ABC News reports that the politically-active actor has finished filming the latest Harold & Kumar instalment, the third of the series, and is ready to return to work with President Barrack Obama.

During Obama's 2008 campaign for the Presidency, Penn played an important role in spreading the 'Hope and Change' message, taking to the Internet and using his own celebrity!

The White House has reportedly released a statement: "The White House is pleased to have Kalpen Modi join the Office of Public Engagement as an Associate Director," White House spokesman Shin Inouye. "While OPE works collectively on conducting outreach to the American public and various organizations, he will be the point person for those in the Arts, Youth, and Asian American and Pacific Islander (AAPI) communities.

Modi, though best known for his role as Kumar in the Harold & Kumar films, also had popular roles on US sitcoms House and 24. After working for the Obama campaign, Penn joined the Obama White House's Office of Public Engagement in July 2009, officially serving as a liaison to the Asian American and arts communities.
He left the job this earlier this year to concentrate on the third Harold and Kumar film, titled A Very Harold & Kumar Christmas, which is set for a 2011 release.