'It's the film you can take your appa, amma, pati, or even your girlfriend and everyone will walk home with a smile,' says Divya Nair.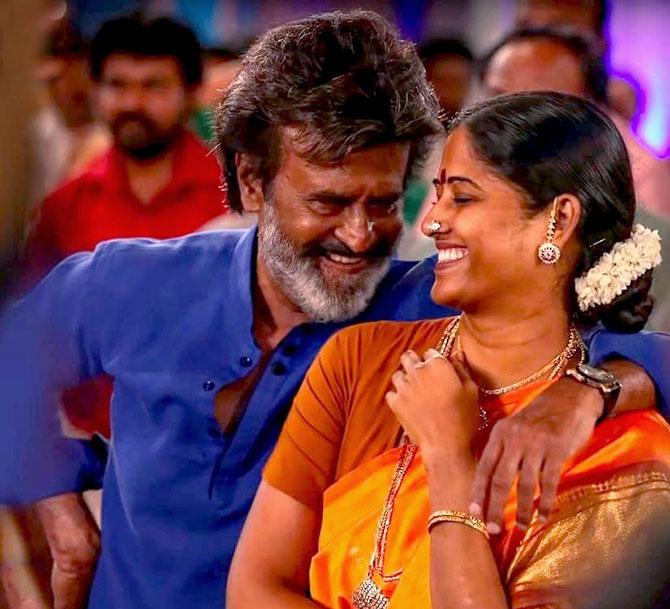 There are two ways to watch a Thalaivar film.
One, where you munch on popcorn and sip on coke in a plush theatre, and you are interrupted only by a 15-minute interval.
The other is to watch it with his loyal fans at the Aurora theatre in Mumbai (the theatre even has a brief mention in the film!).
And that's where I watched it.
As the drama unfolded on screen, hysterical fans were prostrating before the superstar's presence!
There were loud whistles, noisy kisses and circling shirts in the air!
I lost count of the times I craned my neck, wrinkled my face or cupped my ears to catch the dialogues.
Fifteen minutes into the monologue of how Mumbai's slum Dharavi came into existence, the power struggles and political undercurrents, I realised Rajinikanth has finally got his foot in the right place with Kaala.
So, Rajinikanth plays Karikaalan, short for Kaala. He's a compassionate, romantic, wife-fearing (in a lovable way) don.
There is a lot of history about how he made Dharavi his home and eventually became its saviour, protecting it from predators who would dislocate them and snatch away their rights.
There is also some history about his former love interest Sarina, played by Huma Qureshi, who has a plan of developing the slum she grew up in.
But the bigger plot revolves around our antagonist, played by Nana Patekar, aka Haribhau.
He's a mean politician, an inspiring caricature of a don, who wanted to purify Mumbai through his slum redevelopment project. No points for guessing who the inspiration is.
Director Pa Ranjith, who brings back memories of his film Madras, sets clear demarcations for the hero and anti-hero in this one.
There is a scene when Kaala meets Haribhau at his home and jokingly asks, 'Kaisa naam hai re Kaala?' and then tells him how ugly he looks in his all-black avatar.
Haribhau, on the other hand, only wears white.
Kaala, in his inimitable charm, breaks down the anti-hero's ego and regressive thoughts, and he's no match for a man who may wear black (symbolic reference here) but has won the love of the land (his makkal).
The film is full of encore moments like these. And each time, Kaala sends Haribhau, who thinks he's the king of the jungle Dharavi, crawling back to his cave.
There are a total of four scenes where Haribhau and Kaala meet eye to eye.
Each one is made memorable by brilliant dialogues written by Aadhavan Theetchanya.
In one frame, you are taken back to Badshaah and Padayappa when you think the anti-hero is taking over, but the superstar has his comeback moment.
Remember the scene in Padayappa when Ramya Krishnan hides all the furniture in the house and then offers Rajinikanth to sit?
In this film, Haribhau asks Kaala, who has lost his loved ones, to fall at his feet and ask for forgiveness in return for the safety of his people.
To think Kaala would hang up his boots so easily in defeat would be moronic.
Like he says in the film, this is Kaala's killa, you can come here without my permission, but you cannot leave without my permission.
Revealing anything more about the film would be giving the plot away. But this is by far, the best Rajini film I've seen after Padayappa.
It's a potboiler a Rajini fan like me can savour up to days.
There are so many dialogues that will become memorable. There are references to his earlier dialogues as well.
The songs are hummable and there's a good mix of commercial and experimental rap, hip-hop numbers.
The VFX-induced fight sequence on the Marine Drive flyover and the execution of the climax sequence is commendable.
Eswari Rao as Selvi, Kaala's wife, director Samuthirakani as Kaala's drunken brother-in-law and Anjali Patil as the fearless Tamil-Marathi speaking activist are a treat to watch.
Nana Patekar makes up for his poorly dubbed Tamil dialogues by his powerful acting and delivery.
Huma Qureshi does a fairly decent job, but leaves a lot to be desired.
Kaala is Rajinikanth's film all the way.
It's the kind of Rajinikanth movie you have been waiting for a decade.
It's the film you can take your appa, amma, pati, or even your girlfriend and everyone will walk home with a smile.
Rediff Rating: