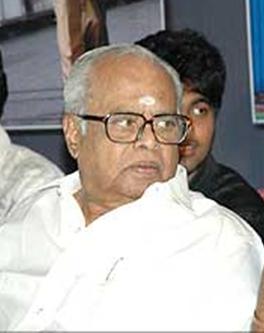 'K Balachander redefined Tamil cinema by breaking traditional moulds, boldly exploring controversial themes and relationships.'

A tribute to one of Indian cinema's most prolific filmmakers, who passed away at the age of 84 on December 23.

Veteran filmmaker K Balachander, the man behind memorable films like Apoorva Raagangal, Thaneer Thaneer and Ek Duuje Ke Liye, passed away on Tuesday night at a private hospital in Chennai.

He had been battling age-related ailments since a week.
An extraordinary writer and director and fondly addressed as KB sir by many, he redefined Tamil cinema by breaking traditional moulds, boldly exploring controversial themes and intriguing relationships that formed the essence of his films.

At a time when films were dominated by male-dominated plots, K Balachander created women-centric films that dealt with family bonds, relationships and socially relevant themes.

His female characters broke free from regressive themes that have plagued not only our films but the society as well.

He was a man years ahead of his time.

In a career spanning nearly five decades and a 100 films, K Balachander was honored with a multitude of awards.

He had been felicitated with seven National Awards and numerous Filmfare and Tamil Nadu State Film Awards. He was also the recipient of the distinguished Dadasaheb Phalke Award, the country's highest film honour.

In 1987, Balachander was honored by the government with the Padma Shri for his extraordinary contribution to cinema.

It was Balachander, who gave legends like Rajinikanth and Kamal Haasan to Tamil cinema.

He was their mentor and guide, and the only director, who worked with the prolific duo together in several films.

He also introduced many other faces -- popular comedy actor Vivek, villain Prakash Raj and Nassar were all introduced in Balachander's films.
K Balachander's journey into the world of cinema began 50 years ago as a screenwriter for films like Dheiva Thaai and Server Sundaram in 1964.

He made his directorial debut with the film Neerkumizhi in 1965. The film was an adaptation of a play by the same name, also written by Balachander.

The veteran won his first National Award for the film Iru Kodugal starring Gemini Ganesan and Sowcar Janaki.

His film Arangetram, which released in 1973, marked Kamal Haasan's first adult role in Tamil cinema.

The film dealt with poverty and prostitution and its hard-hitting content created much controversy.

The film was a huge commercial success as well and was later remade by Balachander himself as Aaina with Mumtaz and Rajesh Khanna in the lead.

Balachander's Apoorva Raagangal (1975) won three National Film and three Filmfare Awards.

The film explored the controversial relationship of an older woman Srividya with a much younger man played by Kamal Haasan and vice versa -- of an older man, Major Sundararajan (Kamal's father) with Srividya's young daughter.

The path-breaking theme of the film received widespread critical acclaim, and the film became a huge success.

Incidentally Apoorva Raagangal marked Superstar Rajinikanth's entry into films too.

This was followed by many more super hits like Maro Charithra (Telugu), Thappu Thalangal, Ninaithale Inikkum and Varumayin Niram Sivappu.

The year 1981 was a particularly successful year for Balachander.

He remade the Hrishikesh Mukherjee directed Hindi classic, Golmaal with Rajinikanth in the lead role. The film showcased Rajini's impeccable comic timing and was a mega hit.

The same year in October saw the release of Thanneer Thanneer, a National award-winning film that dealt with water scarcity and ruthless corrupt politicians.

Balachander also made the Hindi blockbuster, Ek Duuje Ke Liye, a remake of the director's own Telugu hit Maro Charitra, in the same year.

The film had Kamal Haasan and Rati Agnihotri in the lead role.

In the latter half of the 1980s, films like Sindhu Bhairavi, Punnagai Mannan, Manathil Uruthi Vendum, Rudraveena (Telugu) and and Pudhu Pudhu Arthangal brought Balachander further glory.

Sindhu Bhairavi, which released in 1985, had Sivakumar, Suhasini and Sulakshana essaying the lead roles. The film boasted of stunning music by maestro Ilaiyaraaja, and won him a National Award.

The 1990s saw a relatively fewer number of films.

Oru Veedu Iru Vasal and Vaaname Ellai were two remarkable films from this time. Paarthale Paravasam, which released in 2001, was his 100th film.

Madhavan and Simran played the lead role. Unfortunately, the film was a commercial failure.

The director's long and illustrious career came to an end with the film Poi in 2006, which also did not fare well at the box office.

His films not only won critical acclaim, but were huge commercial successes too.

K Balachander may not be among us anymore, but he has left behind a formidable legacy of timeless classics that will continue to awe and inspire cinema lovers.