'I hope more shows highlight the unsung heroes of our rich history.'
'As for bringing the trophy home, a man can hope, but truly I am just excited to be there.'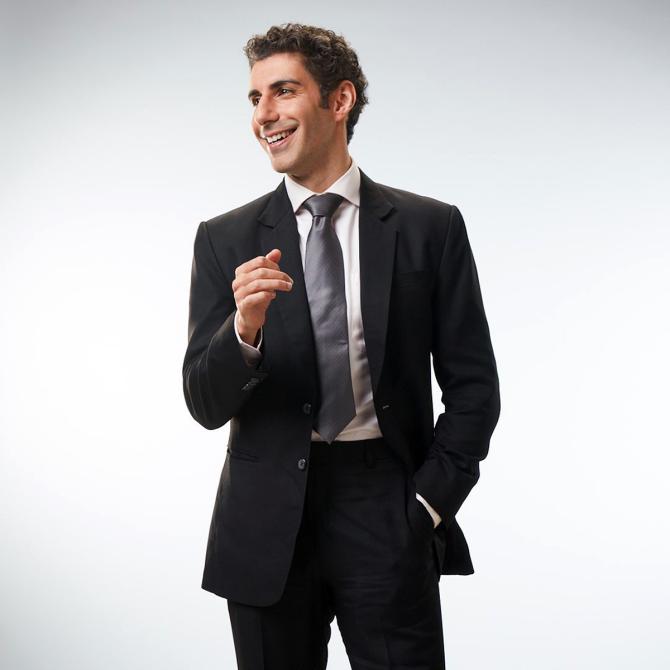 From the first season of the SonyLIV biographical series, Rocket Boys, which started streaming from February 4, 2022, Jim Sarbh caught the eye and imagination of the audience as Dr Homi Jehangir Bhabha, who engineered India's nuclear programme.
The applause-worthy series returned with a second season on March 16, 2023, and Jim continued to impress as the nuclear physicist, who despite political unrest, power shifts and Big Brother vigil by international organisations, was determined to make our country a nuclear power.
The performance has already won the elegantly suave, wonderfully talented, deliciously humorous actor several awards, including the Filmfare OTT Critics Choice Award (Best Actor-Drama, 2022), the Indian Television Academy Awards, India (Best Actor: Drama OTT, 2022) and IWM Digital Awards (Best Actor in a Web Series, Jury Award).
Now, Jim is in the running for an International Emmy -- Best Performance by an Actor -- for this towering performance in Rocket Boys.
Jim was delighted when, after a game of sweaty basketball, he cycled home in the rain, went in for a shower, and came out to a deluge of congratulatory messages and calls. He was just an hour late for a movie he had planned to watch with a neighbour. There will be a celebration soon, but before that, he sits at Dr Bhabha's desk to answer questions sent by Rediff.com Senior Contributor Roshmila Bhattacharya.
Soon after learning that you had been nominated for an International Emmy, you revealed that you had run off to watch Clint Eastwood's 1971 film Dirty Harry, with a neighbour as planned earlier. Were you able to absorb the film after such an honour? Did you celebrate after the film was over?
I definitely did not absorb the film.
I half watched it.
I will have to watch it again.
Or perhaps Akela? (The Hindi remake of Dirty Harry.)
Or perhaps I'll rewatch my favourite film about man's disillusionment with the system: Ardh Satya. I digress.
I did not celebrate after, but I did assemble a chair (I am sitting on it as I type this) while watching Grizzly Man. What a movie!
I do plan on celebrating, though. Soon.
In your statement, you stated, 'I was having quite a weird few days, and then all the pieces wrapped up neatly'
Were you referring to some kind of a premonition? Or maybe pre-announcement jitters? Did being at the Emmys with a 'Best Performance by an Actor' nomination ever figure in your bucket list?
No. I was referring to personal matters that I would rather not get into, but suffice it to say I was very relieved with all that happened during the day.
I could play a game of basketball and clear my mind.
I actually had entirely forgotten Emmay had applied for the Emmys, and had no idea they were being announced on the 26th, so I was saved from any potential jitters leading up to the nomination announcement.
I suppose it had not figured in my bucket list but then again, I don't have a bucket list, so...
Have you watched any of the other actors who are in contention with you: Gustavo Bassani, Jonas Karlsoon and Martin Freeman? How do you rate your chances of bringing the trophy home even though everyone is already a winner?
I have not seen the work of Gustavo Bassani and Jonas Karlsson, but I am very interested in watching the shows they have been nominated for.
Martin Freeman? I have followed his career for many years and absolutely love his work.
He always pops up in one of my favourite director Edgar Wright's films.
In addition, there is The Office, The Hitchhiker's Guide to the Galaxy, Fargo, Carnage, and, of course, Sherlock.
I have not watched The Responder, but I am very eager to.
I greatly admire his ability to represent an underdog, an everyman, with so much grace, depth, bravery, in the face of sadness, quiet charisma and humour.
He always has me rooting for his character.
As for bringing the trophy home, a man can hope, but truly I am just excited to be there.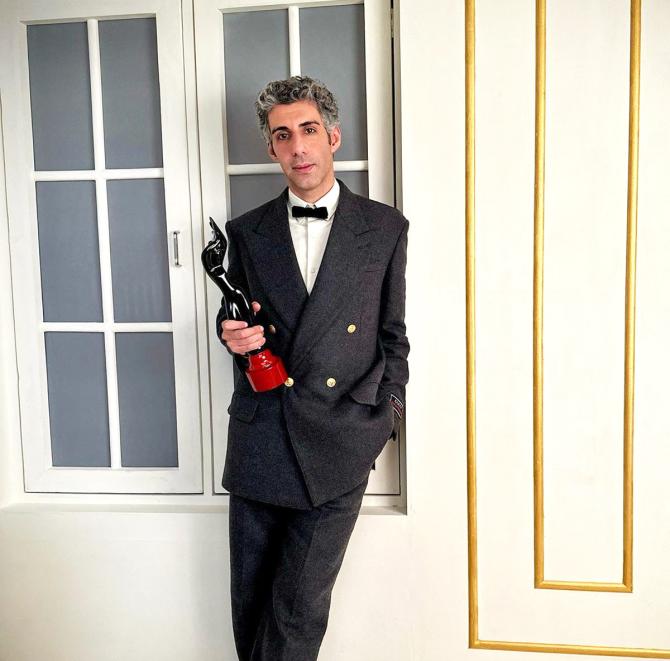 Have you ever discussed the Emmys with your Four More Shots, Please! team or Made in Heaven's Arjun Mathur, who were nominated earlier?
I had spoken to Arjun about it, and he called me yesterday to congratulate me.
I guess this question has made me think about calling them up and asking them about their experiences there.
This year, Shefali Shah also earned a nomination for Best Performance by an Actress for Delhi Crime Season 2 and Vir Das for his Netflix comedy special Vir Das: Landing. How does it feel knowing the world is watching and appreciating our shows now?
It feels good that the shows we are making are reaching global audiences because what a story wants more than anything else, is to be heard.
The more, the merrier.
Your take on Delhi Crime and Shefali's performance? Also, on Vir's show?
I think Shefali Shah is a fantastic actor.
From her early work in Satya and Monsoon Wedding, to the more recent Darlings and Delhi Crime, I think she brings incredible truth, gravity, and mischief to her performances.
I have not seen Vir's show yet, but I look forward to it.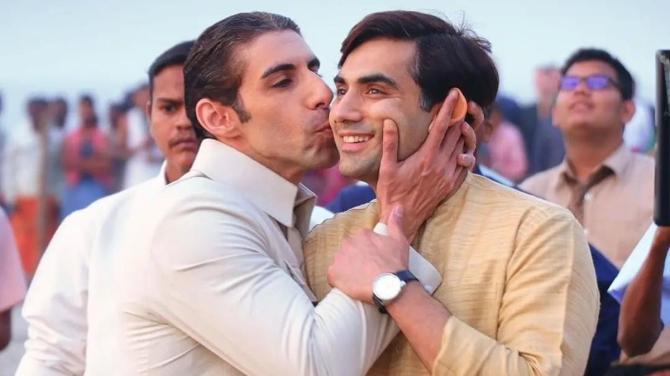 There was this almost karmic connection with Dr Homi Bhabha that long before you started living his life in Rocket Boys, his desk came into your home after your father bought it when Mr J J Bhabha's estate came up for auction. Do you still have that desk?
My laptop sits on it as we speak.
It was a beautiful desk before, and it is a beautiful desk now.
I wouldn't trade it for another.
Were you able to pick up any other memorabilia?
No.
After two seasons of Rocket Boys, many have learnt a lot about the genius scientist you play, his life and achievements. Tell us one thing about Dr Bhabha that did not go into the script or appear on screen over two seasons.
Dr Bhabha was a fascinating man. A complete man.
He was a scientist, first and foremost, but he was also a painter, a violinist, an architect (he designed most of his institutes), a die-hard supporter of the arts, a loyal friend, and a charming partner.
He was full of life.
He believed in increasing the longevity of his life by increasing the intensity with which he lived it.
How you do something is how you do everything, and his attention to detail, appreciation of showmanship, and pursuit of perfection shows in every aspect of his life.
Has playing him changed you as an actor or a person in any way?
What has stuck with me about Dr Bhabha is that he was infinitely curious, and he was unafraid of the hard work required to turn his curiosity into expertise.
What is the equation today with co-stars Ishwak Singh, who played Dr Vikram Sarabhai, and Saba Azad, as Parvana Irani, writer-director Abhay Pannu and creator-producer Nikkhil Advani? Can we expect you back together soon?
Ishwak is off shooting a billion projects, good for him.
He had a screening recently that he invited me for. I, unfortunately, could not attend.
Saba is also doing very well, but we do need a catch-up hang.
I am in close contact with Nikkhil and Abhay as we are cooking up other projects.
In these two seasons, what was the biggest challenge Dr Homi Bhabha presented?
I think the biggest challenge was to try to think of how to present a character who thinks a lot faster and wider and deeper than I do.
A problem he was facing, as small as just the right thing to retort with, or as big as how to convince the prime minister for funding, required days or even weeks of brainstorming to figure out just the right words and approach.
In the scene, however, Dr Bhabha thinks of it in a second.
During ISRO's historic Moon Mission, Chandrayaan 3, was the thrill a little more intense for you?
Yes, it was very exciting seeing Dr Sarabhai's legacy play out in the first soft landing on the moon.
It was an honour to play one of our nation builders, and I hope more shows highlight the unsung heroes of our rich history.
What will you always associate the Rocket Boys with, apart from nuclear programming and space programming?
I will associate a lot of fun with Rocket Boys because the director was not afraid of allowing humour to creep into otherwise very serious scenes and moments. As it does in life.
What have been the reactions from family and the Parsi community? Any particular feedback that remains unforgettable?
Good reactions, lots of good reactions.
Has the series sky-rocketed your career in terms of the work coming your way now?
Sure, yes.
But for a while, I have been focused on my personal life, and cooking up some projects of my own with collaborators.
Ready to get back on set though, now.
Tell us something about the drama thriller Pune Highway, and other upcoming projects.
Hahaha I can't.
Let's wait for the production to release information when they see fit.
I am, however, working on an interview show with the very talented Zoya Hussain that I am quite excited about. We hope to have that out in October.