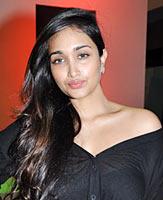 Barely a week after Jiah Khan was found hanging in her Juhu flat, her mother Rabia Khan released a six-page letter to the press, reportedly written by the actress herself before she took her life.

Although the long letter only vaguely refers to a person who's responsible for driving Jiah to committ suicide, in the hand-written note sent out with the letter, Rabia Khan accuses Suraj Pancholi -- Jiah's boyfriend -- and his father Aditya Pancholi of being responsible for her death.

According to reports, the cops were not in favour of making Jiah's letter public until the handwriting was verified.

"But Jiah's mother, for reasons best known to her, wasted no time in releasing the it to the press,"
says a source.
The Pancholis are now exploring their legal options in the light of the latest developments.
"Aditya and Zarina loved Jiah like their own daughter. They respect Jiah's family's grief during this time. But now when Jiah's mother , acting on advice from people close to her, has chosen to declare an unsavoury war on the Pancholis, there's no way they will take this lying down, " a friend of the Pancholi family revealed.
Aditya Pancholi is, however, more concerned with his aspiring actor son's future in the industry.

The actor apparently rang up Salman Khan -- who is producing Suraj Pancholi's debut film titled
Hero
-- and Suniel Shetty, whose daughter Aathiya is Suraj's costar in yet another film, to figure out if the incident will hamper his son's career.