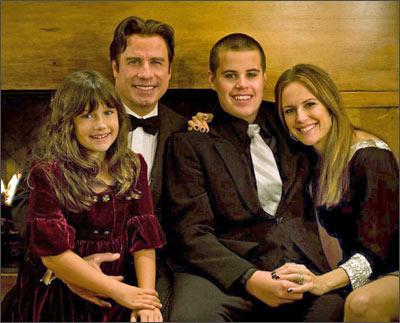 Hollywood star John Travolta and wife Kelly Preston went through a traumatic weekend when their 16-year-old son Jett passed away on January 2.
Jett, who had a history of seizures arising from the rare condition Kawasaki Disease, had been found unconscious on January 2 by caretaker Jeff Katharain. He is thought to have died after hitting his head on a bathtub following a seizure, when he was on a family holiday in the Bahamas. 
The 54-year-old grieving father had come in shortly and administered CPR (cardiopulmonary resuscitation) -- an emergency medical procedure -- on his son, who was later pronounced dead at a Freeport hospital. 
'I tried the kiss of life for about 20 minutes. I wouldn't give up. Jeff gave Jett CPR,' the Sun quoted him as saying. 'I did everything I could to keep Jett alive. The paramedics took over from me when they arrived,' he added. 
Travolta's lawyer Michael McDermott revealed the measures taken to ensure that Jett was properly looked after. 
'John and Kelly had everything possible set up for an emergency in Jett's life,' McDermott said. 'Jeff slept eight feet from Jett. There was a baby monitor right next to him in his bed. And a chimer attached to the bathroom door announced when Jett was going in. All this was because he was prone to seizures.'  
It is yet to be determined whether Jett fell to the floor as a result of a seizure or he had a seizure after falling or slipping. An autopsy is due to be performed on Jett to determine the cause of his death. 
Earlier, Travolta and Preston had begged their son to open his eyes and regain consciousness in the rushing ambulance to the hospital, an Emergency Medical Technician said. 
EMT Chief Marcus Garvey had raced to the celebrity couple's holiday home, Old Bahama Bay resort in the Bahamas, where Jett was found unconscious in the bathroom. Jett was later taken to Rand Memorial Hospital, Freeport, where he was pronounced dead. Garvey revealed that the family had been asked to follow the ambulance, but the pair insisted on being with their son. 
'He (John) was holding his hand, saying 'Come on baby, come on Jett,'' FoxNews quoted him as telling Radaronline.com. 'They were more distraught, you know, getting him there -- 'how far is the hospital? How far? How long is it now?' And I said, 'We'll be there in about five to seven minutes,'' he added. 
Garvey further revealed that he had not realised whom he was talking to since the Pulp Fiction star had coloured his short hair.
During the traumatic ride, Garvey said that Travolta had tapped him on the shoulder and said, 'Good job, good job.' 
Text: ANI 
In the photograph: A file picture of John Travolta and Kelly Preston with daughter Bla and son Jett. REUTERS/Courtesy of the Travolta family/Rogers & Cowan/Handout (UNITED STATES)