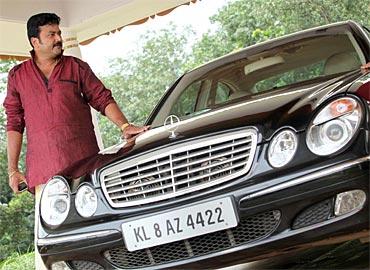 Malayalam director Kamal and actor Jayaram are coming together 12 years after
Kaikkudanna Nilavu
, in a film titled
Swapna Sanchari
. Samvritha Sunil plays the heroine.
"Jayaram plays Ajayachandran Nair who has worked in the Gulf for several years and has become rich. He comes from a modest background and so on becoming rich he wants to show it off. But his family, including his father, is still poor and that worries him. He builds a huge house, buys an expensive car and does everything to flaunt his money. But certain unprecedented happenings
wreak havoc in his life," explains Kamal.
The film, produced by True Line Cinema, has been scripted by K Gireesh Kumar. Gireesh had earlier written
Veruthe Oru Bharya
that gave Jayaram his big break after a series of flops. Kamal's recent critically appreciated film,
Khaddama,
was also scripted by him.
The lyrics are by Rafeeq Ahmed and the music is by M Jayachandran.
"It's a realistic film and the viewers will feel that they have seen characters like the one I am playing. This one is going to be a great entertainer for sure," says Jayaram.
The shooting is currently going on at Thodupuzha.