'When I see the final moments of Padmaavat, it reminds me of how strong and powerful and intelligent women are.'
'I feel so powerful and alive as a woman.'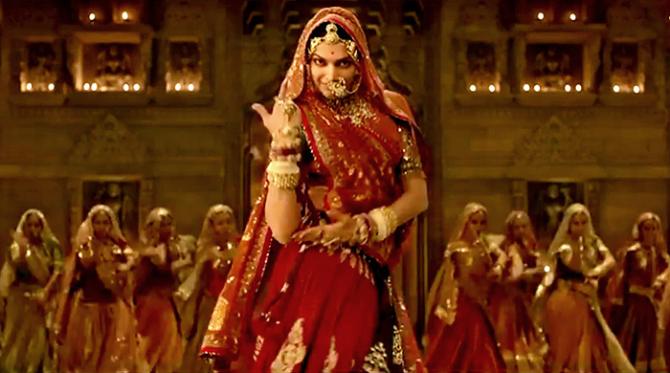 Padmaavat may be making waves in theatres and elsewhere, but the mood is sombre on the 22nd floor of Mumbai's Taj Lands End hotel.
Deepika Padukone has just walked in.
She speaks softly, very seriously, and hardly smiles.
She's very different from the cheerful Deepika Rediff.com's Patcy N had met only a few years ago.
"Are we endorsing jauhar today? No. The film is set in the 12th and 13th century, so I find it bizarre to take one scene out of context and then question that," Deepika tells Patcy.
You have received a lot of appreciation for this role.
It's surreal in a way and it is unprecedented in the sense that it has never happened before... this kind of adulation, love and support.
I often wonder what have I done to deserve something like this?
You know some things will happen if you do the right kind of work.
You know your fans will be there if you are on the right path. But sometimes, they really can surprise you in amazing ways.
I really didn't expect this.
The film has crossed the Rs 100 crore (Rs 1 billion) mark.
We have been through so much... and when I say 'so much,' I don't necessarily mean the episodes that happened in the last two or three months.
But even just as a film, right from the casting, to the production, going to the sets every day, shooting the kind of film that we have shot...
It's not easy because of the scale and the impact that it needed to create.
Then, of course, the challenges and the roadblocks along the way.
It feels surreal, but at the same time, the kind of love and appreciation and, of course, the success...
I always look at success in two parts. Success at the box office is great. You want every film to do well.
And then, the intangible things -- the love, appreciation, adulation and, most importantly, the blessings...
I have had film releases, I have had successful films, I have had films in the Rs 200 crore, Rs 300 crore clubs, I have won awards, but this has been unique.
I feel I have got a lot of blessings for this particular film in the last couple of days.
I feel like I am protected.
I feel a connection with people.
The film is doing well internationally too.
To begin with, let us not forget that it is a powerful story.
And it's a powerful story told at a time when women have come to the fore.
Women (today) find it a relatable story.
Of course, a large part of this has to do with curiosity, because of the controversy surrounding the film.
I know a lot of people who said that they were not fans of Indian films, in fact, a lot of Indians don't watch Hindi films. But there were a number of people who wanted to watch the film for various reasons, like the relevance of this subject, the woman Padmavati, and how relevant it is in today's times.
I would also like to believe our popularity -- whether it is Sanjay Sir's or mine -- also has a lot to do with the success of the film, not only in India, but globally as well.
Did you at any point feel that Padmaavat would not release?
No, I did not think that.
I would have given my life, if I had to, to make this film release. That's my right as a citizen of this country.
When you create something, it's a right to ensure that people have the opportunity to view and enjoy the experience.
Whatever it would take to release this film, I would have done that.
So no, I did not lose faith. I was certain that it would release. I didn't know when, but I was sure that it would happen at some point.

IMAGE: Deepika Padukone during the jauhar scene in Padmaavat.
How difficult was the jauhar scene?
Extremely difficult.
When you know that you are leading hundreds of women to enact something that we do not believe or endorse today... but you have to set yourself back into the 12th or 13th century, when this was a ritual.
For me, it was not the act of committing jauhar. It was a way of winning the war.
It was her way of leading hundreds of women to victory.
So for me, in those moments, I feel powerful.
When I see the final moments of Padmaavat, it reminds me of how strong and powerful and intelligent women are.
They have so much dignity. I am not talking about the ritual specifically, but these are the thoughts that come to my mind.
I feel so powerful and alive as a woman.
But as an actor, it was really hard because there's no dialogue in the last 10 to 15 minutes of the film. The entire climax is just visuals.
The fact that Padmavati has to convey so much, that I had to convey so much, just through my eyes -- what she was feeling, she knew her husband had just been killed, she was the queen and had to hold the fort...
She was the strength of all of these women.
She's the one who emanates her power to all of them, so she has to be strong at that moment.
To express all of those things.. she is also breaking from inside because so much has happened, but to express all that only through the eyes was difficult.
Actress Swara Bhaskar criticised the jauhar scene in an open letter to Mr Bhansali. What do you think about it?
I guess a lot of people missed the disclaimer at the beginning (of the film).
Whenever we view a film, I think it is important for us to view it in totality.
Are we endorsing jauhar today? No.
The film is set in the 12th and 13th century, so I find it bizarre to take one scene out of context and then question that.
Having said that, I am completely open to people having their opinion. Whether I agree or disagree, that's secondary.
I respect the fact that people have various views.
This is the right way to do it, not what we saw in the last couple of months.
We may choose to agree or disagree, but this is the way to do it.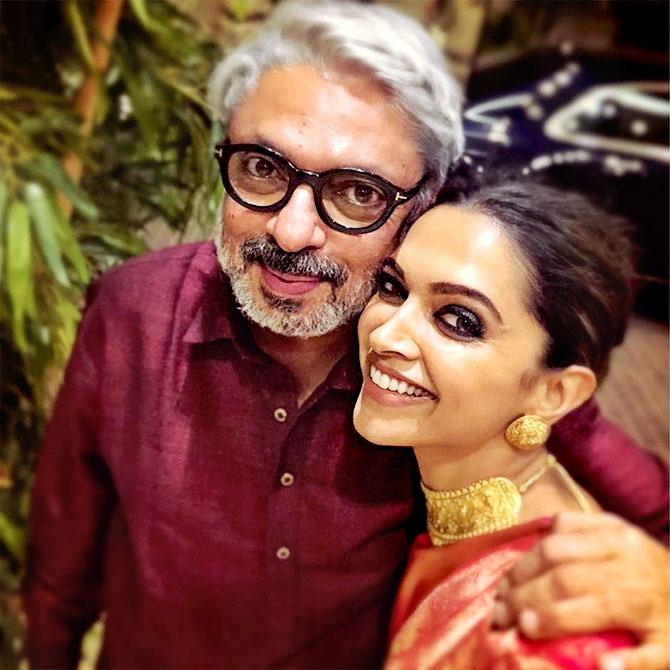 IMAGE: Deepika with Director Sanjay Leela Bhansali. Photograph: Kind courtesy Deepika Padukone/Instagram
What was it like working with Mr Bhansali on Padmaavat?
He was silent and calm. It was as if he knew exactly what he was doing with this film.
There were no doubts in his mind about the film, the characters or where this film was headed.
He had so much clarity on the subject -- the kind of woman Padmavati was, her beliefs, what she stood for... he was like a horse with blinders. He knew exactly where he was headed.
I have done three films with him in six years. I have not seen a more confident person.
How has the relationship evolved?
I believe I share a very spiritual relationship with him because we don't talk much, we don't communicate much.
Whatever little we do, it's through the eyes.
We did not communicate much during Goliyon Ki Raasleela: Ram Leela, and we communicate even lesser now.
We look at each other and know exactly what the other person is thinking.
That also says a lot about the faith he has in me as an actor -- before a scene, he does not have to discuss the graph or what the character is going to do.
There is no discussion at all. He gives me that freedom.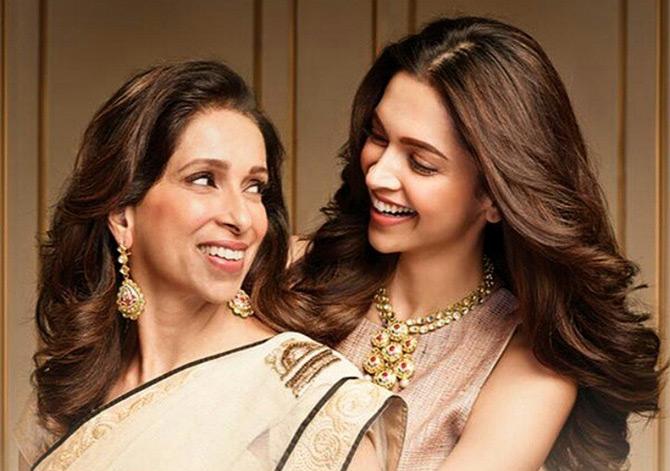 IMAGE: Deepika with her mother Ujjala Padukone. Photograph: Kind courtesy Deepika Padukone/Instagram
What was your family's reaction to Padmaavat?
They were absolutely stunned by the movie.
I think they felt so many things at that point that as parents they don't know whether they should react to their daughter or react to the film.
They felt an immense amount of pride.
I could just see them brimming with joy and pride.
What is your takeaway from Rani Padmavati?
Her strength, her power, her courage and her intelligence. But most importantly, her dignity.
Would like to do another period drama?
Yes, why not?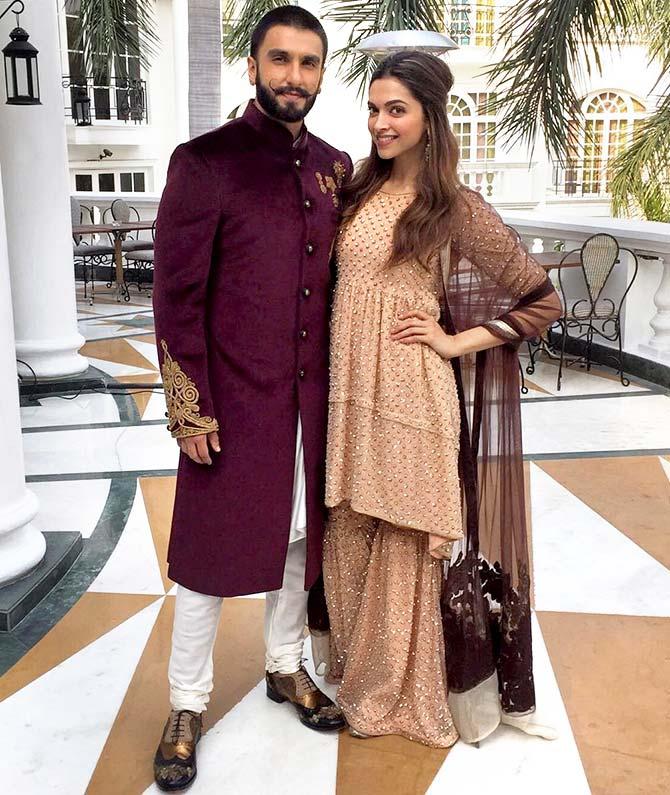 IMAGE: Deepika with Ranveer Singh. Photograph: Kind courtesy Deepika Padukone/Instagram
You have formed a good team with Mr Bhansali and Ranveer Singh.
Fortunately or unfortunately, the only director who has brought us together is him.
Ranveer has been an important part of all the Sanjay Leela Bhansali films that I have done.
I can see his growth as an actor. He grew with Bajirao Mastani after doing Ram Leela.
I can see what he has done with Khilji after Bajirao.
I am yet to see an actor with so much sincerity.
What Ranveer and Shahid have done with Padmaavat have been extremely generous.
People advised Ranveer not to play an antagonist at this stage in his career.
There were people who were apprehensive for Shahid because of various reasons -- the fact that he was entering new territory, considering Sanjay Sir had already worked with Ranveer and me.
He was new to that set-up, and did not know what kind of cards he would be dealt.
A lot of people also discouraged them from doing the film purely because it was called Padmavati (the original title was changed to Padmaavat at the censor board's behest).
Eventually, they overcame all of those hurdles and doubts and did the film purely for the love of it.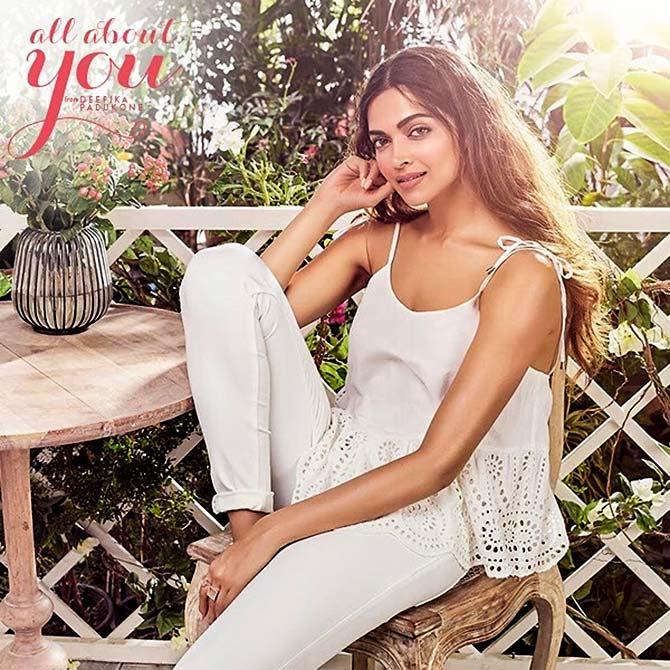 Photograph: Kind courtesy Deepika Padukone/Instagram
Akshay Kumar pushed his film PadMan forward to let Padmaavat enjoy a solo release. What do you have to say about that?
I had read a quote which said, 'Only from the heart can you touch the sky.' I think it's so relevant in this situation.
It is relevant even with our film. We made this film with all our heart and in spite of the stones thrown at us and the hurdles we faced, the roadblocks, the film was invincible.
It has gone beyond.
The audience has become the torchbearer of the film now.
You had said that Mastani was the toughest role of your career.
I change that answer now and pick this film.
It has been my endeavour to do every role and every film better than my previous work. Otherwise, I am not doing something right as an actor.
Now that I have done Padmaavat, I can see the difference -- both of them were warriors in their own right.
Mastani was a warrior= who actually went to the battlefield and was at par with men.
Rani Padmavati was a warrior in her heart, mind and spirit.
She won a war in a very different way.