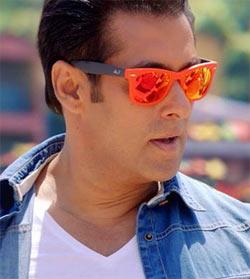 The advance booking of Salman Khan's eagerly awaited film Jai Ho have started and although the sentiment regarding the movie is buoyant in markets such as Uttar Pradesh, metros such as Delhi and Mumbai have shown a softer response than usual.

Though Jai Ho is the first blockbuster release of the year, exhibitors believe they are taking a risky bet on the Salman Khan movie.

The film, co-produced by Sohail Khan and ErosInternational, hits cinemas this Friday.

As there is no other major release slotted for Friday, the film has managed to get a release across 4,000 screens in the country.

Abroad, the film will be released on about 600 screens across the Persian Gulf, the US, the UK and Australia, all places where Salman enjoys a huge fan following.

Gautam Dutta, chief operating officer of PVR Ltd, says, "We will be running the movie on 80 per cent of our screens, considering there is no other big movie releasing around that time. While the sentiment regarding the movie is buoyant in markets such as Uttar Pradesh, metros such as Delhi and Mumbai have shown a softer response than usual."

Most others are adopting a wait-and-watch attitude and say the feedback on Friday will be crucial to the film's success.

Shaaminder Malik, independent exhibitor and trade analyst (north India), says, "Except for markets such as Uttar Pradesh, where Salman has a massive following, there is a lukewarm response to Jai Ho. Also, the songs have not found traction with audiences, and this could go against the movie. In my opinion, the opening will be good but how the movie does beyond the first weekend will depend a lot on word of mouth and reviews on social media."

He adds the most anxiety regarding the film is among single-screen owners, who have had to cough up a hefty sum to run Jai Ho on their properties. This fee, called minimum guarantee, is a non-refundable sum an exhibitor pays to the distributor/producer
to screen the film. Sources said the minimum guarantee charged for
Jai Ho
was among the highest in India.
Salman has delivered five major consecutive hits (
Dabangg, Ready, Bodyguard, Ek Tha Tiger
and
Dabangg 2
). All the five hits were released in the August-December period and a January release is a break in the pattern for Salman.
Komal Nahta, editor and publisher of film trade journal
Film Information,
says, "Salman is at one of the best times of his careers and he has a massive fan following. His fans are all about him, and as long as the movie has him looking good, doing his trademark action sequences and romancing his leading lady in his signature style, they are happy. By the looks of it,
Jai Ho
promises all this. So, a January release should not be a problem."
Producers have made their money already
Trade analysts say Sohail Khan, co-producer of
Jai Ho
, has sold the distribution rights (domestic and international, including broadcasting and music rights) of the film to Eros International for Rs 120 crore. The film was made for Rs 60 crore, excluding leading star Salman Khan's fee, as it was a home production. Salman charges about Rs 30 crore a film.
Sohail Khan Productions' earnings depend on the success of the film on the box office. Analysts say under its deal with Eros, the production house will get half of the collections, if the revenue touches a threshold. Eros has already monetised the film by selling the broadcasting rights to STAR India for Rs 50 crore and the music for Rs 10 crore.
To break even, it will need gross collections of Rs 120 crore (half of the collections go towards taxes and exhibitors). Once Eros achieves 20 per cent return on investment (Rs 144 crore), the box-office revenues will be shared by the two co-producers, analysts say. Most believe the magic number will be achieved in the second week of the film's release.