'After 56 years in the film industry, making over 200 films, I've broken so many bones, finally this is mine. I want to thank you, Hong Kong, such an incredible city, my hometown, my hood, who make me.'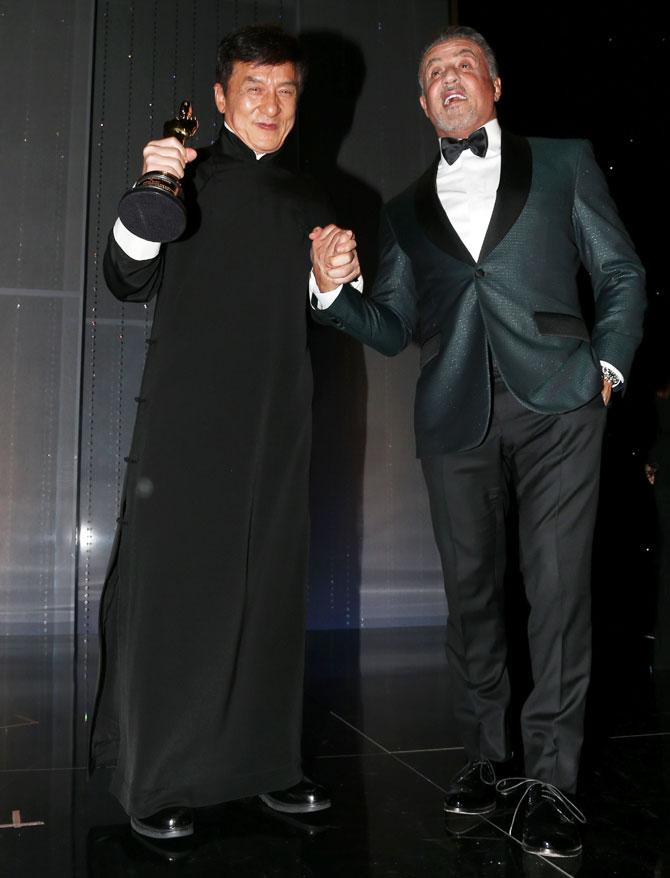 IMAGE:

Jackie Chan poses with Sylvester Stallone during the Academy of Motion Picture Arts and Sciences' Eighth annual Governors Awards at The Ray Dolby Ballroom at Hollywood & Highland Center on November 12 in Hollywood, California.

Photograph: Frederick M Brown/Getty Images
W
ith more than 200 films under his belt spanning a 56-year career, Jackie Chan has finally received an Oscar.
The 62-year-old action star was awarded an honorary Oscar at the Eighth Annual Governors Awards at the Hollywood and Highland Center in Los Angeles on Saturday night, reported E! online.
Tom Hanks, Michelle Yeoh and Chris Tucker presented Chan with the award.
Hanks compared Chan to the likes of John Wayne and Buster Keaton.
Chan accepted his award, calling it a 'dream' and shared his memories growing up and watching the Oscars with his parents.
"My dad always said, 'Son, you get so many movie awards in the world, when are you going to get one of these?' Then I just look at my dad. 'Ha, ha, ha. Dad, I only make comedy action movies,'" he shared.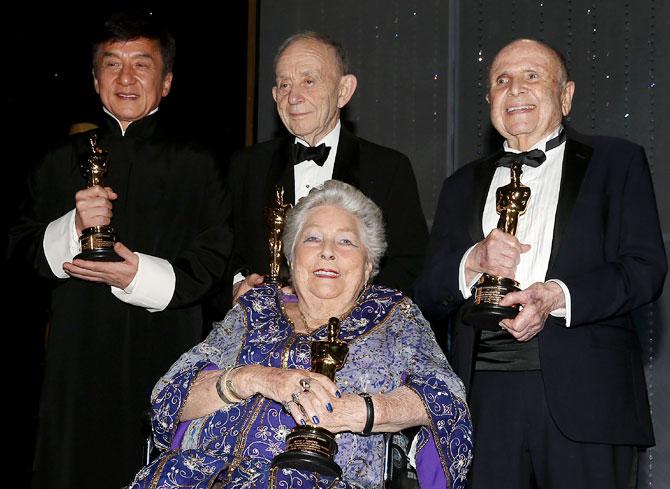 IMAGE: Jackie

Chan, Frederick Wiseman, Anne V Coates and Lynn Stalmaster pose with their awards. Photograph: Frederick M Brown/Getty Images
T
he star remembered seeing Sylvester Stallone's Oscar when he had a meeting with him at his house 23 years ago.
"I touched it, kissed it, smelled it," Chan kidded. "I believe it still has my fingerprints on it...Then I talked to myself, 'I really want one.' Finally, (Academy President Cheryl Boone Isaacs) called and I said, 'Are you sure?'"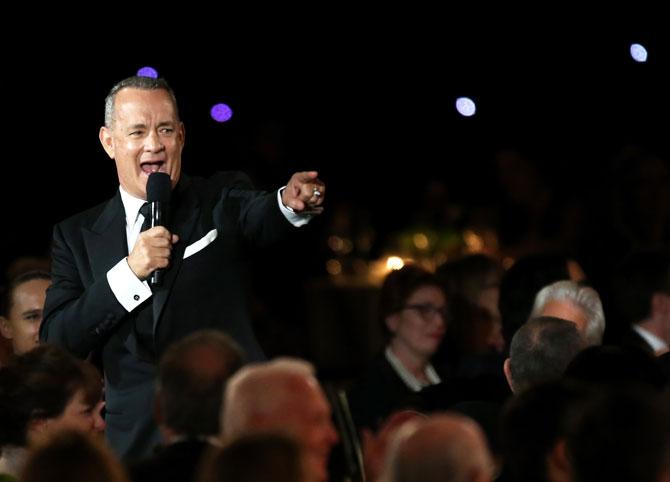 IMAGE:

Tom Hanks speaks at the Governors Awards ceremony.

Photograph: Frederick M Brown/Getty Images
C
han thanked his fans and promised them to keep working and making movies.
"After 56 years in the film industry, making over 200 films, I've broken so many bones, finally this is mine. I want to thank you, Hong Kong, such an incredible city, my hometown, my hood, who make me.
"China, my country, I am proud to be Chinese. Thank you, Hollywood, for all of those years teaching me so many things, and also make me a little bit famous. I'm just honoured to be here," he said.
Chan took to Twitter to share his feelings about the night. 'So honoured and happy and lost for words!' he wrote.
© Copyright 2020 PTI. All rights reserved. Republication or redistribution of PTI content, including by framing or similar means, is expressly prohibited without the prior written consent.