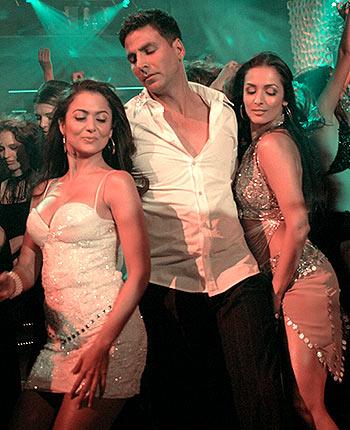 Meet the Shaandaar siblings of Bollywood.
Siblings rarely star in the same film but when they do, they always seem to have a lot of fun.
Shahid Kapoor must be cringing at all the bad reviews of Shaandaar but his chemistry with sister Sanah in the film was pretty good.
Here's looking at siblings in the films:
Shahid and Sanah Kapoor, Shaandaar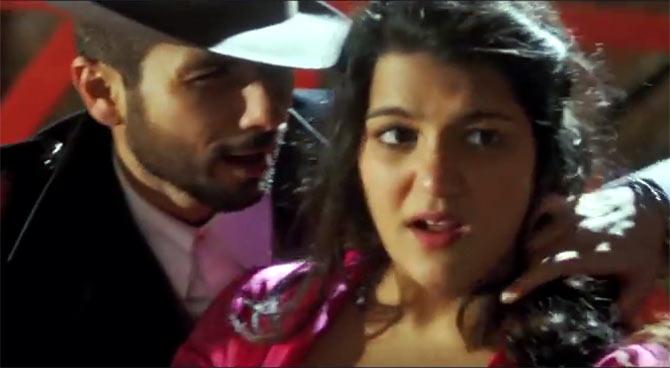 Image: Shahid Kapoor and Sanah Kapoor in Shaandaar
Sanah told us in an interview that she *loves* acting.
It's quite apparent in the film as well, as the debutante seems to get it right!
Of course, it helps if it's a family outing, and brother Shahid and dad Pankaj are also on the same sets.
Salman and Arbaaz Khan, Pyaar Kiya Toh Darna Kya, Dabangg, Dabangg 2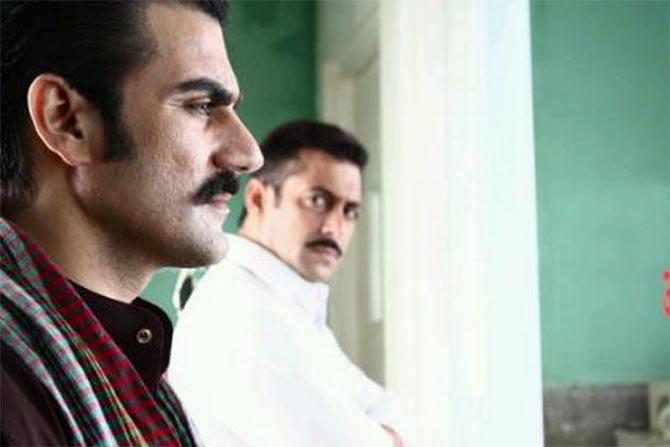 Image: Arbaaz Khan and Salman Khan in Dabangg
Salman and Arbaaz Khan have worked with each other often.
The first time they came together was in Pyaar Kiya Toh Darna Kya. There was some wonderful love-hate chemistry on display, and it was one of the highlights of the film.
Later, they were seen in Hello Brother.
Now, they have become regulars in the Dabangg series.
Aamir and Faisal Khan, Mela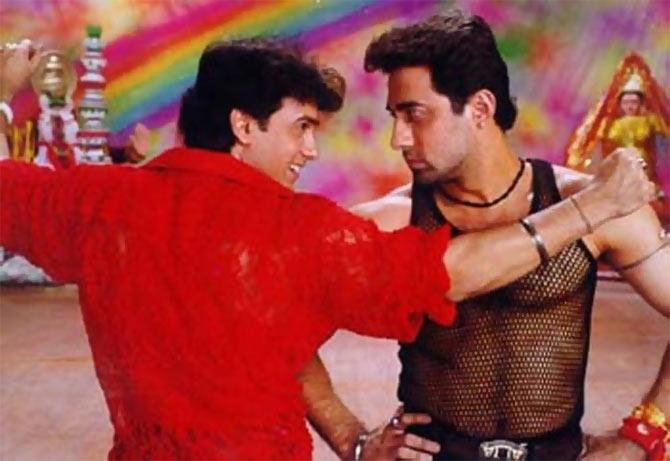 Image: Aamir and Faisal Khan in Mela
Mela saw Aamir and his younger brother Faisal Khan come together on screen.
One of Aamir's most forgettable films, it was the first release of 2000 and was a complete disappointment.
While Aamir continued to make films, Faisal disappeared after this second re-launch since Madhosh (1994).
Rishi and Randhir Kapoor, Housefull 2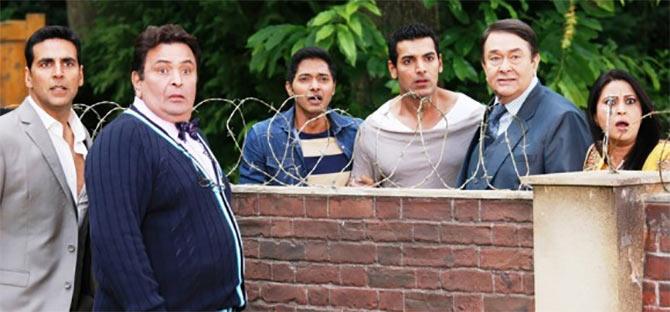 Image: Akshay Kumar, Rishi Kapoor, Shreyas Talpade, John Abraham, Randhir Kapoor and Neelu Kohli in Housefull 2
Though Randhir Kapoor made a guest appearance in Rishi Kapoor's Zamaane Ko Dikhana Hai, they acted together for the first time in Sajid Khan's Housefull 2.
In the film, they played warring siblings, who eventually hugged and made up.
Salman and Sohail Khan, Maine Pyaar Kyun Kiya, Veer, Main Aur Mrs Khanna, God Tussi Great Ho, Salaam-e-Ishq, Heroes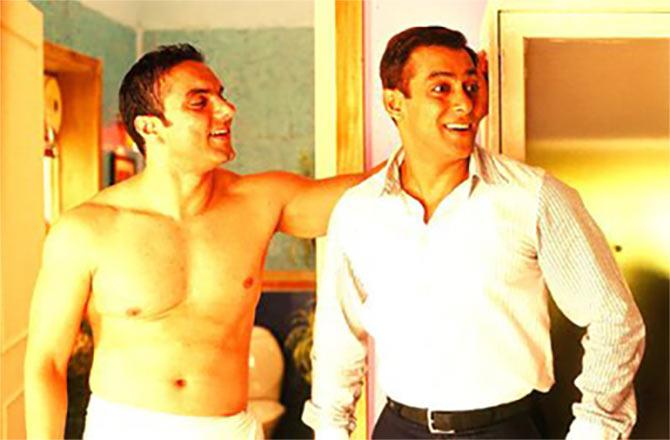 Image: Sohail Khan and Salman Khan in Maine Pyaar Kyun Kiya
Though Sohail Khan has directed his brother Salman in a few films, they came together as actors in Main Aurr Mrs Khanna.
They had good comic moments in the hit Maine Pyaar Kyun Kiya but did not share screen space in Salaam-e-Ishq, Heroes and God Tussi Great Ho.
We saw them together in Veer, but that bombed.
Aditya and Kunaal Roy Kapur, Yeh Jawaani Hai Deewani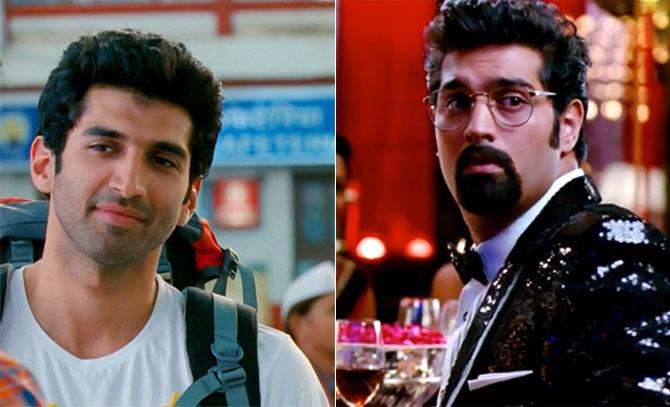 Image: Aditya and Kunaal Roy Kapur in Yeh Jawaani Hai Deewani
Brothers Aditya and Kunaal Roy Kapoor came together only for a few minutes in Yeh Jawaani Hai Deewani. In the film, both of them were in love with Kalki Koechlin, and the latter married her.
In a way, it was an out-and-out sibling show as elder brother Siddharth Roy Kapur's UTV was the film's presenter.
Sunny and Bobby Deol, Dillagi, Apne, Yamla Pagla Deewana, Yamla Pagla Deewana 2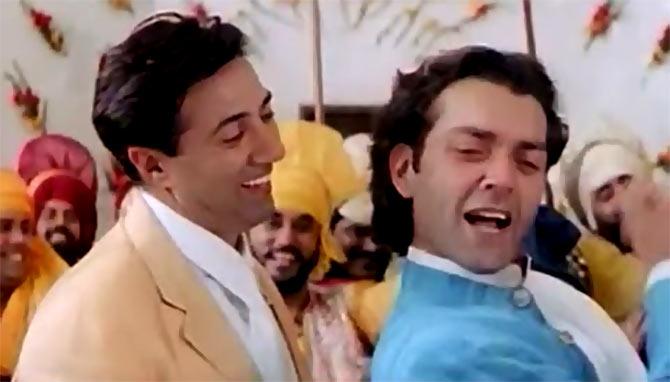 Image: Sunny and Bobby Deol in Dillagi
The Deol brothers first came together in Dillagi, where both of them fell in love with Urmila Matondkar. The film failed commercially.
So did 23rd March 1931: Shaheed, where Bobby played Bhagat Singh and Sunny played Chandrashekhar Azad.
It was Apne, where they finally scored a hit, when their father Dharmendra joined them.
From action, they turned to comedy with Yamla Pagla Deewana which was also a smash success. However, its sequel disappointed big time.
Riya and Raima Sen, 3 Bachelors, Noukadubi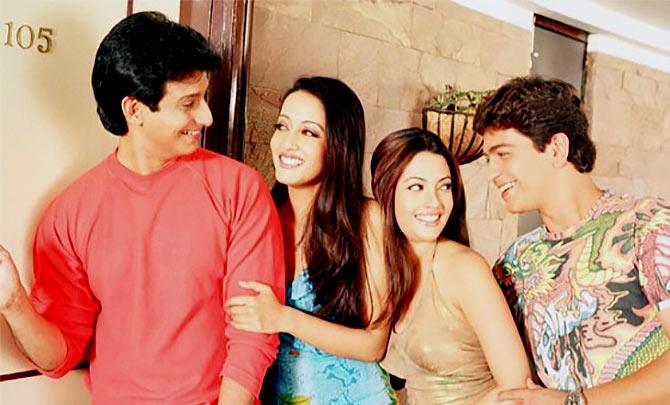 Image: Sharman Joshi, Raima, Riya Sen and Manish Nagpal in 3 Bachelors
The Sen sisters starred in 3 Bachelors, an atrocious romcom featuring Sharman Joshi.
The film took a decade to release, and subsequently flopped.
Before that, Raima and Riya were seen in Rituparno Ghosh's Bengali-Hindi bilingual Noukadubi. The film was an art house affair and disappeared without any trace.
Malaika and Amrita Arora, Om Shanti Om and Heyy Babyy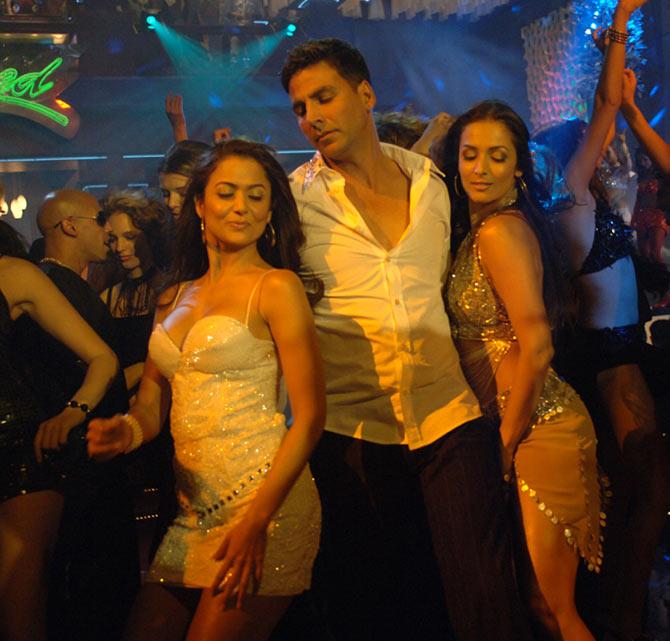 Image: Amrita, Akshay Kumar, Malaika Arora Khan in Heyy Babyy

While Malaika Arora Khan seems content with item numbers, younger sister Amrita doesn't seem to have any more big screen aspirations.
They have never been in a film together, only making exceptions for Farah Khan's Om Shanti Om and Sajid Khan's Heyy Babyy, where they danced together for a few moments.
Sajid and Farhad, Entertainment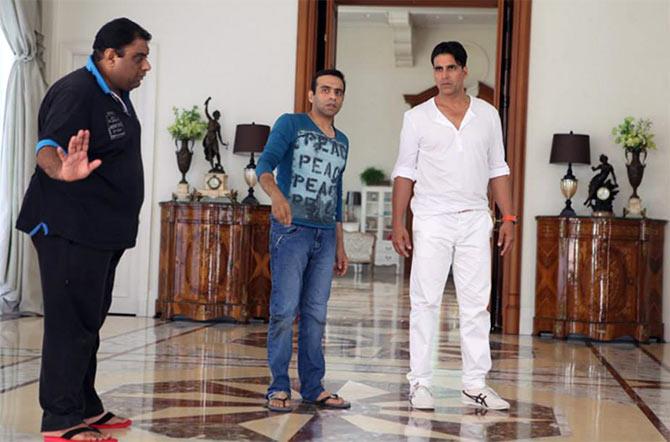 Image: Sajid, Farhad and Akshay Kumar in Entertainment
In their directorial debut film Entertainment, Sajid-Farhad made a cameo as well.
They played commentators in a cricket match while Akshay Kumar played the umpire.
The scene lasts for barely a minute and not many realised that they were watching the director duo on screen.