If Jaanbaaz Hindustan Ke differs from other shows in the crowded genre, it is because the two lead characters are women, observes Deepa Gahlot.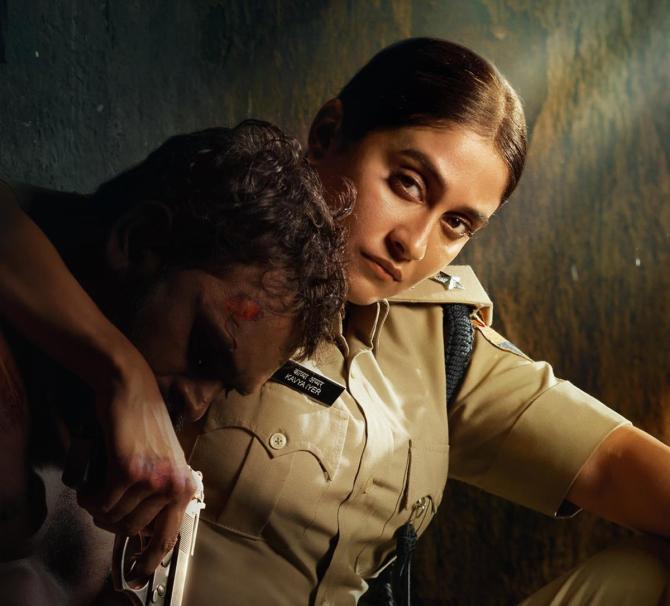 Had Srijit Mukherji's Jaanbaaz Hindustan Ke come a little earlier, it might have evoked more interest.
But after a whole spate of cops-and-terrorist shows and films, there is viewer fatigue where this subject is concerned.
Some of the locally produced shows (like The Family Man, Special Ops) jostle with slick international series (Homeland, Fauda) on OTT, with bigger budgets and better resources.
Jaanbaaz Hindustan Ke cannot be faulted on sincerity and ambition, however, as hard-working cops put their lives on hold to chase text-book jihadi terrorists from the north east to Kerala.
Kavya Iyer (Regina Cassandra) is posted in Meghalaya, which is odd, since she is not from the region and does not speak the language.
Estranged from her husband Sameer (Barun Sobti), she lives with her mother (Deepika Deshpande Amin) and perky little son Reyansh (Jihan Hodar).
Chasing militants across the lovely misty landscape, she walks into an ambush and is transferred out in disgrace, when several members of her team are killed. Nobody pays attention to her assertion that RDX has been smuggled over the Bangladesh border.
As she struggles with career issues, her husband threatens divorce and demands custody of their son.
When a different set of terrorists assassinate the chief minister of Assam in a drone strike, possibly with the smuggled explosives, she is reassigned to the National Investigation Agency, led by Mahira Rizvi (Mita Vashisht). Her new boss is initially hostile, but once she accepts that Kavya works in her own way and gets results, she warms up to her.
They follow the terrorists' lead to Jaipur, where another drone attack on a bunch of MLAs takes place, and Kavya surmises that there will be more.
The terrorist duo is Tariq (Sumeet Vyas) and Thasleena (Gayathrie Shankar), both radicalised by an unseen 'uncle' and trained in Syria by ISIS, along with other misguided Muslim youth.
The show is an earnest but mostly dull police procedural that shows in great detail how the cops find clues, chase suspects and protect the country.
The men and women, who selflessly do these dangerous jobs, are not Bond-like glamorous heroes but ordinary-looking people, like the Internet expert Chandan Jha (Panchayat's Chandan Roy), the serious, bespectacled guy, who speaks chaste Hindi with a Bihari accent.
Kavya is admired by the media that calls her 'Shillong Ki Sherni;, but also castigated when things go wrong.
On the trail of the terrorists, she is shot at, wounded with explosives, and gets into fist fights, but she is relentless.
The series ends up in Kochi, where another big attack has been planned, and the pace picks up somewhat.
Most of the time, it is a paint-by-numbers thriller, in which the terrorist leader operative is given a lot of footage, but not much of a personality.
Vyas gets one scene he can bite into, as he sneers at Kavya and Mahira, asking him elementary questions.
If Jaanbaaz Hindustan Ke (written by Neeraj Udwani and Ashish P Verma) differs from other shows in the crowded genre, it is because the two lead characters in power are women; the attacks are carried out by drones (which might give some loony criminals ideas), and plodding computer work (no shiny gizmos) plays a large part in tracking the baddies.
Regina Cassandra has an attractive screen presence, but her Kavya is mostly one-dimensional.
Mita Vashisht, given severe outfits (except one brief scene when she is seen at home), acts enough for the whole cast put together.
The series is a tribute to the police officers who have lost their lives on duty, and ends with the promise of a second season. It could do with some pace and energy.
Jaanbaaz Hindustan Ke streams on ZEE5.
Jaanbaaz Hindustan Ke Review Rediff Rating: