'Jackie Chan has been training since before we were even born. There is no match to his perfection. I learnt a lot from him.'
Sonu Sood talks Kung Fu Yoga and Jackie Chan.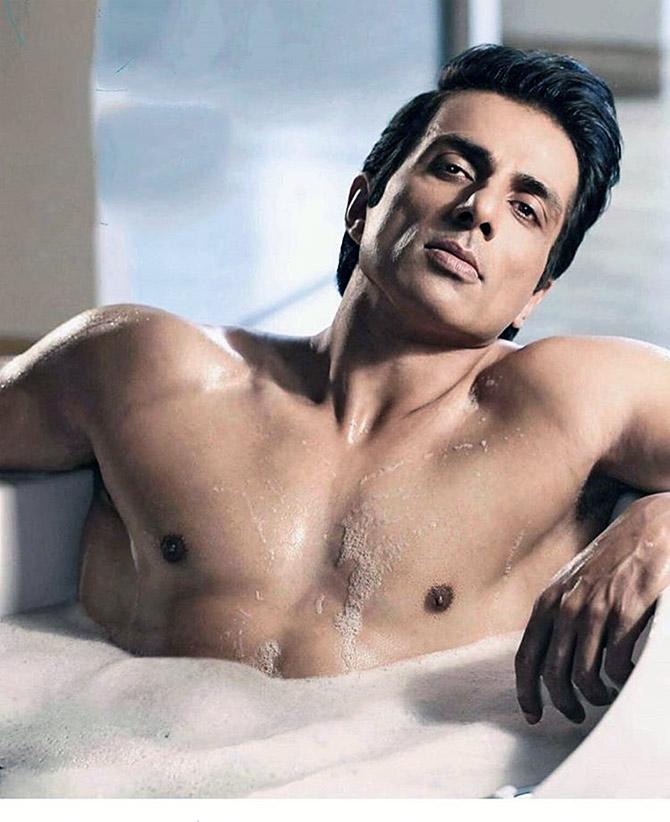 Photograph: Sonu Sood/Instagram
Sonu Sood makes his international debut as an actor as well as a producer with Kung Fu Yoga.
His production house, Shakti Sagar Productions, is named after his late father.
Sonu has always been a fan of his co-star Jackie Chan. "I still have video cassettes of Police Story and Rumble In The Bronx, which won't work now," he says with a laugh.
"When I was flying to Beijing for the first time and surfing the in-flight movies, I saw Police Story starring Jackie Chan. It was directed by Stanley Tong, and I was going to work with the same team!" he exclaims.
Sonu tells Jahnavi Patel/ Rediff.com why Kung Fu Yoga is special for him.
Tell us about Jackie Chan's visit to India.
I wanted to get Jackie to India but it was tough.
I was not a studio with 200-300 people working (with me) nor did I have any collaboration. It was an individual, who wanted to bring him and make him do what no one has done before.
Jackie was very excited about it.
Just before Jackie left India, he held my hand and thanked me for the experience. He told me, 'I have travelled around the world but India was the most special launch.'
That made the whole effort worth it.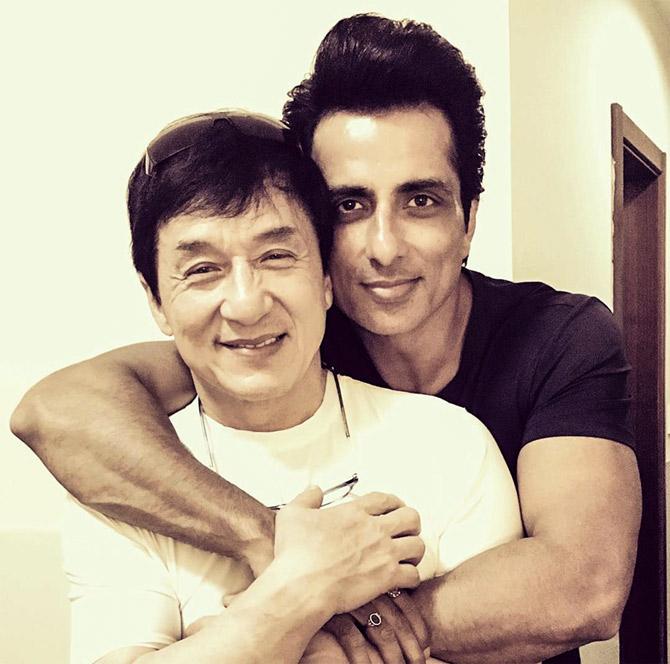 IMAGE: Sonu with the most grounded man he has ever met, Jackie Chan. Photograph: Sonu Sood/Instagram
You must have had much learnings from Jackie Chan. Would you like to incorporate it in your films?
Definitely. Whenever we do action here, we have high-speed punches but we take all the time in the world. Those are special moments too, but when you work with Jackie Chan, you have to be very quick.
They fight from the waist. You have to be very light on your feet. It's very quick.
I used to train with Jackie Chan's stunt team everyday. I would get up at 5:30 am in the 5 degrees temperature in Beijing, and train with them. This happened for seven or eight months.
Even when we weren't shooting, these stunt guys would be on the sets, chatting with each other. They would stand on one leg and talk. That's when you realise that fitness is not only about the one-two hours you spend in the gym, it's a 24-hour thing, where you keep pushing yourself to achieve the limit.
I would love to incorporate the action I have learnt in Bollywood. Hopefully, we will have the infrastructure and production to execute it.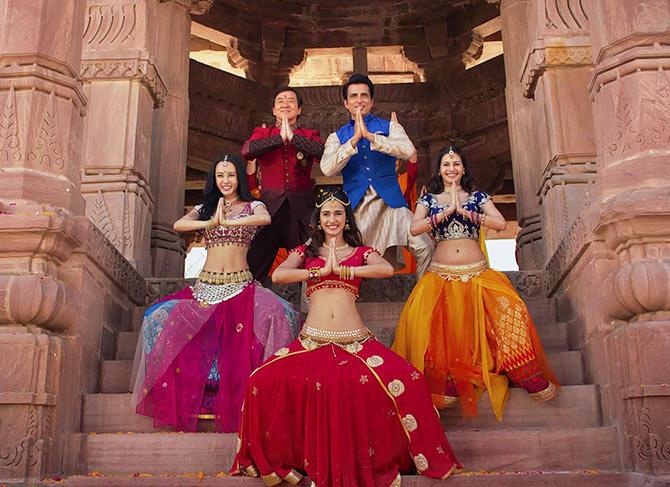 IMAGE: Jackie Chan, Sonu Sood, Miya Muqi, Amyra Dastur and Disha Patani in Kung Fu Yoga
Was the action there difficult?
No. I am a very hard worker. If they used to call me for two hours but I would spend six-seven hours.
This was a school and was very precious. I was learning something everyday.
I learnt the Pilipino martial arts, which happens with a stick.
Jackie used to walk around the sets, when I was learning, and would comment, 'Oh you're learning this!' Later, he told me I was very good at it.
Tell us your experience of shooting the action sequences with Jackie Chan.
When I read the script, I knew the action sequences would be huge. The stunts were very nicely written on paper but to execute them was a big challenge.
I knew Stanley (Tong) was one of the best action directors in the world and he would leave no stone unturned to make it look real.
When the climax action started, I had to fight Jackie one-on-one. The only thing that used to worry me was that I shouldn't hit him.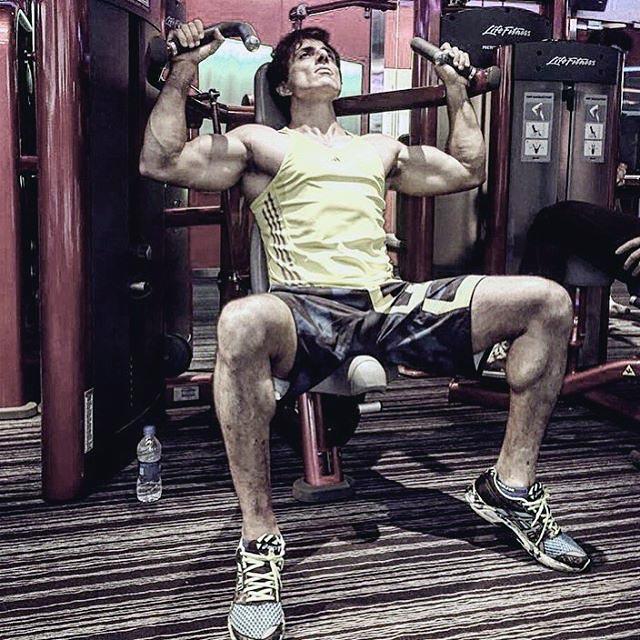 IMAGE: Hard work in process. Photograph: Sonu Sood/Instagram
Jackie Chan is 62 years old now. Do you think age has slowed down his action?
No. Before the camera rolled, he would say, 'I am getting old. How am I going to do it?'
But as soon as the camera would roll, he would be in form.
Then when the scene ended, he would say again, 'Oh man, the knee is paining...'
The sound of the camera motivates you to give your hundred percent.
Jackie has been training since before we were even born. There is no match to his perfection. I learnt a lot from him. When you watch the film, you will see that I've given him a tough fight.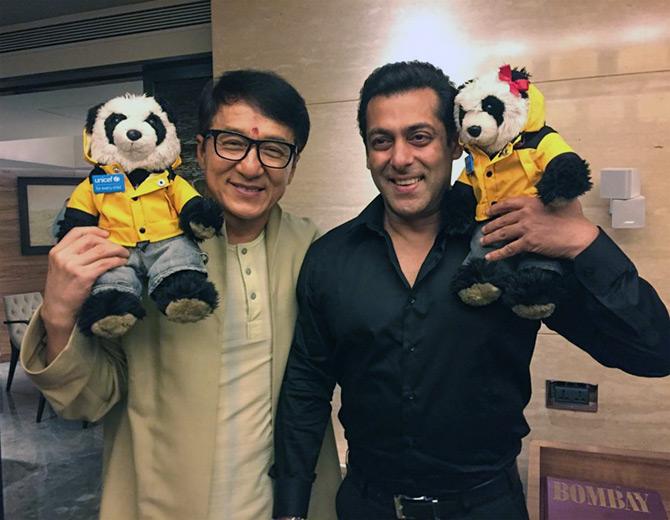 IMAGE: Jackie Chan and Salman Khan pose with Pandas. Photograph: Salman Khan/Twitter
Salman Khan made sure to meet Jackie Chan.
Salman Khan is a huge Jackie Chan fan.
Jackie had read some stuff about Salman and was keen to meet him. I had also told Jackie about Dabangg and that Salman and I had done the film together. I also told him about Sultan.
Salman was shooting for Tubelight but he wrapped his shoot early to meet Jackie.
When they met, Salman said how difficult it was while shooting for Sultan. He said, 'My knees and elbows are still paining. How do you do all the stunts?'
Jackie replied, 'I love doing it.'
What are your expectations from Kung Fu Yoga?
I wish Kung Fu Yoga does wonders for all of us and that it opens new avenues for actors abroad.