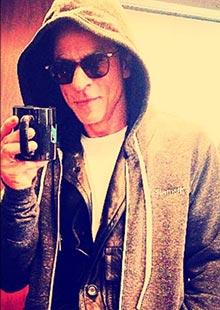 Here's a look at the top 10 tweets from your favourite Bollywood celebrities:
After touring New Jersey, Washington and Chicago in the US, Shah Rukh Khan is now gearing up to perform in London as part of the SLAM! event at The O2 theatre on October 5.

Before leaving, the Happy New Year star visited Twitter headquarters in San Francisco with his costars to promote the film.

Thanking CEO Dick Costolo, the 48-year-old actor shared a picture of him in Twitter merchandise and wrote: 'Leaving US of A with such fond memories. SLAM now moves 2 London. Twitter & Rishi & Dick thanx for the warmest farewell.'

Actresses Madhuri Dixit and Malaika Arora Khan will also be joining the film's cast in London.

A new car for Sunny Leone

Sunny Leone's husband Daniel Weber recently gifted her a new car.

She shared a picture of her with the car and wrote: 'Maserati bitches!! My new car!! Thank you @danielweber99 for gifting me the sickest car ever!!'

Leone is currently vacationing in USA.

Madhur Bhandarkar to receive Sophia Award

National Award-winning filmmaker Madhur Bhandarkar will be travelling to Portugal for Sophia Awards where he will be honoured for his contributition to cinema.

His films Fashion and Heroine will also be screened at the Syracuse International Film Festival.
Madhur confirmed the news and wrote: 'Delighted that the Syracuse Film Festival in New York has chosen to honor me with their prestigious SOPHIA. As part of the event, FASHION & HEROINE will be screened on Oct 11, 12. This will be my first visit to Syracuse. Looking forward!'

It is an award presented by the Portuguese Academy of Cinema to award the best in Portuguese filmmaking.

Hrithik dares Salman Khan to paint

Hrithik Roshan, who has been going around daring his friends in Bollywood as a part of Bang Bang promotions, has now dared Salman Khan to paint.

'Here it is. 2 d one who is more about other people than himself, PAINT!! And give d world a message! ANY! @BeingSalmanKhan qubool?' he tweeted.

So far, Hrithik has dared Nargis Fakhri, Ranveer Singh, Farhan Akhtar, Shah Rukh Khan, Priyanka Chopra, Sonam Kapoor, Shraddha Kapoor and a few others.

Ankhon Dekhi goes to Rome

Rajat Kapoor's critically-acclaimed film Ankhon Dekhi is going to be screened in Rome.

Confirming the news, the director-actor tweeted: 'There will be two shows of Ankhon Dekhi in Rome on the 3rd and 4th oct. If you have friends there, or nearby, let them know I'll be there.'

Sanjay Mishra, who played the lead role in the film, bagged the Best Actor trophy at the recently concluded 5th Jagran Film Festival.

Happy birthday Shaan!

Singer-turned-actor Shaan, who starred in last Friday's release Balwinder Singh Famous Ho Gaya, celebrated his 41st birthday on September 30.

Sonu Nigam wished him and wrote: 'Happy birthday to 1 of the nicest souls in music business @singer_shaan .Lots of love and wishes brother.'

AR Rahman launches Raunaq
Veteran singer Lata Mangeshkar has lent her voice for AR Rahman's latest album Raunaq – A Conversation of Mystery and Poetry.

The acclaimed composer shared the trailer of the album and wrote: 'The timeless voice of Lataji returns with 'Laadli' from Raunaq.'

Lata Mangeshkar was quick to reply and wrote: 'Namaskar A R Rahman ji. Aap ke liye gana mujhe hamesha accha lagta hai.'

The album comprises of seven songs and the lyrics are penned by Kapil Sibal.

Mira Nair: Haider is a must watch
Several Bollywood celebrities who caught an early screening of Vishal Bharadwaj's Haider took to Twitter to praise the team.

Mira Nair: 'brilliant #basharatpeer, mesmerising Tabu, @irrfan_k, kashmir's agony & beauty - all in the masterful hands of Vishal B - #Haider is a MUSTSEE.'

Deepa Mehta tweeted: 'Just saw Haider. Vishal's film. It's beautiful with fabulous performances. Politically relevant, it's heartbreakingly satisfying. Bravo!'