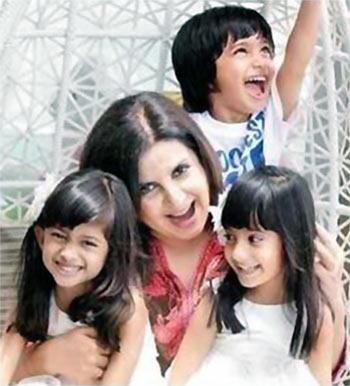 'The money and the exposure on television are great. People love you, and recognise you because you are on television. I am a choreographer but I have become a celebrity,' Farah Khan tells Rediff.com's Rajul Hegde.
Farah Khan has joined the ninth season of Jhalak Dikhhla Jaa as a judge, along with Karan Johar and Jacqueline Fernandez.
The choreographer-director has a terrific sense of humour, and was totally candid about her weight, travel plans and Shah Rukh Khan. Rediff.com contributor Rajul Hegde takes notes.
How did you reduce weight?
I went to Viva Mayr in Austria. They do blood and kinesiology tests, and tell you what food is good for your body type. They give a lot of tips on when and how to eat. I had put on weight after my last film but I reduced 10 kilos.
Aditya Chopra had told me to go there long ago. Looking at him, I did not get inspired. But then I saw Parineeti Chopra, and I thought I should go (smiles).
You like to travel a lot.
I am taking more and more time off, and am travelling around the world with my children. I feel ke jitna abhi dikha sakte ho dikhao (I want to show whatever I can). It's important to live life. After 10 years, my kids will be 18. I don't know if they will want to go out with us. Now they don't have a choice, so might as well!
When are you making your next film?
A film has its own destiny, you don't know when it will start and who will be in it. I just leave it up to God.
But I am dying to make this movie. It will not star Shah Rukh Khan. It's a two-girl film with a relevant message. It's high time I made a film for my daughters. We still want to get the last bit of the script over and then we will cast.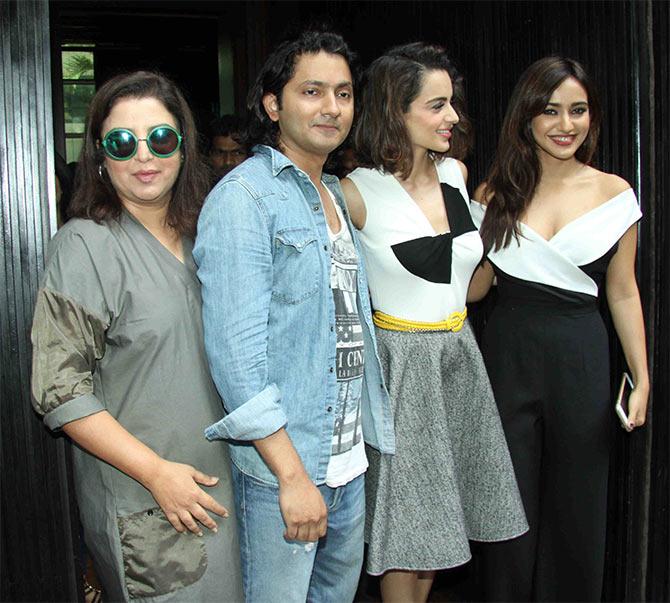 IMAGE: Farah Khan with Shirish Kunder, Kangana Ranaut and Neha Sharma at the Kriti premiere. Photograph: Pradeep Bandekar.
Your husband Shirish Kunder was in the news recently for his short film Kriti.
I am happy that it's doing well. It has some 5 million plus views.
It was unfortunate that someone got up and did this. A lot of people believed him and tried to run Shirish down. It was stressful for me. I get very protective when it comes to my husband and children. I am happy that it's sorted.
How do you see your growth as a choreographer in the industry?
I do little work now, and I enjoy that. I don't want to do all and sundry.
I am planning something different, and will announce it in September.
I need to reinvent myself as a choreographer. We are repeating the pattern of path-breaking songs like Pehla Nasha, Chaiyya Chaiyya or the Main Hoon Na songs. The last song I was happy with was Gerua. It was not path-breaking but I felt I did something interesting in that tried-and-tested mode.
Lately, I have done some interesting work in Rangoon. I don't know whether they will be commercially successful but we took a lot of risk and effort.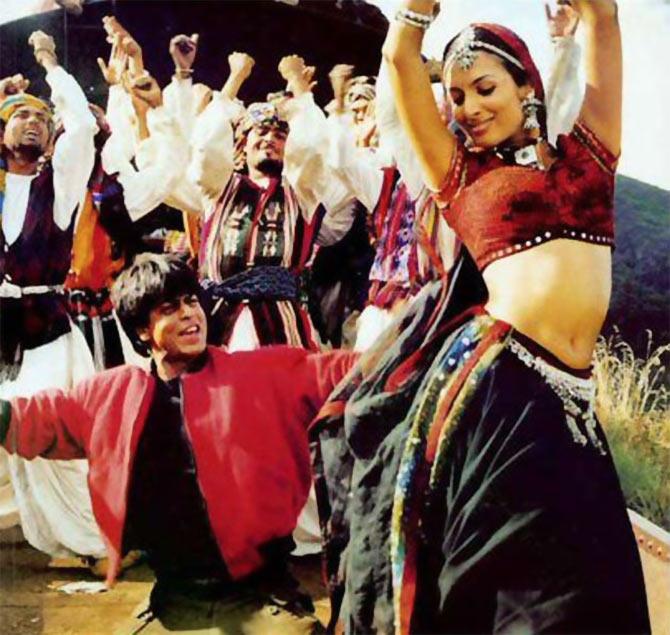 IMAGE: Shah Rukh Khan and Malaika Arora Khan in the Chaiyya Chaiyya song in Dil Se...
Do you think your best work is always with Shah Rukh?
Of all the Filmfare awards that I have got, only one was a Shah Rukh Khan song: Chaiyya Chaiya. I got two awards for Hrithik's (Roshan) songs, and then for Sheela Ki Jawaani and Dil Chahta Hai.
Of course, I feel my best work is with Shah Rukh. There is a great rapport there. But I think I need to push the envelope. Nowadays, I feel lip sync songs is going out of style.
What are you going to bring to Jhalak?
My vishesh tippanis as a choreographer for so many years and I guess seeing the show through a choreographer's perspective.
Nowadays, judges are also supposed to entertain.
With Karan Johar, Jacqueline and me as well as Manish (Paul, host), we are going to give tough competition to the contestants. We are good friends and our banter can go on and on. I hope the contestants get time to dance!
What kind of dance would you like to watch?
I am a sucker for classical dancing. I have not learnt it, so I always had the thirst for it.
I wish there was more of it.
Now, everything is about aerial acts and water acts. What is the next level and let's make it bigger. Sometimes I feel the simplicity of dance gets lost. The props and presentation has become very important.
What's the best thing about judging a television show?
It's a stress-free job and I love it!
When I am making a movie, you have no idea of the kind of stress I go through!
When a TV show happens, you come on the sets, get ready, look nice and are with people you enjoy being with. It's like a picnic. You are being entertained: you're sitting and people are dancing or singing for you.
The money and the exposure on television are great. People love you, and recognise you because you are on television. I am a choreographer but I have become a celebrity.
Are you coming back with the second season of Farah Ki Dawat?
We want to come back but I just want to figure out when. That show was like making a movie. The onus was on me. I have to get the celebrities, host it and cook. I have to be nice to the celebs and make sure they leave on time.