'Today, a four-year-old child knows how to go on YouTube and see everything.'
'What are you going to control and what are you going to tell them? Nothing.'
'This is the generation we are living in.'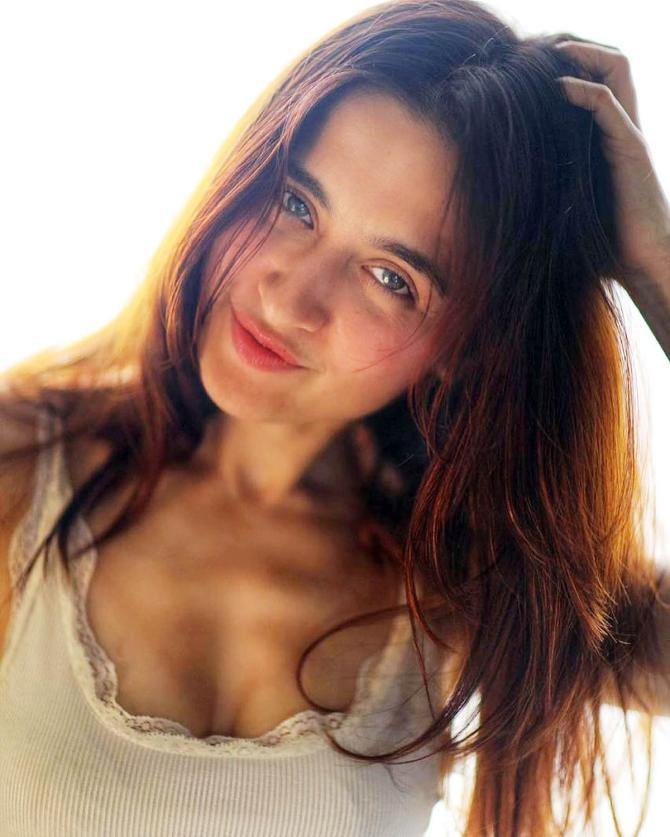 Everyone's been complaining about 2020, except Sanjeeda Sheikh.
It's been a great year for thE television actress so far.
Sanjeeda makes her movie debut with Bejoy Nambiar's Taish, and she's very excited about it.
"You can call it my dream debut," she tells Rediff.com Contributor Sameena Razzaq
You always wanted to work with Bejoy Nambiar. So is Taish your dream film debut?
Yes, you can call it my dream debut.
I never planned my career. I just went with the flow.
I think everybody wants to work with somebody who is talented and can present you well.
I have worked so much on television that I wanted an opportunity where people would say that I can perform too.
In the three-minute trailer, Bejoy has shown great potential in all the five actors.
As a maker, Bejoy was when he was explaining the character to me.
I am so glad Jahaan happened to me.
It isn't an easy character to portray. She is intense and you guys know me as bubbly and chirpy but not intense at all in real life.
To me, this is quite challenging and I am glad we pulled it off really well.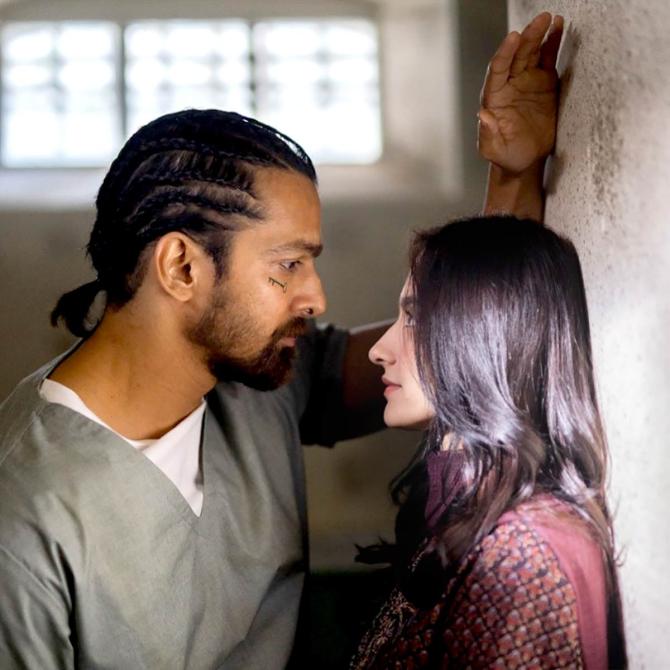 Was getting the Punjabi accent a task for you?
Yes, the dialect was Punjabi and it's like an alien language for me. We hear the language, understand it, but we cannot speak it because it's not our language.
It was very difficult but easy at the same time as I have done a film in Punjabi with Amrinder Gill.
To get the right emotion with the right dialect was very important, so Bejoy had put us in a workshop.
We had a Punjabi teacher and a dialect teacher correcting our pronunciation and seeing that we speak correctly.
Our writer is Punjabi so it was a great help to have a writer on set to help us with our dialogue.
The film stars Harshvardhan Rane, Pulkit Samrat and Jim Sarbh.
I am romancing Harshvardhan Rane in the film. He plays Pali, an intense, rugged, guy.
Pulkit is not romancing Kriti in reel life, but in real life.
As you can see in the trailer, everyone has their own rage.
Sab apni Taish mein lagey hai.
But I want to say this on behalf of Jim that for an actor like him, he is so supremely talented that you give him anything, he will do it with so much conviction that you start believing in the character.
It will be a treat to watch Jim doing something different from what he has done before.
You have made a drastic image makeover on Instagram, thanks to the hot pictures you often post. It's very different from the Sanjeeda we saw on television.
I have a fan following among women and young girls.
I am glad even they are liking my pictures.
I put up pictures for myself and for my fans.
In life, you grow and start realising what you can and cannot do.
Earlier, I used to think as an actor, I cannot do it. Now I think, why wasn't I doing it?
It's like giving yourself a challenge.
People used to say this girl is the best dancer in the industry, but nobody said she acts well.
I thought kuch aisa ho that people start talking about me as a performer.
Besides, what has happened with the OTT platform is that audiences are accepting the right talent.
You have done some bold scenes in Taish. Were you comfortable?
As a person, you grow in life and it teaches you what is right and wrong.
When I met Bejoy for the first time, he told me about the scenes very clearly.
As kids, our parents would stand in front of the screen whenever a romantic scene popped up.
That is the kind of upbringing we have.
Today, even a four-year-old child knows how to go on YouTube and see everything.
What are you going to control and what are you going to tell them? Nothing.
This is how life is.
This is the generation we are living in.
So if a three year old can see whatever he wants to on YouTube, it's high time I come out of my inhibitions.
Come on, I am nobody to tell Bejoy Nambiar that I will not do this or that.
Bejoy happened to me at the right time, to tell me if you are doing this cinema, if you need to be a part of my film, you have to kill your inhibitions and surrender yourself fully as an actor.
I think that's a great lesson.
Today, if I meet anyone who wants to become an actor, I would tell them to let go of their inhibitions and surrender to their director.
I knew I was in safe hands and that was very important for me.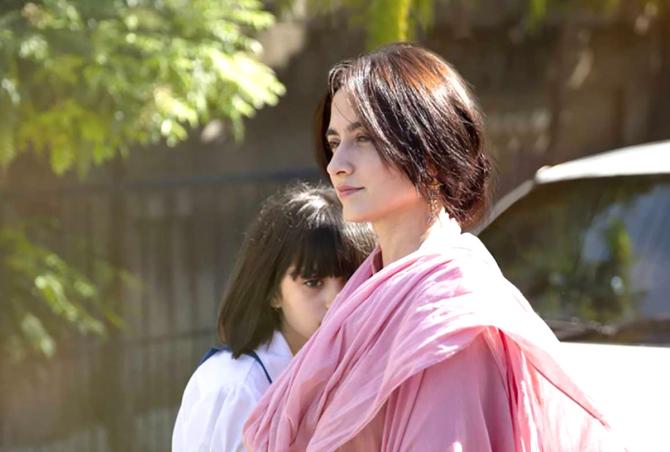 You have done Kaali Khuhi with Shabana Azmi. Was it daunting?
Everyone has been complaining about 2020, but it's been a great year for me, work wise.
I have done that I have never done in my life.
Shabanaji is a legendary actor.
When my mom started watching movies, my nani would take her to see films of Shabanaji only because they like art cinema.
So my mother would only talk about Shabanaji to me.
I told Shabanaji that my mom will be so happy and proud that I share the same frame with her.
Working with Shabanaji is like going to acting school.
Just by standing and watching her, I have learnt so much.
Even in her silence, there is so much depth.
Is it hello to OTT and goodbye television for you?
When I was shooting for television, it was as big as cinema for me.
The audience is ready to accept experimental stuff so there should be something different in television as well.
If they come up with something different, I would love to do television.
Right now, I am enjoying this phase in my life.
Obviously, Bejoy saw my work on television, so I am a proud TV actor.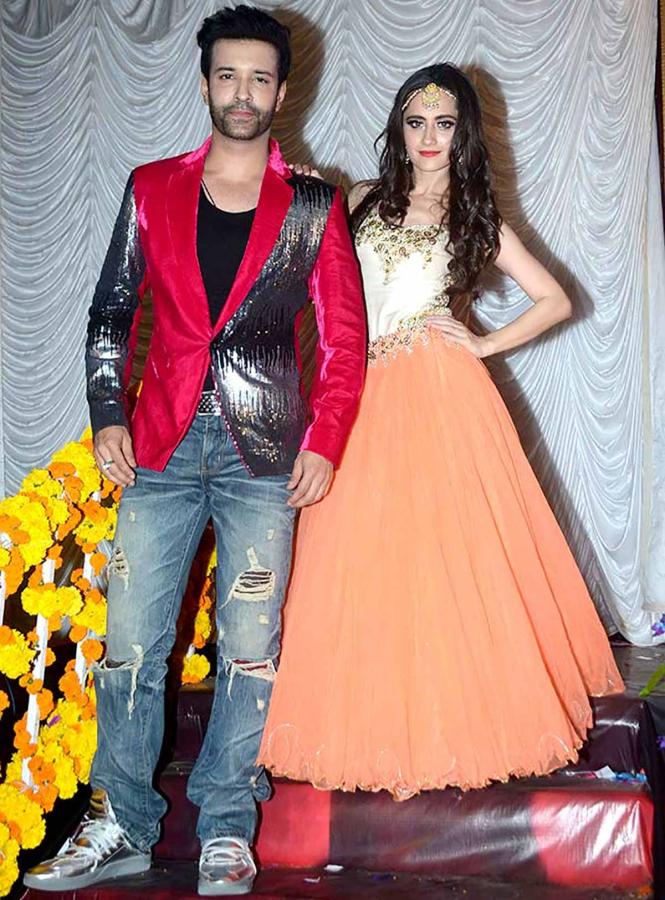 You have a two-year-old daughter. How is motherhood treating you?
She is a blessing.
I live with my mom, so everything is easily handled.
She cannot talk, but I share everything with her.
During the music release, she was listening to the music and dancing with me.
I have a companion in my life and that is my daughter.
There were some heartbreaking reports of a mutual separation between you and your husband Aamir Ali. Is it true?
Nothing should be heartbreaking and painful.
Such is life.
I just want to accept life with positivity.
I want to wish him all the best.
I won't be wistful to that person because he has been a part of my life.
He is only a friend now.
I wish him happiness, lots of work, blessings and good wishes.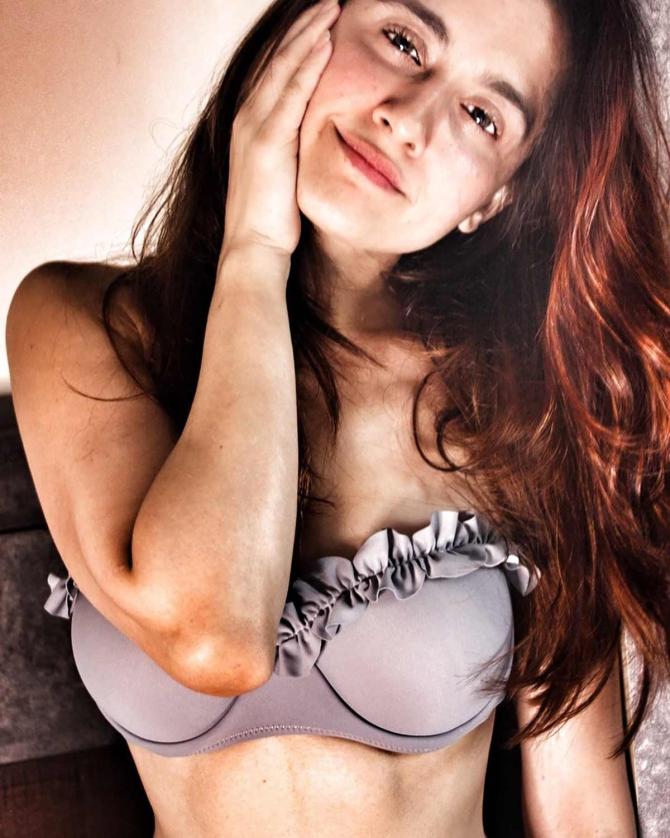 A lot of actors are uncomfortable with ensemble films. Did you have such concerns?
I was the last actor to come on board.
I was excited because I was doing a film.
I don't think I come under the category of actors who are insecure. Even if I get two scenes and I can perform them well, that's all that matters.
Experimental cinema and the OTT platform have so much potential that actors are noticed even in small scenes.