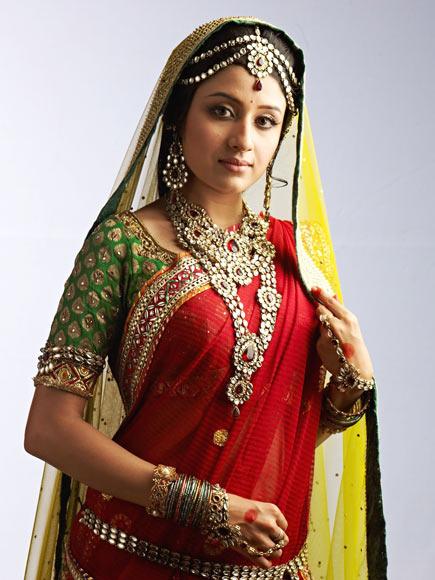 Indore girl Paridhi Sharma is thrilled to be playing the lead role in Ekta Kapoor's television serial Jodha Akbar.

Paridhi started her acting career in Tere Mere Sapne and was the second lead in Ruk Jaana Nahin.

In this interview with Rajul Hegde, she explains Rajul Hegde how she bagged the coveted role and what the character means to her.

Aishwarya Rai Bachchan's Jodha is still fresh in our memory. Does that scare you?

Yes, I am aware of that. It's my chance to try and convince viewers of my portrayal as the new Jodha. It's one of the loveliest characters in history.

Were you good in History?

I am very interested in history and my father has done his PhD in that subject. I am from Indore but I did my MBA from Pune as it ensured better placement and exposure.

How did acting happen?

Acting happened about two years back. I was always interested in acting but I wasn't confident about my acting skills. My parents wanted me to complete my studies and take up a corporate job. But I convinced them to let me try showbiz.

It's been two years since I came to Mumbai and tried my luck at acting. The journey has been very long. I started with theatre, did a few shows at the Prithvi theatre, and then bagged a couple of small roles.

Apparently, there were around 7,000 girls auditioning for the role. What was the audition like?

I did not know then that they were auditioning people from all over India. I am really grateful to Ekta Kapoor
and the channel.
I was given a long page of dialogue for the audition. It was like any other regular audition. Ekta ma'm liked it and said 'She is my Jodha!'
Have you learnt horse riding for the serial?
Yes, I did a 10-day workshop in sword fighting and horse riding…
What do you feel about wearing such heavy jewellery?
It's frustrating to wear jewellery all the time as in real life I am very simple. But you have to wear everything that a character demands.
Is doing a historical a risky proposition?
Yes, it is, but it was my dream to play Jodha. The challenge is to set oneself apart from the crowd, so doing a historical is risky but worth it. I am hoping the show works and is a hit. It is beautifully made and we are working hard on it.
Jodha was a beautiful Rajputana princess. She was a good singer and dancer so these aspects come to the fore.
Which was your favourite historical/ mythological TV show?
I don't get time to watch TV but I used to watch
Ramayana/Mahabharata
as a child.
Certain groups in Rajasthan have taken objection saying Jodha never really married Akbar.
It's a matter of perception and there have been many historians who have definitely mentioned that Jodha married Akbar.
How is it working with your co-star Rajat Tokas (who plays Akbar)?
He is a trained actor and has had a hit show (
Dharti Ka Veer Yodha Prithviraj Chauhan
) behind him.
We haven't shot too many scenes together yet. He likes discussing a scene before enacting it. I think the experience will only get better in the future.