'There has been a lot of ups and downs, unexpected highs and unimaginable pain, almost thinking that I'm going to die,' Manisha Koirala tells Rediff.com's Ronjita Kulkarni.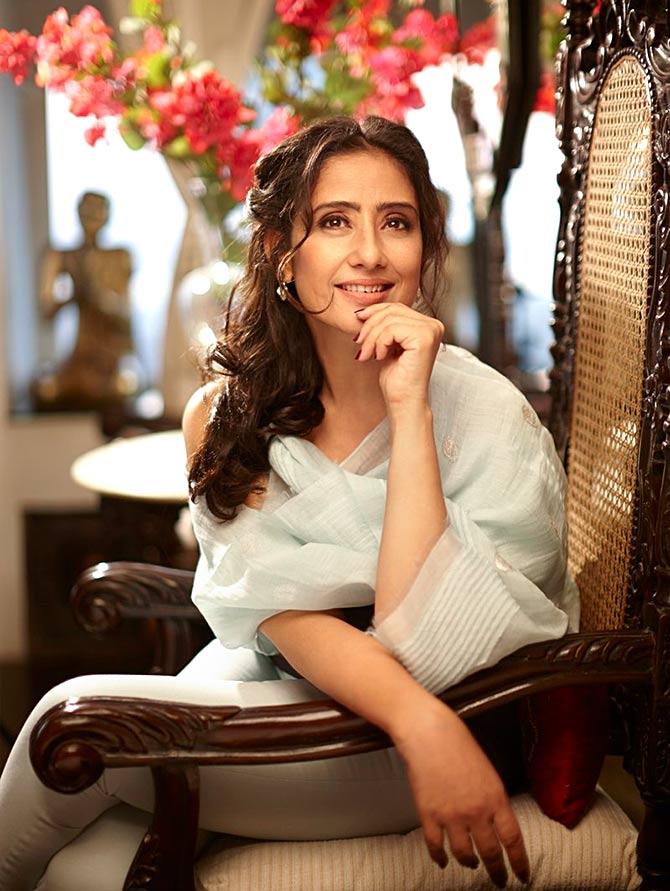 Photograph: Kind courtesy Manisha Koirala/Twitter
"I don't know if it's the age or the cancer, but I get tired more than before these days," Manisha Koirala tells me.
The 46-year-old actress doesn't look tired at all.
She looks radiant in a floral beige and white Amy Billimoria jumpsuit, with a light jacket.
After a quick -- and very late -- lunch of grilled fish, the actress is all set for the interview.
Dear Maya is her first film in five years, after she survived cancer in 2012. It tells the story of a woman, who has been a recluse for 20 years, and who suddenly gets a new lease of life when two young girls start sending her love letters from a 'mystery man'.
Does she relate to Maya in any way?
"I am a recluse now, a little bit," she says, but adds quickly, "But not too much because I am a people's person. I like to be with family, go out and be with people. But I do like my 'me time', away from the crowds."
Did she ever feel lonely -- like Maya seems to feel in the movie trailer -- perhaps when she first came to Mumbai to make a career, and didn't know anyone in the city?
"I was a shy girl then, but I had my books. I was a young girl, who was into reading books and then got into the movies. This whole new world was very new and strange," she recalls.
VIDEO: Watch the Dear Maya trailer here.
The world is still new for Manisha.
"Many things happened for the first time (for her) during Dear Maya: My first female director, my first sync sound, my first time on TV for promotions," she lists them off.
The last bit was especially tough, as she appeared for The Kapil Sharma Show for the first time in her life.
"The Kapil Sharma Show was fun. He made me laugh throughout. I felt slightly like a fish out of water, I didn't know what was going on. But it was great fun," she says with a nervous laugh.
The pressure was "absolutely" all there, as she was in front of an audience.
"A lot of new ways of doing things has happened. I'm adapting to it and I hope I don't lag behind," she says softly.
***
'Maybe I was not meant to die...'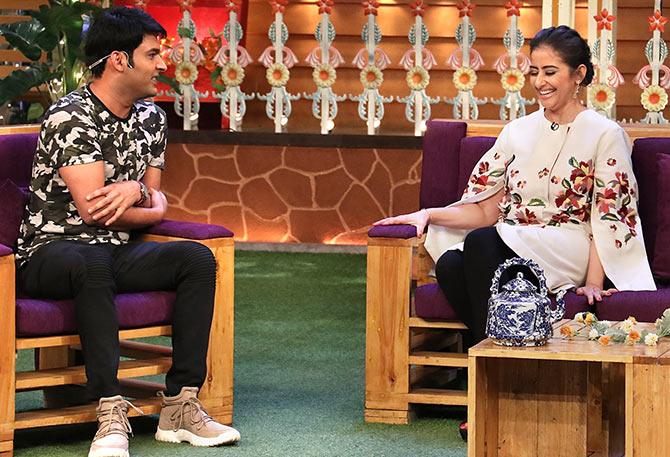 IMAGE: 'I felt slightly like a fish out of water.'
But does any of the nervousness show?
Kapil Sharma makes Manisha laugh on The Kapil Sharma Show.
Manisha's last film before the cancer was Ram Gopal Varma's Bhoot Returns in 2012. She shot for it in January and February that year, and her cancer was detected in September.
She had ovarian cancer, and it was discovered when she was in her hometown Kathmandu, Nepal. The actress sought treatment in New York.
"Not too many people (from the film industry) reached out to me then," she says.
"When something as drastic as this happens, people get very confused about how to approach you, what to say. That's life," she says with a shrug.
"I don't know what I did right then. I had good doctors. Maybe (I lived) because of that. Maybe I was not meant to die then..." she reflects. "But I try and stay as healthy as possible now."
"I make sure to get proper rest -- that means eight to nine hours of sleep. On days when I don't get enough rest, my body becomes weak. This past one month has been pretty hectic for me. I recently shot a film for 18 hours at a stretch and that took a toll on my body," she says.
"I drink a lot of water. I try and keep my body as alkaline as possible," she adds, as she drinks a second pint of mineral water.
"I try and stay positive, happy. But I am a human being. I have had disappointments, my heart has broken, I have cried, I have my fears and traumas, my anger and my outbursts. I'm normal, so I'm going to have all that. But at the back of my mind, I keep in mind to stay happy because that is very much connected to my health. I don't allow anyone to take control over me."
"Back then, I used to be consumed. When I was sad, I used to be really sad. Now, I don't. I mean I dwell on it a little bit and then say, 'bas ho gaya abhi (enough of this). I try and stay away from melodrama as much as possible," she says, laughing.
"I grab life now, and every opportunity that life throws at me," she adds.
"I want to experience life to the fullest, live it to the fullest. If it is work, I want to give it all completely, and enjoy that. Once this is over, I want to completely disconnect and get into the mountains and go hiking and trekking. I want to go to the jungles."
Manisha likes to bond with "people who have left the worldly behind."
"I go and talk to them for hours. I'm trying to understand so many things. I see life with a different awe because I know it is transient. I know it will all go. So while it's here, I want to make the most of it," she says.
Manisha is a homebody.
"I keep my house in Mumbai and my parents' house in Kathmandu neat and tidy. When I'm there, my parents are like abhi kya saaf karne wali hai? (what will you clean now?) My mother has named me Maid in Kathmandu!" Manisha says, laughing.
"Whatever I do, I try to bring in perfection though I know it is not there. I like to have a good ambience around me."
"I used to live to certain ideas. I did travel the world before, but I had one dimension. Now I see life in all its layers. And every layer is important," she stresses.
***
'You're a shit actress'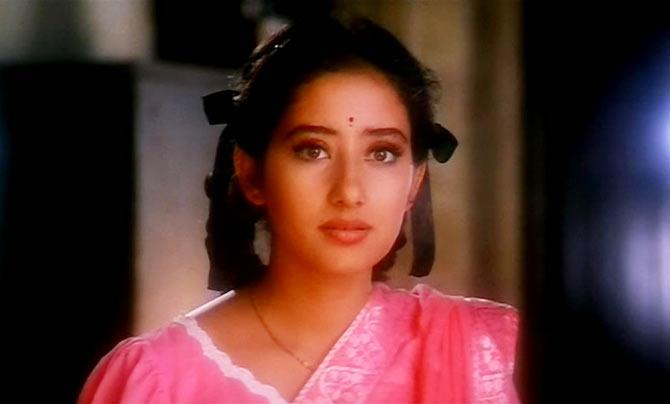 IMAGE: 'I don't watch my films on TV. I barely watch TV.'
1942: A Love Story is a must watch.
Manisha made her debut in Subhash Ghai's Saudagar in 1991 and was an overnight sensation.
"I don't know how I handled that," she says. "I just went with the current. I just kept on, kept on, going from one film to another."
Manisha admits there were romantic relationships.
"But I don't know if I can look back and say much about them. I didn't have time for anything else then. It was just work, work, work. See, any relationship or friendship needs theraav, time, commitment and nurturing. Who had the time? Yes, I was in relationships, but there were so many other things happening. But no, I don't feel I missed out. I just wasn't meant for that," she says.
Being a Bollywood star came with its fair share of challenges.
"I came from a different background and did not understand the ABC of acting or how to conduct myself when the whole world was watching you. There were challenges on multiple levels. I was very innocent. From a school girl to this kind of life! By the grace of God, things just happened. I didn't put too much of my mind into it," she remembers.
It was the people around her who helped her out.
"My mother wanted me to do 1942: A Love Story. She was friends with Renu Saluja, (Vidhu) Vinod Chopra's first wife. So I did a screen test. I was rejected, but approved in the second screen test."
"When Bombay was offered to me, I was reluctant. (Cinematographer) Ashok Mehta got so angry with me. He told me, 'You're confused about working with Mani Ratnam?! Do you know what kind of movies he makes?' He really fired me."
She credits her "good" directors for her acting skills.
"Vinod Chopra first told me, 'You're a shit actress.' That was a huge jolt for me. But honestly, I did not know how to act! Shekhar Kapur taught me how to 'flirt in front of the camera'. I didn't know what that was before," she says.
Mani Ratnam gave her her favourite film, Bombay.
Manisha still remembers Sanjay Leela Bhansali's Khamoshi, and its "beautiful script."
During Company, Ram Gopal Varma told Manisha that he liked the way she talked and stood.
"Try and imitate yourself," he told me. "During Bhoot, he had cameras everywhere, in all sorts of weird angles. He was in an experimental mood those days," she says.
She would feel sad when good films like Dil Se... did not work. "I wish there was more encouragement and appreciation," she laments.
She also did odd films like Jaani Dushman, a multi-starrer that was unintentionally hilarious.
"I signed it for the same reason that Sunny Deol did it!" she laughs, and then adds, almost thinking aloud, "Actors go through a certain phase, priorities change."
***
'I asked my mother to give me a trip to Bombay as a birthday gift'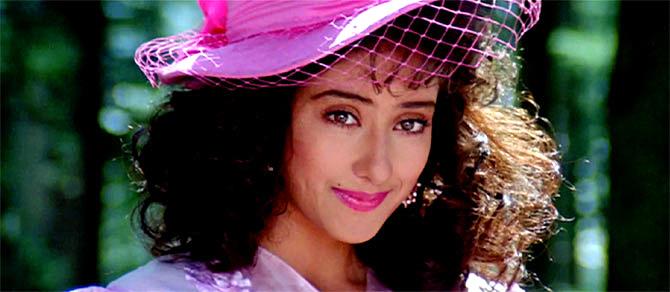 IMAGE: 'I've got some weird letters. A fan used to write with his blood. That would freak me out.'
Manisha, in her debut film, Saudagar.
The way Manisha bagged Saudagar is quite a story.
"My mama (maternal uncle) is an FTII (Film and Television Institute of India) product, and he did an ad film with me in Nepal. That became very popular, and I was offered a Nepali film, Pheri Bhetaula."
"During that film, I realised that why don't I try my luck in Bombay? My birthday was approaching, so I emotionally blackmailed my mother and said that I want to go to Bombay. I asked her to give me a trip there as a birthday gift."
"My mother's condition was that we would go there for a week, and if things didn't work out, we would come back. That time, mom was friends with (journalist) Meena Iyer. Meenadi took me to Shekhar Kapur, and he immediately signed me on for a film called Dushmani," she recounts.
"After that, I met Boney Kapoor. He was to make Prem with Tabu, but she had walked out. So Boney said if Tabu doesn't do it, you'll be the second choice."
"Then I met Chintuji (Rishi Kapoor) for Henna. He had already signed Zeba Bakhtiar for that and wanted me for Ashwini Bhave's role, the second lead. I said no to that."
"The fourth person I met was Subhashji."
"Prem never happened because Tabu came back to the project. Dushmani never got made because there was a problem between the producer and director."
"The only thing that worked for me was Subhashji's Saudagar."
Manisha remembers what Subhash Ghai told her during the screen test.
"He was kind to tell me that I will take your screen test, but if I don't choose you, don't feel let down or that anything is less in you. It's only because I have a certain vision for my heroine. Maybe you don't suit this character, so don't lose hope," she says with a smile.
"I felt very good. Maybe he could say these things because he was a struggler himself at one time."
Manisha's screen test required her to mime a song. Subhash Ghai saw she had a photogenic face and could be groomed into an actor.
Manisha was signed along with Vivek Mushran, who also made his debut in the film.
"Then, our grooming began. There were horse riding classes, going to Gopi Krishna for classical dancing classes -- I used to dance since childhood anyway -- dialogue delivery, photoshoots... I still have the 10 commandants that he had written: How to behave and how not to behave!" Manisha laughs.
"One day, I had to go for a song recording in Mehboob studio (Bandra, northwest Mumbai). I landed up in torn jeans and a shirt. And he told me, 'Once you are a star, you can wear what you like. But until then, don't come like a jhalli (dress carelessly)! You have to behave like a star.' I still remember all those things!"
The actress is in touch with Ghai and his family.
"I meet them sometimes. They are a part of my career," she says.
And what a career it has been!
"There has been a lot of ups and downs in my journey, a lot of unexpected highs in terms to success, money, adulation and respect and at the same time, an unimaginable amount of pain, almost thinking that I'm going to die."
"It's been a hell of a roller coaster life," Manisha says, with a smile.
***
'I missed going in front of the camera'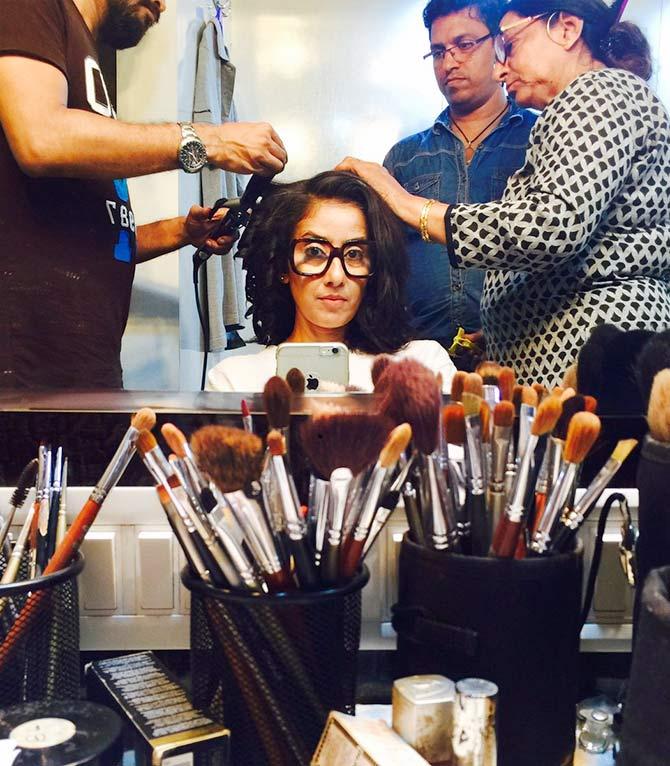 IMAGE: 'What a life!'
Photograph: Kind courtesy Manisha Koirala/ Twitter
Manisha is busy with Rajkumar Hirani's Dutt, a biopic on Sanjay Dutt.
She plays Nargis Dutt, his mother, who succumbed to cancer the same year he became a star when his debut film Rocky released.
"I haven't followed Nargis, not so much, I have to be honest," Manisha admits. "I have seen certain films like Shri 420, but not recently. Rajkumar Hirani showed me a documentary."
Sanjay Dutt will be played by Ranbir Kapoor, but Manisha hasn't shot with him yet.
"I missed going in front of the camera; I'm an actor. But I want to work in good films. I'm willing to wait as long as it takes," she says.
In her second innings in Bollywood, she wants to do work that will raise her bar as an artist.
That's why Dear Maya piqued her interest.
"I like the message the film sends out: Don't lose hope. You never know when that good news will come," she says.
It's probably her learning of her own life story.