'What is happening is worse than Talibanisation.'
'There is no way a film-maker can fight these fringe groups, these extra-constitutional authorities.'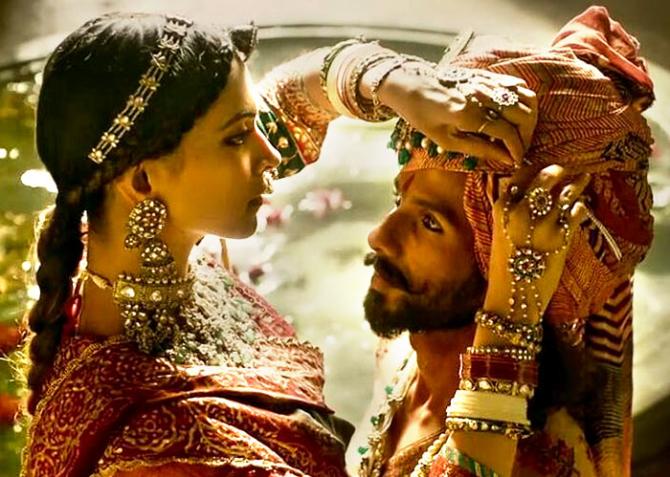 IMAGE: 'Imagine what kind of negotiation you can have with somebody who talks about offering a bounty for Deepika Padukone's head!'
'What we see is a display of fascism and arrogance.'
As the controversy over Sanjay Leela Bhansali's Padmavati rages on, fiery independent filmmaker and activist Leena Manimekhalai tells Rediff.com's Shobha Warrier that film-makers have every right to interpret history and retell them.
Manimekhalai herself confronted much criticism after she made Sengadal-The Dead Sea on the plight of fishermen at the hands of the Sri Lankan navy.
She was engaged in a prolonged battle with the censor board before her film obtained a censor certificate. Soon after, she was vindicated when Sengadal was selected for the Indian Panorama section at the International Film Festival of India in 2011.
How do you look at the Padmavati controversy, more so the threats to Deepika Padukone?
In a democracy, there are various ways to air your opinion and objections. What is annoying is assuming things without watching a film. It is exactly like assuming things and airing your opinion without reading a book.
The consolation for a filmmaker is that we have the Constitutional censorship board like the CBFC (Central Board Of Film Certification) and the appellate tribunal.
We can even go to the Supreme Court with our film and fight it out.
It is another matter that we want the CBFC to be a certification board and not a censor board.
The CBFC, of late has interfered in all those films that had independent expression, but we are still able to fight the CBFC.
But there is no way a film-maker can fight these fringe groups, these extra-constitutional authorities. I know as a film-maker, how it is to fight both Constitutional and extra-constitutional forces.
These fringe groups just come up and then disappear once the controversy is over.
Imagine what kind of negotiation you can have with somebody who talks about offering a bounty for Deepika Padukone's head!
What we see is a display of fascism and arrogance.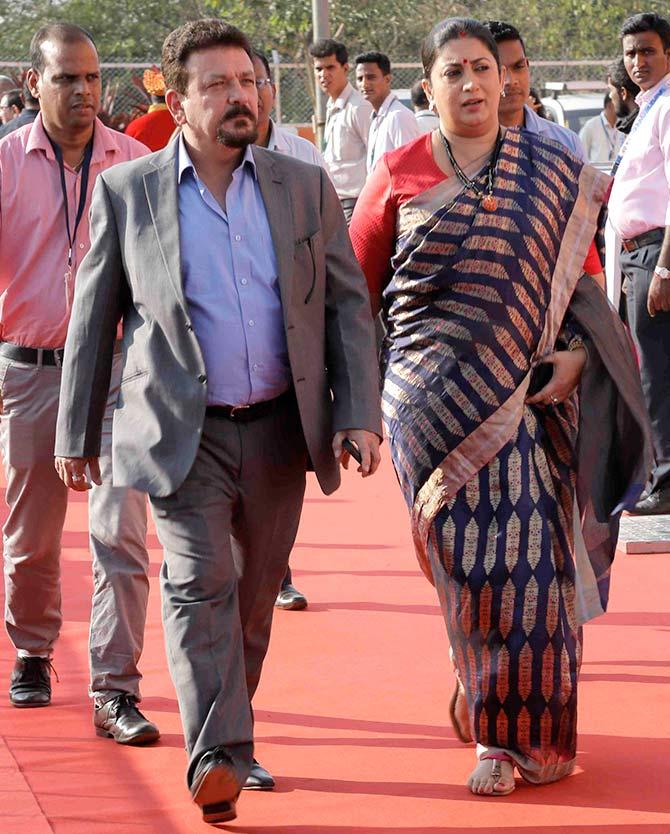 IMAGE: 'If a film like S Durga was made by Bhansali, fringe groups might have taken it up.'
'Instead of the fringe groups, Smriti Irani did the job.'
'It is such a shame that films selected by a jury was rejected by the I&B ministry.'
'You are insulting every film-maker and artist in the country by such interference.'
In the name of creative freedom, can anyone distort history?
How can anyone say that he (Bhansali) has distorted history without watching the film?
I have to watch it to say whether it is good or bad. These fringe groups cannot just disrupt life; let them watch the film and raise their objections.
What is happening is utter nonsense. Film-makers have every right to interpret history and retell them.
If someone gets offended, there are democratic tools like dialogue, critical questioning and debates.
A ban is not the solution in a democracy. Those diktats announcing bounties and threatening to set fire to cinema halls should be legally booked and put behind bars.
Sanjay Leela Bhansali is not known to make subversive films. He hasn't, I think, claimed he was making a historical film.
My problem is while you concentrate on the chaos surrounding Padmavati, you are neglecting what happened to small independent films like S Durga and Nude.
Durga lost out to a queen. If a film like S Durga was made by a Sanjay Leela Bhansali, these fringe groups might have taken it up. But then, these are small independent films about which they are not interested.
Instead of the fringe groups, Smriti Irani did the job.
It is such a shame that films selected by a jury was rejected by the (information and broadcasting) ministry. What is the role of the jury then?
Are you trying to say that the jury committee is a bunch of fools?
You are insulting every film-maker and artist in the country by such interference.
Not only fringe groups, many from the Rajput community are upset with Padmavati...
Art is about independent expression and when people come on television and talk about beheading someone, you lose faith in democracy.
As an artist, I don't feel safe. This is the worst thing that can happen to a democracy.
This kind of behaviour leads to censorship which is really dangerous.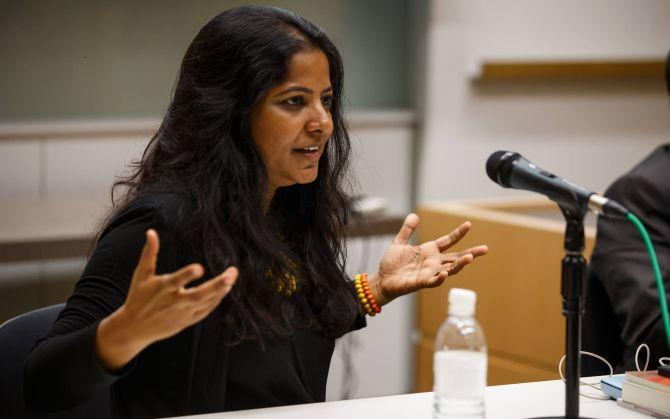 IMAGE: 'For any fanatic, films are an easy target,' says director Leena Manimekhalai.
Do you feel a kind of Talibanisation is happening here now?
I feel what is happening is worse than Talibanisation.
I think you have to coin a new, original, word for these people. This is going to be the result if any religion goes into the hands of fanatics.
Would you mind if people objected after the film is released?
You have ways and means in a democracy to object.
Today it is like, anybody can take authority in his hands and tell a film-maker to stop showing his film.
Yes, it has happened before, but it is not a healthy thing to happen.
Freedom of expression is nothing without freedom to offend. Even if it's offensive, there are ways to oppose it.
If I get offended, I write my criticism. But I can't say, ban the film.
I want to ban every film that is released in this country as all of them are insulting to women.
In fact, every film is offensive to somebody or the other. Can we ask for a ban then?
Is it not ironical that groups that say Rani Padmini is like a mother and goddess to them is abusive to a woman and talks about chopping off her ears and nose?
The irony is that women are worshipped and women are also abused.
I look at this as the filthy part of patriarchy.
What has happened to Padmavati, S Durga and Nude is the result of patriarchy, masochism and now, religious fanaticism is added to it.
We think things like this happen in countries like Pakistan, but right here, it is happening.
Every week, there is one film or the other that is in discussion and censorship. Tamil nationalists were against my film Sengadal.
For any fanatic, films are an easy target.
That's what filmmakers say these days, that they are soft targets. But why are they targeted?
When you attack a film or a film-maker, you are in the limelight and get mileage.
Do you blame the media for giving a voice to these fringe elements instead of ignoring them?
90% of Indian media is always after sensationalism. Films and film-makers are easy targets for them to be 'trending'!
Various state governments have already banned a film that was not even certified...
Who knows, this film, without all this controversy, might have bombed at the box-office.
This controversy is only going to help the film and it is going to mint money.
We have examples like Mersal here.
A Bhansali film, unlike S Durga or Nude is a commodity.
The Kerala high court asked the authorities to include S Durga in the Indian Panorama after the director went to court against the I&B ministry's decision to reject it...
We feel there is hope. The courts and judges give us hope.
The legal system is the only hope for film-makers in this country provided every independent film-maker has a sizeable budget allocation, time and energy to go through this process of fighting legally in the courts and tribunals for their films to be finally seen.
It is a very tough time to be a film-maker in this country. And as an independent film-maker, I don't feel safe.