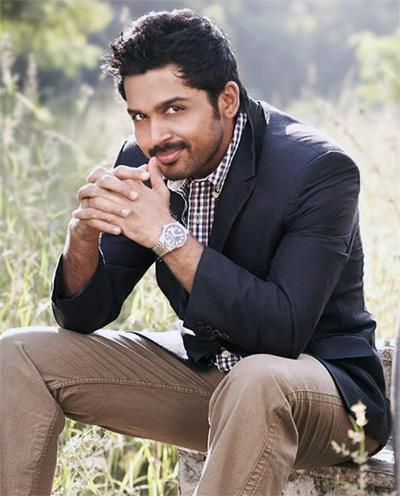 'After hearing the narration, I couldn't say no to the film.'
'Nag Sir used to patiently answer all my questions. We got along and bonded well.'
Karthi is finally making his debut in the Telugu industry with a bi-lingual film which is an adaptation of the French movie The Intouchables.
Titled Oopiri in Telugu and Thozha in Tamil, the film has been helmed by Vamsi Paidipally and also stars Akkineni Nagarjuna and Tamannaah in the lead roles.
In this exclusive chat with Rediff.com contributor Radhika Rajamani, Karthi talks about Oopiri, shooting the film in two languages and his experience working with the superstar Nagarjuna for the very first time.
How did Oopiri happen?
It was a real surprise that a Telugu director wanted to do a film with me. People had asked me to act in Telugu films before. But I declined.
I was offered multi-starrer also, I said no. This French film has got everything. I wondered how they would adapt. After hearing the narration, I couldn't say no to the film.
There was humour, scope for performance. Plus, Nag (Nagarjuna) Sir was doing the main character.
I have been his fan and wanted to know him better. My character was also a well-etched one. It is a surprise and I am wondering how it came to me. There is no heroism in the character.
It is a story which needs to be told. It is an uplifting film, one of hope and happiness, a story of relationships, nothing binding but pure love, reminding about love and giving.
Nag Sir's character at his prime loses everything and is stuck to his chair. Yet, he is full of life. The bond begins between his and my character and they embrace each other.
The film is from a different culture but has been adapted well to our culture.
So, it was the characterisation that attracted you in particular?
There is scope for performance and the character exhibits all kinds of emotions. He wants to enjoy. He wants to get everything – like from rags to riches.
Was it challenging to play the role? Could elaborate more about it?
He seems insensitive but he is warm. He is also brash. One angle is between Nag Sir and him. The other is between my character and Tamannaah's.
Since her character is gorgeous, well-educated and perfect, this guy thinks he can't get her. So that is a nice angle for humour!
How has the film been adapted to Telugu and Tamil?
It has been done without touching the storyline. The film itself had a situation for a party song but we didn't tamper it much though Indians are emotional.
This is your first film with Nagarjuna or for that matter with any Telugu star. How was it sharing screen space with him? Did you spend time together and talk?
He is so chilled out and a cool guy. He doesn't let anything affect his happiness. He is very confident.
We spent a lot of time together especially when we were in France and Serbia (for shooting). We used to travel and hang out together. Nag Sir used to patiently answer all my questions. We got along and bonded well.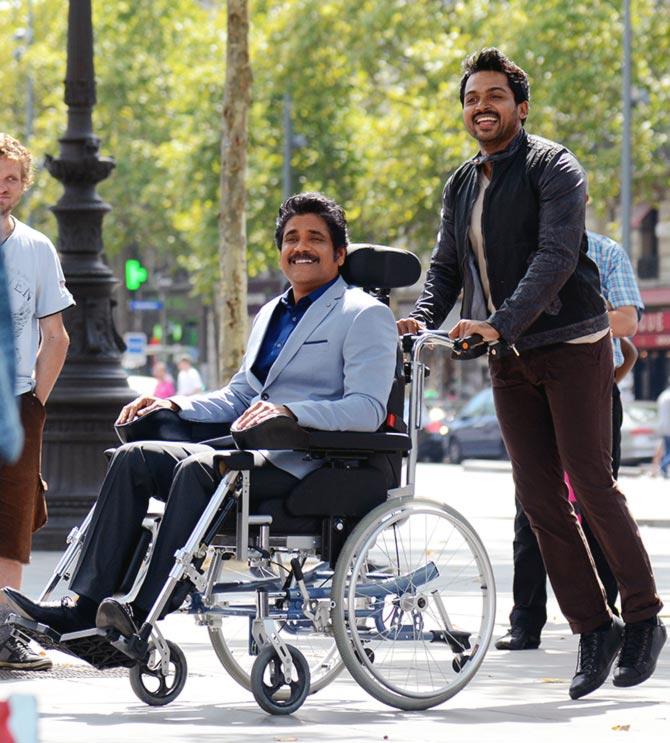 Were you intimidated by Nagarjuna?
Not at all. I was conscious as I did not want to take time when we acted together. I made sure I got my lines well before so that I didn't waste time. It was an experience to cherish.
Is this film one of the highlights of your career?
This film was a completely new experience as we had to shoot the same scene twice. Also, since it was a new language, it was not easy to perform.
Are the two films different?
There are a few cultural differences. The treatment is the same but the dialogues are different. We even danced twice!
Oopiri is your third film with Tamannaah. By now, both of you must be comfortable acting with each other…
Yeah. We pull each other's leg all the time. People used to ask how you fight all the time.
How was it working with Vamsi Paidipally?
Vamsi is passionate about what he is doing. For him, this film is also a total change. It requires a lot of conviction to do a film like this.
Vamsi spent two years on this film. So he was prepared. He enjoys his shots as he wants the best and so doesn't compromise. Also, he does not take the audience for granted. It was a positive unit.
You have dubbed for this film. Are you now at home with Telugu?
Not at all. I am still learning but I was prepared. It was a task to do it in two languages at the same time. Though my character is local, the flavour is different. For the Tamil version, I had to use the local slang and in Telugu, I had to be loud. So I had to remember that.
Would you want to do more Telugu films?
Why wouldn't I, if I get good scripts? But at the moment, I am busy with Kashmora. After that, I will take up Mani Sir's film in June.