'Doing Janatha Garage was one of the biggest decisions I've made and it has paid off. I got calls from Bollywood after this. So in that way, the film has given me good exposure.'
Unni Mukundan is excited about his Telugu debut.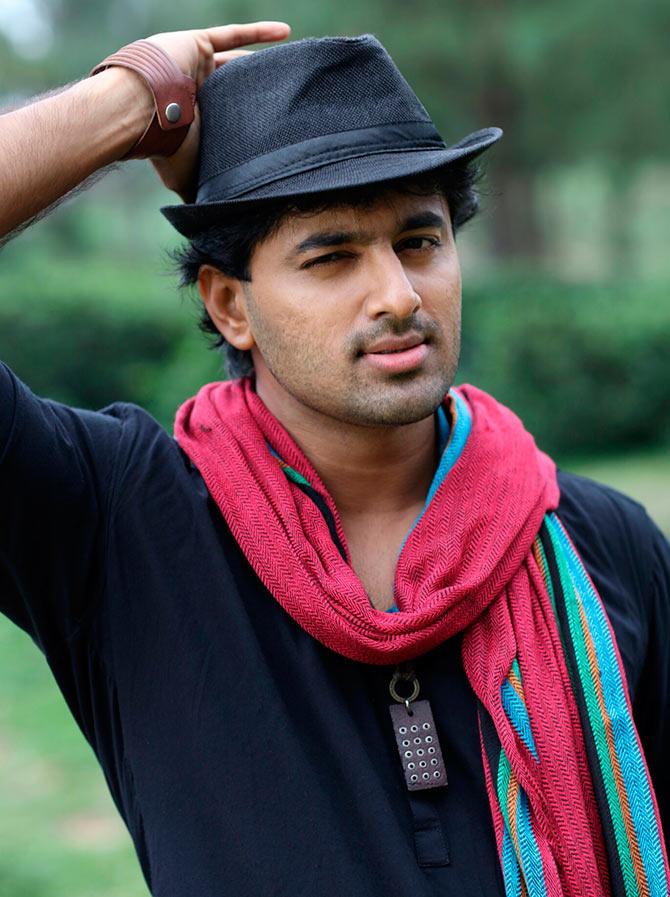 From playing the bad guy to the hero, Unni Mukundan has made a name for himself in Malayalam cinema.
Now, he is all set to make his Telugu debut with Koratala Siva's Janatha Garage, up for release on September 1.
In this exclusive interview with Rediff.com contributor Radhika Rajamani, Unni talks about his first Telugu film, and working with Mohanlal and NTR Jr.
What made you want to work in a Telugu film? The Telugu industry is different from the Malayalam one...
The idea was to entertain a larger audience. I felt it was time to venture out as an actor. I have been a lead actor in Malayalam films.
Telugu industry is different in terms of the scale and the way the films are made. So it was exciting. But yes, I had some anxiety while shooting my first film.
Lal Sir (Mohanlal) was also working in the Telugu film then. I wanted to give a good impression, and was happy that I could pull it off.
Doing Janatha Garage was one of the biggest decisions I've made and it has paid off. I got calls from Bollywood after this. So in that way, the film has given me good exposure.
But I am in no hurry.
I have played the lead in 10-12 Malayalam films. I started off as a bad guy, then did character roles and later lead hero roles. I have also played a guy from Odisha and a Punjabi.
Had you seen director Koratala Siva's films?
Siva Sir saw my film Vikramadithyam where I played a policeman and KL10 where I played a footballer.
Ironically, I did not have an opportunity to work with Lal Sir in Malayalam films but I could do so in Telugu. Cinema is beyond the language barriers.
I don't have a PR, I let my work speak.
I know Siva Sir's filmography, that he is a script writer and director with a good reputation. So it was perfect.
What excited you about your role as the antagonist in Janatha Garage?
It is a commercial role -- not out-of-the-box. It is a character with grey shades.
He is Raghav, son of Mohanlal. If one sees from his perspective, it all seems fair. It is a dialogue and performance-oriented role.
I signed the film for performance, Lal Sir and the team, in that order.
How did you approach your role?
The role is not that of a typical villain which you see in every Telugu movie. You will have to convince yourself that he is a bad guy as the development is gradual. You will feel his approach is fair.
There was no need for any homework. You have to get the feel of the character and dialogues. I made sure I expressed it properly. The first two days were a bit of a strain but after that, it wasn't.
On the first day itself, I was given five paragraphs of Telugu dialogue.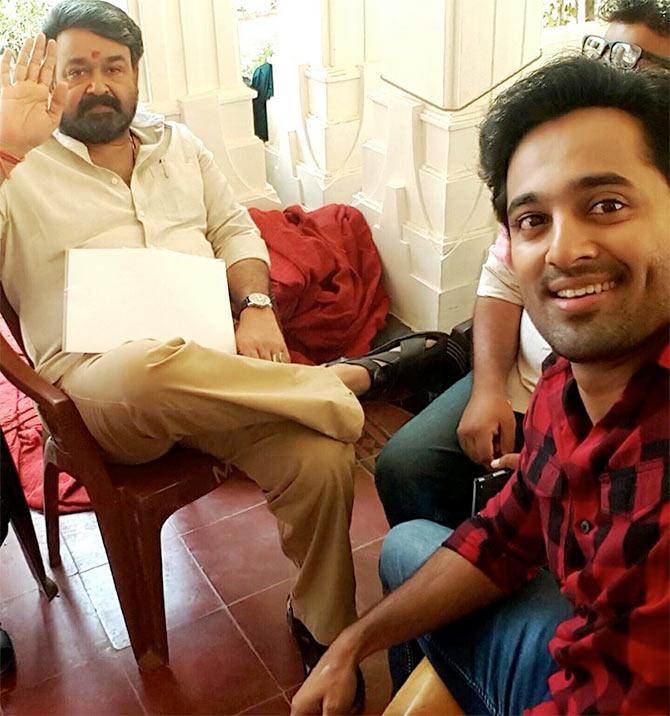 IMAGE: Unni Mukundan with Mohanlal on the sets of Janatha Garage. Photograph: Unni Mukundan/Facebook
What was it like working with Mohanlal?
It was relaxing, there was no stress.
While everyone else spoke in English, Lal Sir and I spoke in Malayalam.
It took me so long to act with Lal Sir but I thought better late than never. Lal Sir appreciated a shot of mine and said, 'there is a long innings for you'. I am happy people are appreciating.
How was your experience with NTR Jr?
He is very focused and serious. He wants to improve and is updated.
I didn't know he danced so well. He is energetic. That he is a superstar is evident from the way people meet him all the time.
Have you seen NTR Jr's films before?
I used to watch the dance and action sequences of Telugu films as they were made on a grand scale. The only films I have seen are Baahubali and Magadheera as they are fantasy.
What was it like starting from scratch in a new industry?
It was just an extension as an actor. I never saw myself as a new guy. I look at it as Indian cinema, as an opportunity to entertain more people. I speak five to six languages.
The idea is to grow.
You have signed your second Telugu film Bhagmati with Anushka Shetty...
I signed Bhagmati to stop being typecast in this negative role. I was lucky to have got a hero-centric role with the pretty Anushka Shetty, who has had some good roles.
I like the way my character has been sketched. The fact that I can handle the language now worked in my favour.