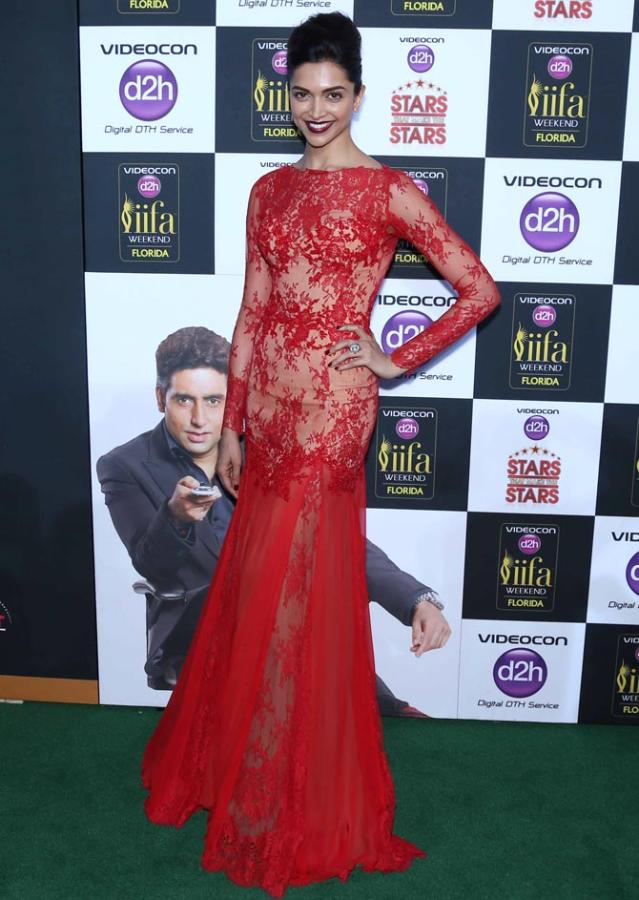 Deepika Padukone, who recently bagged a few more awards at the recently-concluded IIFA, may have a great 2014 as well, if her movie line-up is any indication.
She will be a part of projects like Rajinikanth-starrer Kochadaiiyan and Homi Adajania's English film Finding Fanny Fernandes, among others.
In a brief chat with Subhash K Jha, Deepika tells us which actress she finds very gorgeous.
Do you consult anyone else while choosing roles?
I bounce off my ideas with people close to me. But finally I choose my scripts. My decisions -- good or bad -- have always been my own.
Will your upcoming film Finding Fanny Fernandes be a fine follow-up to 2013's Fab 4?
You know, people think I've made this great strategic move by doing a film in English, alternate cinema and all that. But I am not playing chess and there are no calculated moves. (Director) Homi Adjania had told me about the film during Cocktail and it stayed with me. During the promotion of Cocktail, I said, 'Let's do it.'
As soon as I found a 30-day window, Finding Fanny Fernandes happened.
A trilogy with Homi?
I signed the film because I really like Homi. I knew I was going to have a great time making this film. I know what Cocktail did to me as a person and actress.
Dimple Kapadia finds you so gorgeous she can't take her eyes off you?
Can you imagine Dimple saying that? Does she know that during the shooting of Finding Fanny Fernandes, there were times when I caught myself staring at her?
For me, she is not just about physical beauty. It's her entire persona. And she has such a terrific sense of humour.
Is there anyone you don't like in the industry?
I don't have any dislikes. It is such a waste of precious energy to dislike anyone. I'd rather use my energy to build bridges than demolish them.
In the picture: Deepika Padukone. Photograph: Paresh Gandhi/ Rediff.com