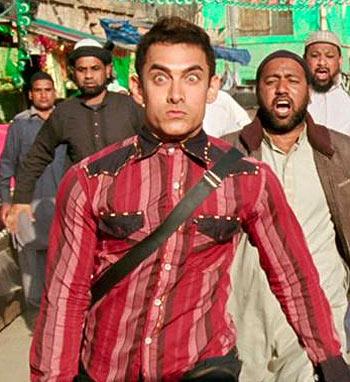 A look at the top tweets from your favourite Bollywood celebrities:

After Bajrang Dal activists vandalised theatres in Gujarat and other parts of the country, protesting against Rajkumar Hirani's latest film PK, several Bollywood celebrities took to Twitter to support the film. Here's what they said:

Karan Johar: Attacking a duly censored film has to stop!!! What kind of a democracy are we living in?? No film should be targeted or be allowed to.

Hansal Mehta: Is your faith so fragile that a mere feature film can provoke mindless outrage and vandalism? Dear mob -HAVE FAITH!

Mahesh Bhatt: Art & artists continue to be governed by fear -- fear of public opinion...fear of religious backlash, fear of political pressure & bigotry.

Pooja Bedi: God wants SPIRITUAL FRUIT.. not RELIGIOUS NUTS!! Let's support #PK. I love the bit in #PK when aamir says.. God creatd earth, planets. Galaxies & universes & u a mortal are "protecting" that gigantic force?

Roshan Abbas: This whole PK controversy is only inciting more people to go and see the film! Me included.

Ranvir Shorey: I would say these morons vandalising against 'PK' should go get jobs, except that we all know THIS is their livelihood.

Ritesh Sidhwani: #PK is a Must Watch. I'm a believer & nowhere does it hurt our sentiments or questions religion. In fact it teaches you to love and not fear in the name of God. What it rightfully does is questions the So called messengers & their role between us & our belief.

Vivek Agnihotri: All those gundas attacking cinema halls showing #pk must be arrested immediately and locked up with Asaram. If we all are so enlightened than why do we need a film like #pk to question the pimps of religion. Isn't it common sense? We are such an evolved country that if you make a film with 'nothing' in it, there may be protests by people who believe in 'nothingness'.

Anubhav Sinha: The Most wanted man in India is Dawood Ibrahim and The Most Unwanted Man is Subramanian Swamy.

Farah Khan Ali: I doubt that the ppl who are against d movie PK understand d ideology behind it. It doesn't diss faith, it disses d clergy in all religions. Where were d VHP & Bajrang Dal when "Oh My God" released. Is it that d release of PK is in good time with ther politicl agenda? #conversions.

Uday Chopra: What a wonderful film #PK is…just saw it and I'm bowled over by it. It is the most important film that every Indian should see. Salute!


Salman takes Being Human to Sri Lanka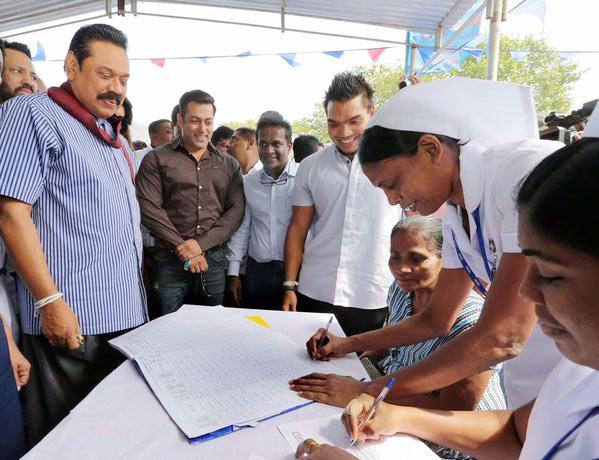 Salman Khan, who celebrated his birthday last weekend, went to Sri Lanka to donate eye lenses for cataract operations.

Namal Rajapaksa, son of Sri Lankan President Mahinda Rajapaksa, shared a picture (above) wrote: 'Thank you @BeingSalmanKhan & @BeingHumanF for donating 200 lens for cataract operations in #lka.

His Kick heroine Jacqueline Fernandez, who was also there, wrote: '#salmankhan doing what he does best! @beinghumanclothing giving sight to those who can't see, donates 300 lenses!!'

Monica Dogra to star in Love Affairs

Actress Monica Dogra, who debuted in Bollywood with Dhobi Ghat, is the latest to join the cast of upcoming film Love Affairs.

Producer Pooja Bhatt confirmed the news and tweeted: 'The stunning Monica Dogra @Shaair joins us on this #LoveAffair Dazzling bevy of beauties comprise our film! this is going to be one FUN set!'

Directed by Soni Razdan, the film will also stars Arjun Rampal, Kalki Koechlin, Karishma Kotak and Gulshan Devaiah.
Stars go on holiday
With New Year's eve around the corner, several Bollywood celebrities are currently on vacation:

Arjun Rampal: Enroute to Delhi, New Years with Family, friends, and of course all the most fun people @laptheclub goodbye 2014. #bringingin2015

Arshad Warsi: Thoroughly enjoying my holiday in Mussoorie, Rokeby Manor. Love to end & start my year here... Sanjay Narang is by far the best host.



Twinkle Khanna thanks her well-wishers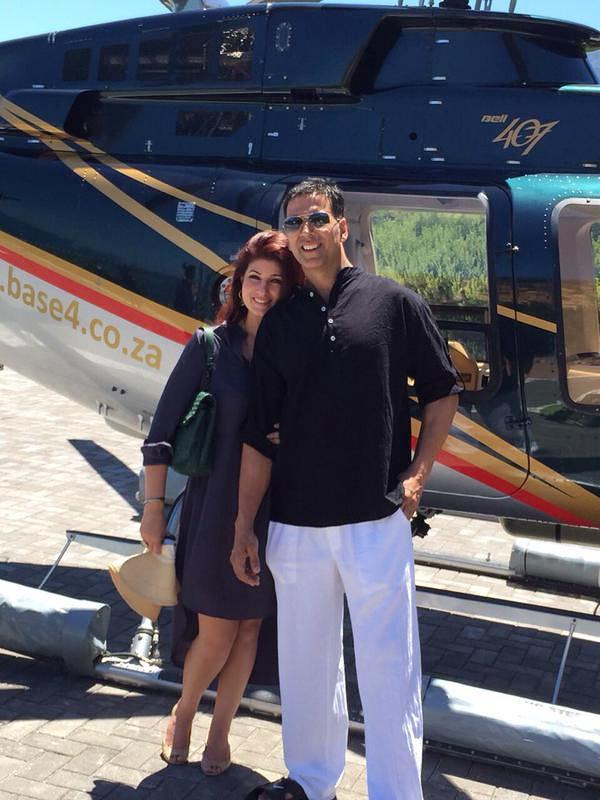 Twinkle Khanna, who celebrated her birthday with husband Akshay Kumar on December 29, took to Twitter to thank her well-wishers.

She shared a picture (above) and wrote: 'Thank you for all your warm wishes - am a year older-not sure about the wiser bit though :)'
The couple is currently holidaying in South Africa.