'Deepak called me a gold-digger.'
'He said I am with Anupji for money.'
'Who gave him the right to degrade someone on national television like this?'
Jasleen Matharu, who entered the 12th season of Bigg Boss as a 'vichitra jodi' with Anup Jalota, is the latest contestant to be evicted from the reality show.
Wild card entry Megha Dhade, who won the Marathi counterpart of the show, was also shown the door.
A professional singer, Jasleen made news throughout her stay in the house thanks to her alleged relationship with Jalota who claimed it was all fake as soon as he stepped out of the house.
"We always had a guru-shishya relationship," Jasleen tells Rediff.com Contributor Rajul Hegde.
With three weeks to the grand finale, do you think your eviction was untimely?
I am really upset because I expected to make it to the final week.
Even more shocking was that undeserving people like Rohit Suchanti, Deepak Thakur, Surbhi Rana and Somi Khan are still inside the house!
Megha and I were being honest and we played a fair game, but we got evicted.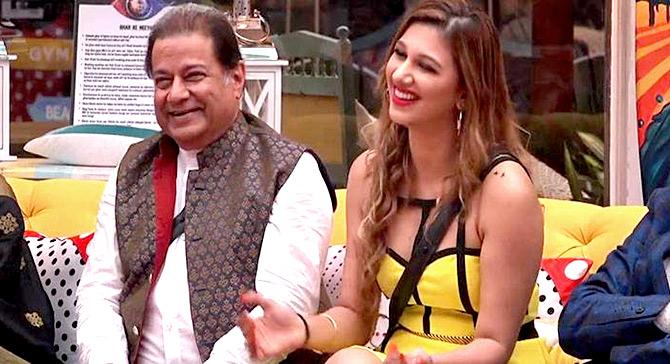 What did you dislike about Rohit, Deepak, Surbhi and Somi?
Rohit, Deepak and Surbhi are too aggressive and unrefined.
Deepak called me a gold-digger. He said I am with Anupji for money.
Who gave him the right to degrade someone on national television like this?
Surbhi and he did not leave any stone unturned for my character assassination.
I felt so helpless, but Salman (Khan) sir lashed out at them for making such remarks about me.
They questioned my character.
I don't know what to think if such people make it to the top 8.
Deepak even said 'Jasleen looks neither like a girl nor a man'.
It is such an insulting thing to say about a woman.
Recently, I got to know that Somi is talking behind my back; she was insecure about my closeness with Romil (Chaudhary).
Romil and I have been friends since day one of the show. He was the only one among the Happy Club members who sat with me when I went to jail.
I was really hurt with her statements that I was 'after him'. He is a married man and to fight over him is below my dignity.
Whom would you call fake?
Surbhi claims she is honest, but I found her fake.
Her behaviour is as per her convenience.
She was a part of the reality show Roadies, and tries to boss over everyone in the house, like she did in Roadies.
Which was your best moment in the house?
The night before the eviction, I tied a rakhi to Sreesanth and we promised that our bond was for life.
I would like to be in touch with Sree, Megha, Deepika, Shivashish and Romil.
Who do you think will reach the finals?
Romil is playing a smart game, but at times, he plays dirty. He has the potential to reach the finals.
Deepika is also playing well.
I feel Sreesanth will win Bigg Boss. He has been able to show all his emotions; he is genuine.
In the first few weeks, people kept instigating him and talking about his ban (in cricket). It's natural to react in the way he did.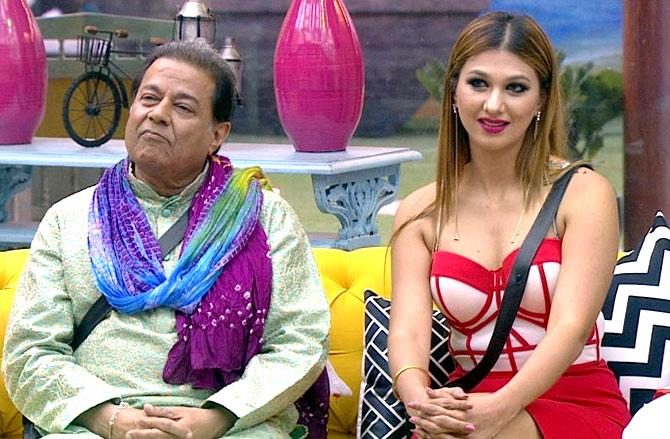 You claimed to be in a relationship with Anup Jalota, but he denied it when he came out of the house. Was it a gameplan?
No, we always had a guru-shishya relationship.
In the first episode, Anupji called me on stage and called me his 'shishya.'
Just for fun, I told Salman that we are dating and that we have been in a relationship for three years.
I thought Anupji would make it clear on stage, but he did not react. Maybe he was shocked.
And in no time, Salman sent us inside the house.
The prank was left incomplete and could not be cleared.
I continued the prank inside the house, and he played along.
When he realised things were going too far, he started clarifying.
When he came on the show again, I was numb.
My reaction might have been misleading because I was under the impression that he denied even knowing me outside the house.
But I was too happy to see him.
After I came out, I checked online and was shocked that it had become a big issue.
I saw the memes about Anupji and me.
It was quite embarrassing for my parents and Anupji's family.