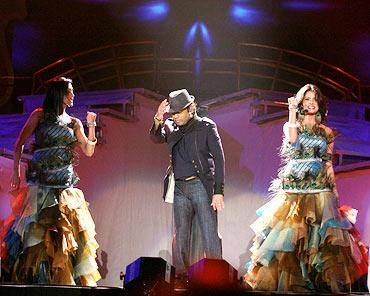 Aseem Chhabra listens to the music played at A R Rahman's concert in New York.
Also Read: Thousands flock to catch A R Rahman in action
Is
Jai Ho!
A R Rahman's best composition? Most Indian fans of the composer in India and elsewhere in the Diaspora will disagree with that question.
It is widely believed that Rahman has composed far better songs in Bollywood and for Tamil films. My personal favourites range from Chaiyya Chaiyya to Taal Se Taal Mila, and Sandhana Thendralai from Rajiv Menon's Tamil film Kandukonden Kandukonden.
Nevertheless the box office success of Slumdog Millionaire and the Oscar wins have clearly made Jai Ho! Rahman's most popular song in the West. It is also his only known song in the West other than perhaps the rest of the compositions from Danny Boyle's film.
And so no surprise that the management team behind Rahman's new stage show would call it Jai Ho 2010: The Journey Home Concert.
After all, the hope was that this concert was going to introduce Rahman in a big way to mainstream America. That 'journey home' expression comes from one of the original songs of Rahman's West End and Broadway musical Bombay Dreams.
I did not understand whether this time the expression 'journey home' was supposed to represent Rahman's passage back to the US -- now that he reportedly spends more time in Los Angeles; or was this concert reconnecting his fans in the Indian Diaspora to their roots by traversing through the highlights of his rich career.
Last Friday before the first show started at the Nassau Coliseum in New York, I stood with two friends -- an Indian musician and an American blogger -- at a bar at the venue doing something very politically incorrect. We were conducting our own non-scientific poll of white Caucasian faces in the crowds that were entering the arena. There may have been more than 15,000 people in the audience, but we counted about 20 white faces and perhaps we may have missed another 30 to 40.
We posted on Twitter and later during the show other friends texted from different locations in the venue. Why did not Rahman's so-called non-South Asian fans show up? This much was clear -- 99.9 percent of the audience that arrived in their cars from New York and other neighbouring states (I even met a family that had driven six hours, all the way from Boston) were brown desis -- more Indians, but surely also other South Asian fans of Rahman.
I am not an expert in booking musical shows, but I do know that when artists like Bruce Springsteen, Madonna or Lady Gaga perform in New York, they seek venues like Radio City Music Hall or Madison Square Garden. And in order to reach all shades and colours of New Yorkers, those shows are promoted in the mainstream press.
But this Rahman show was mostly promoted to the South Asian market. Desis know Nassau Coliseum since that has long been the site for Bollywood shows, but it is hardly a venue that would draw other New Yorkers.
Some may argue that a brown man's dollar has the same value as that of a white man and I will agree with that. The Coliseum was filled to about 75% capacity and so how does it matter who bought the tickets? But I still feel that with a grand show such as this -- well produced by choreographer-director Amy Tinkham, who has worked on concerts with artists including Paul McCartney, Madonna and Britney Spears -- Rahman the artist was not able to crossover into mainstream America.
The show -- one friend described it as a desi Lion King -- was stunning to watch. The lights, set design, sound, the selection of songs was simply quite spectacular. Rahman touched upon a lot of hits -- recent Bollywood films like Rang De Basanti, Delhi 6, Jaane Tu... Ya Jaane Na to his best works with Mani Ratnam in films like Bombay and Dil Se.
There were quieter moments such as when Rahman sat down to sing Yeh Jo Desh Hai Tera from Swades or Khwaja Mere Khwaja from Jodhaa Akbar and later when the orchestra performed the haunting theme from Bombay.
We were treated to the celebratory Holi song from Mangal Pandey and Mehndi Hai Rachne Wali from Zubeida. And in a technological wonder, Rahman performed Luka Chuppi from Rang De Basanti with a projected image of Lata Mangeshkar -- quite like Natalie Cole's hit Unforgettable video in which she was featured with her father Nat King Cole.
But the show had its inconsistencies. There was a flat attempt to pay tribute to Michael Jackson. The performance of Chaiyya Chaiyya was dull. The male singer just did not have the range of Sukhwinder Singh's voice. In fact, his voice was drowned by the loud orchestra.
Two months ago at a press conference to launch this concert Rahman and Tinkham emphasised that they had picked the best back up dancers for the show. The big question though was why all the dancers dressed in colourful Indian costumes were white, with a trickling of black performers.
Not a single dancer at the show was brown and a desi. Was this an attempt to appeal to Rahman's non-South Asian fans?
Whatever may be the reason, it looked odd to see non-Indian dancers dancing to the beat of Indian film songs -- not once, but through the entire show.
And one more contradiction. There were very two very strong Indian nationalist performances, one towards the middle of the show with colours of India's flag flashed in the auditorium and the other a rendition of Vande Mataram -- the encore act after the elaborate grand finale of the song Jai Ho!
I am not opposed to Indian nationalist sentiments, but those tend to work much better in India. There were a couple of people holding an Indian flag at the venue, but Rahman should not forget that his popularity crosses beyond Indian Americans. There were certainly a number of his Pakistani, Bangladeshi and other South Asian fans at the concert. He risks losing their support and ticket revenues if he makes the shows very India-centric.
Image: A R Rahman during a moment in his concert at Atlantic City, New Jersey. Photograph: Paresh Gandhi