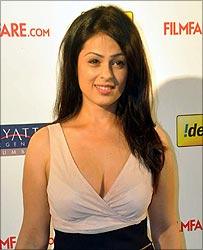 Not many know that
Sonu Sood
's new film
Maximum
is apparently based on encounter cop Pradeep Sharma. The actor and director Kabeer Kaushik have taken Sharma into confidence to get the details from his life right.
But what's really a revelation is that there is a character in
Maximum
based on a hot actress, who shot to stardom in the 1990s with a Ram Gopal Varma musical.
Says a source, "Yes, there is definitely a lot about the film industry in the film. Anjana Sukhani plays Urvashi, a hot sizzling actress of the 1990s and 2000s based very obviously on a leading heroine of the 1990 and 2000s. The likeness is unmistakable. Anjana is shown to be this actress, who has a seductive and sensuous image on screen but is a very simple homely Maharshtrian girl when the makeup is off."
When asked about her character in
Maximum,
Anjana said, "I don't know who my character is based on. But yes, I play an actress named Urvashi."
Continues our source, "It's all very classily done. The film's makers are shy of any mention of the Matondkar factor regarding their film. They want to avoid talking about real-life characters from Bollywood, the law enforcement agencies and politicians who show up in
Maximum
, although it's obvious who the real-life parallels are. To take another example, Vinay Pathak plays a politician based on Kripa Shankar Singh. Naseeruddin Shah plays Vijay Salaskar, the encounter cop who was killed  in the 26/11 terror attacks on Mumbai."
Apparently, Sonu Sood spent a substantial amount of time to understand the mind behind Mumbai's 'encounter' killings.
Says our source, "Pradeep Sharma is a very integral part of the film. But so many real life encounter cops have been put on screen in the past few years that Mr Sharma opted to remain behind the scenes supervising the factual detailing without coming out in the open."
When asked about the real-life parallels in Maximum both Sonu Sood and director Kabir Kaushik refrained to comment.
Maximum will release on June 29.
Photograph: Rediff Archives