Though Irrfan Khan did not walk the red carpet at the 66th Golden Globes Awards, where his film Slumdog Millionaire won several awards, he is very proud. He talks to Patcy N.
Congratulations! Slumdog Milionaire won big at the Golden Globes.
I feel good that our movie won. I am happy for A R Rahman (who won a Globe for Best Original Score) and Danny Boyle (who won a Globe for Best Direction). This project was half-Hollywood and half Hindi-industry -- I won't call it Bollywood. So it is half our project as there were mostly Indian actors in the film.
Now, our names will register in the minds of the international audience. Not only that, it will inspire our upcoming directors, who have brought about a transition in Indian cinema.
Did you expect Slumdog to win at the Golden Globes?
I was giving a radio interview yesterday, and I were asked about Slumdog Millionaire's chances. I had said that we will win three awards. This morning, I got a call from a friend after the first two awards -- Best Screenplay for Simon Beaufoy and Best Original score for A R Rahman -- were declared to congratulate me on the success. I told them to wait and watch as the other two awards weren't out yet. I was dead sure about them.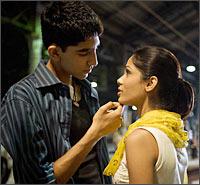 Why didn't you go to California for the award function?
I am in Jaipur, I could not watch the show either. I had cancelled the Jaipur tour so many times that I didn't want to cancel it again. Plus, I have been to these award functions and walked the red carpet. So it was okay not attending this time. More than me attending, it was necessary that we win. And that has happened.
Do you think the film will win an Oscar too?
I'm sure it will be nominated for the Oscars in many categories, and we will get at least two awards. I want Rahman to definitely win an Oscar for Slumdog Millionaire.
This movie has got rave reviews all over the world.
Slumdog was designed to please the international audience. Interestingly, this movie makes you feel good about being a human being. Plus, the story was written and told intelligently.
How was it working with Danny Boyle?
Danny has never made this kind of film before. He has made only dark cinema. This time, he consciously made an effort to make a film that would touch the human heart and spirit. He is a master craftsman and knows his craft. I would often think how it would sound for a boy from an Indian slum if he says his dialogue with an accent. But it is the maturity of the director, who didn't let these small things interrupt his work. And he is proven that it was not a wrong decision.