Piku co-stars may reunite for a film on Sahir Ludhianvi and Amrita Pritam.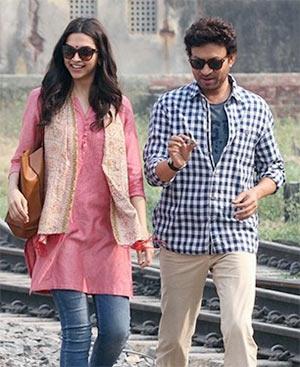 Priyanka Chopra is no longer a part of Jasmeet Reen's biopic, Gustakhiyan, chronicling the relationship between poet Sahir Ludhianvi and novelist Amrita Pritam.
While Irrfan had been roped in to play Sahir, it was reported that Priyanka would play Pritam.
"Since Priyanka got along like a house on fire with Gustakhiyan producer Sanjay Leela Bhansali, reports of her stepping into Amrita Pritam's role were taken to be authentic," says a source. "But the truth is that Priyanka is not doing Gustakhiyan."
So who will play the famous Punjabi writer?
Buzz is Bhansali wants his 'Mastani' actor Deepika Padukone in the part.
"After Piku, where they played a tentative couple, Irrfan and Deepika will get a chance to do a full-fledged romantic film. It will be a terrific follow-up. On the other hand, Irrfan and Priyanka have only done the flop Saat Khoon Maaf together."
IMAGE: Deepika Padukone and Irrfan in Piku.