'We are the largest film industry in the world.'
'We employ millions and entertain billions.'
'We generate the highest amount of sales tax.'
'Our stars pay the highest amount of income tax.'
'All I would say is: Don't f*** it up!'
Photograph: Kind courtesy Bidita Bag/Instagram
Babumoshai Bandookbaaz, the Nawazuddin Siddiqui starrer, has run into trouble with the Censor Board.
The Central Board of Film Certification has suggested 48 cuts even though the film received an 'A' certification.
Directed by Kushan Nandy, the film also stars Bidita Bag and will release on August 25.
Bidita took to Twitter after the announcement, and tweeted sarcastically, 'Indians don't kiss. Indians never use cuss words. Sanskari #BabumoshaiBandookbaaz #CBFC.'
She tells Rediff.com's A Ganesh Nadar why she's so upset with the Censor Board.
You have decided to take on the Censor Board with your tweet that 'Indians don't kiss or curse'.
I forgot to add, 'Indian men don't have sex also'.
What have you done in the film to upset the Censor Board?
I have not done anything new.
They have a habit of getting upset.
They have become intolerant.
They have a problem with my lovemaking, but they don't have a problem with rape.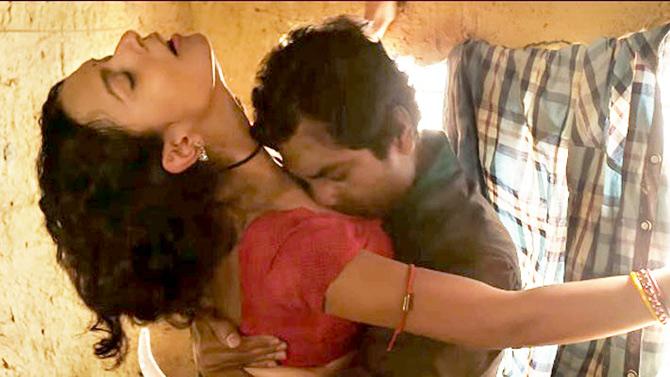 IMAGE: Bidita and Nawazuddin Siddiqui's lovemaking scene in Babumoshai Bandookbaaz.
What about the bad language?
The hero is an assassin from UP. We have used bad language that is used in that state.
We have not created any new words.
That is the way the locals there speak.
I have seen Gangs Of Wasseypur. Our movie doesn't have as many bad words.
What do you think the Censor Board should do?
They should stop acting like our grandparents.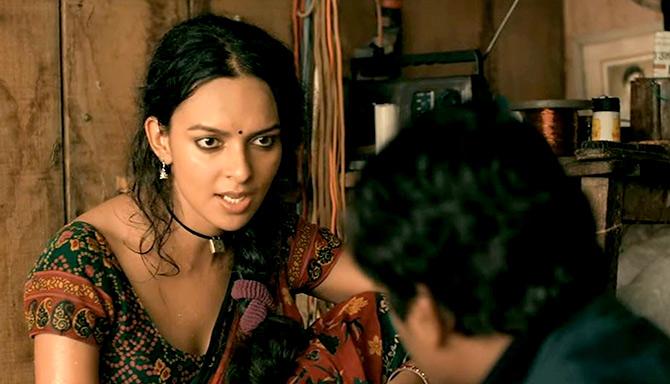 IMAGE: Bidita in Babumoshai Bandookbaaz.
What about the public?
Seventy percent of the population are adults.
This is a democracy, right?
You are telling people what they should watch and what they should not.
So you think the public should decide what they want to watch?
You can watch free porn on the Internet.
People come to theatres with their hard-earned money. They are spending money for a feature film, which has a story and entertainment.
They won't spend their money on something they won't like.
You should respect the Indian people and give them credit that they know what to watch.
You should also respect Indian filmmakers that they know what people want.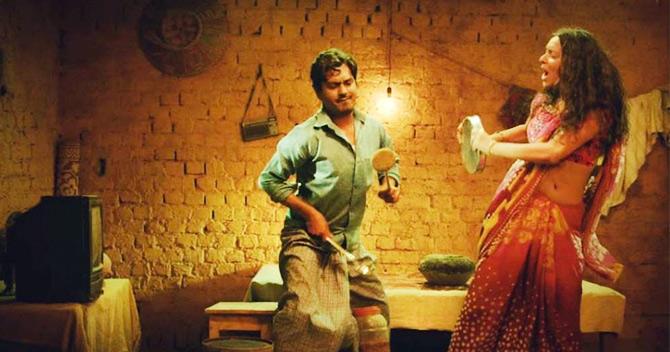 IMAGE: Bidita and Nawazuddin in Babumoshai Bandookbaaz.
What would your advice be to Censor Board Chairman Pahlaj Nihalani?
He should go and watch his own movies.
He is suddenly behaving like a sanskari old man.
Bollywood makes more movies than Hollywood.
Tamil, Telugu, Malayalam and Kannada (film industries) together make more movies than Bollywood.
We are the largest film industry in the world.
We employ millions and entertain billions.
We generate the highest amount of sales tax.
Our stars pay the highest amount of income tax.
All I would say is: Don't f*** it up!
Your film's casting director Sanjay Chouhan said he cannot cast 'fair and handsome' people opposite Nawazuddin.
He was misquoted.
He was not talking about me.
Why would someone call me 'handsome'?
He meant that the other male actors in the film cannot be fair and handsome because he did not want them to look better than the hero.