'I don't think you have seen any Indian actor play a character like this.'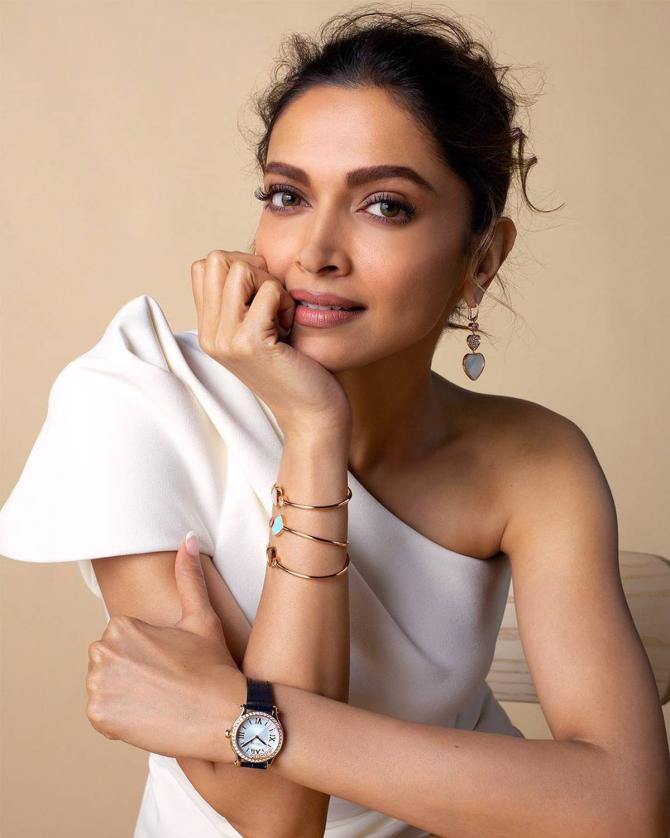 The trailer of Shakun Batra's Gehraiyaan looks exciting, and there are so many reasons for it.
In fact, the project is just as exciting for its lead cast, Deepika Padukone, Ananya Panday and Siddhant Chaturvedi.
When asked about her character in the film, Deepika said, "I don't think you have seen any Indian actor play a character like this, for that matter."
The other cast members also fielded questions from the media, and Rediff.com Contributor Mohnish Singh listens in.
What can we expect from Gehraiyaan?
Deepika Padukone: What I can definitely say is that you have never seen me play a character like this. I don't think you have seen any Indian actor play a character like this, for that matter.
I can also confidently say that India has never seen a film like this.
Shakun Batra is great at subjects dealing with love and relationships. This is his forte.
When I say relationships, I don't mean just boyfriends and girlfriends relationships. It could be brothers and sisters. It could be two sisters. It could be friends.
Shakun is really the best when it comes to those dynamics, and here, he is really saying it as it is.
He is being an observer and watching different kinds of people and relationships without being judgemental.
This world is full of different kinds of people and different kinds of relationships. He is the best person to bring that out on the screen.
Whether it's the film or the character, they are not just mine but everyone's.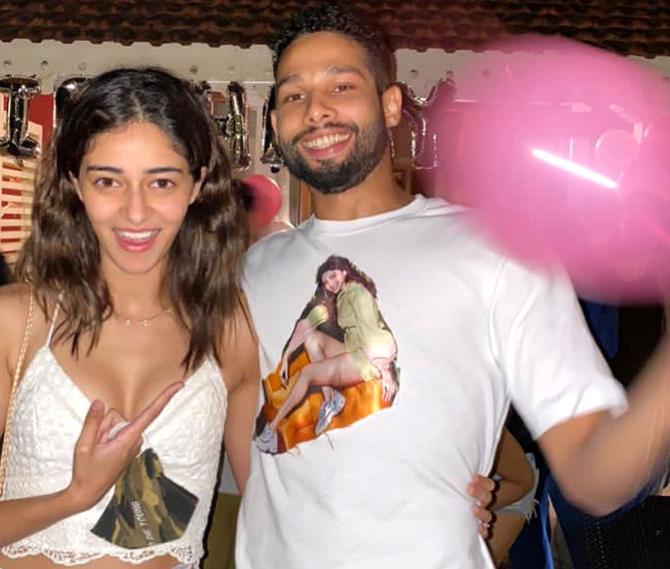 From Inside Edge, Gully Boy to Bunty Aur Babli 2, you have played diverse roles. What sets Zain in Gheraiyaan apart?
Siddhant Chaturvedi: I am relatively new and have not played many characters yet. I am still discovering different kinds of characters and genres.
When Shakun narrated the film to me and he was talking about Zain, I found the character very layered, nuanced and so microscopic.
I was like, 'This is different. Coming from a whole different world.'
The style of film-making is very different.
So I think that credit goes to Shakun. It is his vision.
It is a different character in a way that I won't be spoiling anything for the audience. But it is quite different from whatever I have done till date.
If you have seen the trailer, you will agree that my character is quite deep and layered.
Here, I am not a rapper. I am not conning anybody.
I am just romancing two beautiful women, and that is different in itself (smiles).
When you were offered the film, what was your reaction when you got to know that Shakun Batra was going to direct it?
Ananya Panday: Shakun and Ayesha (Devitre, script writer) narrated the film to me. After hearing the script, I actually was like, 'Can I just go to the bathroom?'
I did not come out for 20 minutes. I kind of fainted in the bathroom.
I was shocked that this project was even going to come to me. I was just so happy to be a part of the film.
Shakun was literally on my bucket list, so I was just shocked that he wanted to work with me.
We were in Goa together for two months.
It was probably the best thing that happened to us because we became so close.
Every single person involved with this film is like family to us. Every moment in this film has been magical.
I am just really grateful to Karan (Johar, producer, Dhairya (Karwa, who plays Deepkika's husband in the film), Deepika, Siddhant, and the rest of the cast and crew.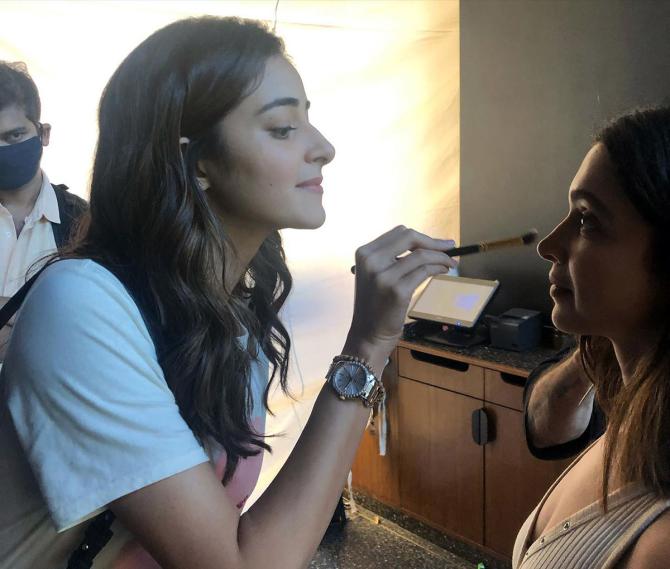 How was it to work with other cast members?
Deepika Padukone: Ananya, Siddhanth, Dhairya, and I had the best time one can have on a film set.
Dhairya is like a big brother to me. I know I can call him anytime and he will be there for me.
Ananya, to me, is -- and the world knows this -- a baby sister. She is younger than my sister, but so wise and talented.
Sid, once again, I believe that seeing him closely in Gully Boy and seeing him on that journey to see the kind of work that he has put in for the film was fantastic. To see that evolution was great.
Please share your reaction when the script was narrated to you.
Siddhant Chaturvedi: It has been two years since we started working on this film. I remember the first time I met Shakun Batra at Karan's place. When he narrated the script, I was blown away. I said yes right there.
The only thing I did not know was how I would do it.
I could understand the world, the vision, but I did not know how to go about it because we haven't seen anything like this before.
There was no reference point for this. I had never seen anything like this.
I think that's when I knew I had to do it because it really excites me to choose things that are very, very scary.
And this was one of them.
It became a wonderful journey and I did not realise that, you know, it was actually that tough because it was Shakun who made us feel comfortable.
My co-actors Deepika, Ananya, and Dhairya, became like a family.
We bonded so well, and over a period of two years, I think we have been just going back and forth, trying to kind of hit the right mark.
There was a lot of reading. Like, initially it was supposed to be around four to five months, but then because of the pandemic, we got more prep time and more time with each other on Zoom calls.
It just became so intense throughout that you really enjoy it off camera.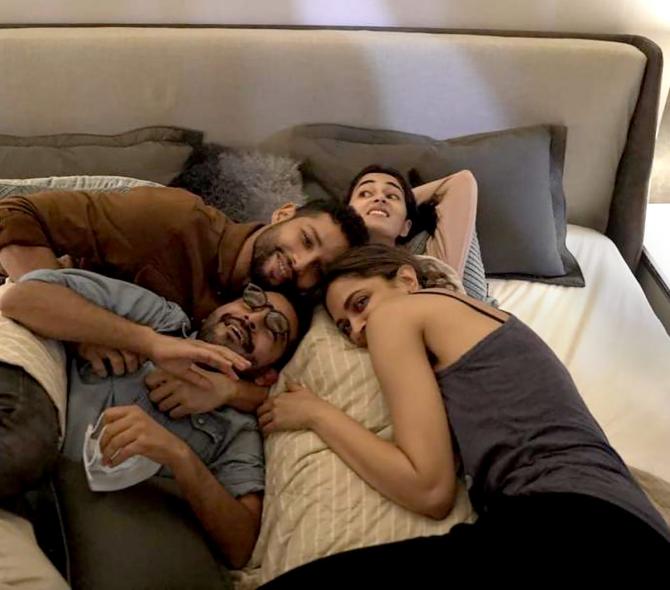 How would you describe your experience working with Shakun Batra?
Ananya Panday: For me, honestly, Shakun Batra was a dream director. He was on my bucket list and when I got to go home after meeting him for Gehraiyaan, I put a little tick mark next to his name and it made me super emotional.
But honestly, my first meeting with Shakun Batra was really funny. Because of the kind of films he makes, I thought I would have to watch all these foreign films beforehand, as he must have watched all these Swedish and Polish films.
But when I went to meet him, he turned out to be this super chill guy.
So, I was like, 'This is my kind of guy.'
It was really cool meeting him and I think we have become really, really good friends.
Also, when I say that he is an actor's director, I mean it and I am sure that Deepika, Siddhant and Dhairya will vouch for this as well.
The amount of space he gives the actors is amazing.
He would say, 'I won't call action until you are ready.'
He talks to you through it, and he makes you believe that you have done this whole thing when he has actually kind of been seeding it into your head. So, it's a very interesting process.
It has changed me as a person, not just as an actor.
I believe we took so long to come up with a title for this film because it is difficult to sum up this film in a single title because it is essentially an experience.
You can't just, you know, put it in one word.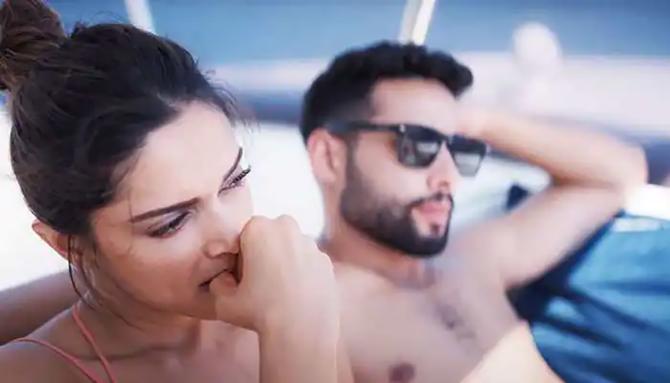 You have done unconventional, romantic, movies before. How would you say Alisha is different from Tara, Veronica, or Piku, for that matter?
Deepika Padukone: I have done a lot of films and characters that are either love stories or relationship dramas.
I think the difference with this one is that it is bold.
I don't want to use the word 'bold' because of the way we understand 'bold' in our films and the characters that we've seen. So I would say raw.
I think, for me, this character is a lot rawer and a lot more real than some of the other characters that I have played.
Emotionally, it is completely stripped, completely naked in that sense, and completely vulnerable.
I think to be able to do that on screen, it has to come from a very, very deep place.
It is not to say that I have not experienced that before.
But not to this extent, where I have to really dig deep and visit places that are not really that pleasant and are not really pleasant experiences in my own life, as well as deal with mental health issues.
All of that stemmed from a very, very deep place.
Did you overcome your hydrophobia while working on this film?
Siddhant Chaturvedi: No. They made me scared of it even more, till the very end of the film.
I did not want to go into the water. We were in Goa. We wrapped it up and went to the beach.
Everybody jumped into the water.
I was just standing there, saying, 'I don't want to.'
They were all pulling me in, screaming, 'No, you have to come inside.'
I just had to go and step in.
It was scary. It still is.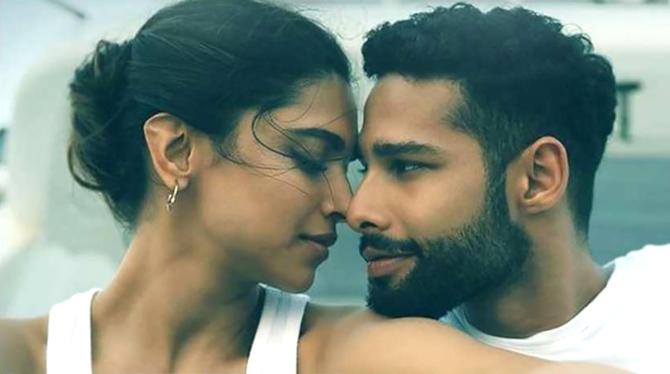 How difficult was it to film intimate scenes in the film?
Deepika Padukone: I don't think it would have been possible without the comfort that he (Shakun Batra) has given all of us.
You feel you are working in an extremely safe and secure environment because intimacy is not easy.
It is not something that we have ever experienced or explored in Indian cinema before, in the way we have in this film.
So to go down that route of intimacy and vulnerability is only possible when you know that the director is not doing it to scintillate.
He is not doing it for the eyeballs.
He is doing it because that's just where the characters are coming from, through their journey and their experiences.
That's only possible when you feel safe and secure in the environment you are working in.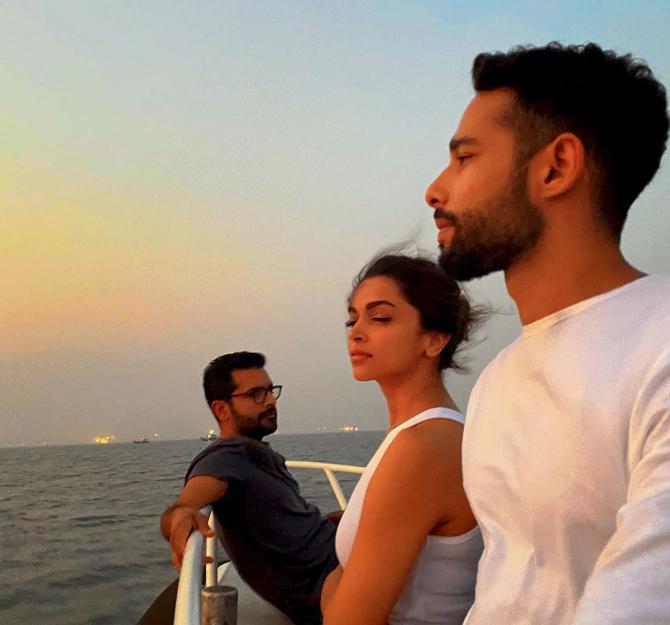 Finally, how was it to work with Shakun Batra for the first time?
Deepika Padukone: It has truly been an incredible journey.
I remember Shakun messaging me and saying 'I have this film'. I was in London at the time shooting for '83. And then, he narrated the film to me.
Shakun has always been on my bucket list.
Ranveer (Singh) always thought Shakun and I would make a great film, and here we are.
Deep down, I knew we would make a film together.
I did not even feel the need to pursue him. I knew that it would happen one day.
My relationship with him goes way back to 2015 when we were attending an award function abroad. We were introduced to each other, and we hit it off instantly.
I remember saying, 'I have made a friend for life.'
So, when he came to London to narrate this to me, it did not feel like a director coming to me to try to pitch an idea. It was really like a friend coming over and saying, 'Look, I have this idea. Are you invested in this?'
I can say that the script has evolved a lot from where it was to the film that we've actually made. But that's just his process.
I think that has also come from the kind of relationship that we share, which is one of honesty and trust.
And we have promised each other that, whatever is said and done, we will always be honest with each other, not just in our professional livesl, but also in our personal lives.
I think that's also the reason we were able to make such a great movie because he had trust in me and I had faith in him.
Not for a second did I ever doubt or second guess his process.