Hollywood made close to Rs 775 crore in 2018. This year, it has raised the game further.
Sohini Das reports.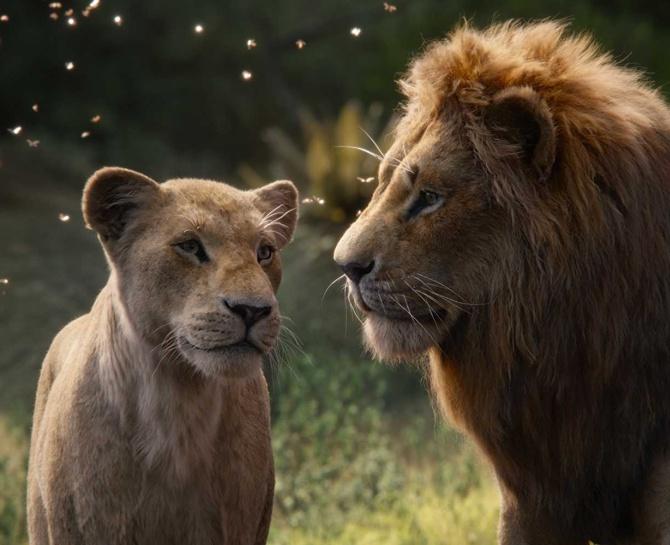 It has been the year for talking lions and caped heroes for American studios at the Indian box office.
Aided by the growing fan base for superhero franchises and the ageless appeal of The Lion King, Hollywood movies have drawn a vast number of people to the cinemas in 2019, even as the multilingual formula for Indian releases has helped studios expand their influence beyond premium, urban pockets.
For the period between January and October, the Hollywood score at the Indian box office is Rs 1,083.2 crore, which is 24 per cent of the total collections during the period.
Hindi and English movies together made Rs 4,531.8 crore at the box office during the first 10 months of 2019.
This is the second good year in a row for Hollywood -- it made close to Rs 775 crore or around 17.5 per cent of the total box office collection in 2018 and this year it has raised the game further.
For Disney, the Avengers franchise has been its trump card, hitting the top of the charts for two years in a row.
In 2018, Avengers: Infinity War was the highest Hollywood grosser (Rs 2,27.43 crore) and, in 2019, the franchise pulled an even bigger victory with Endgame making Rs 373.22 crore.
Bikram Duggal, head, Studio Entertainment, Disney India said, "At the forefront of the revolution is Marvel.
"If you look at the Number 1 film in India this year, across Bollywood and other regional film industries, it is Avengers: Endgame. Marvel's story-telling has universal appeal."
Avengers Endgame collected more than Bollywood blockbusters such as Uri -- The Surgical Strike (Rs 245.36 crore) and even War (Rs 314.57 crore).
Of course any comparison between the movies comes with a caveat, the budgets are incomparable.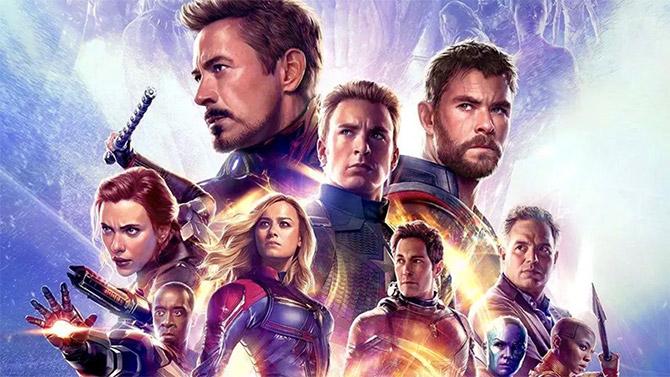 It is not just Marvel that is making hay as the superhero sun shines over Indian audiences; other franchises such as The Conjuring series and related spin-offs such as the Annabelle series are raking it in too.
The Nun (a spin-off of The Conjuring universe that released in 2018) made Rs 46.46 crore in India and, this year, Annabelle Comes Home from the same family made Rs 30.08 crore.
Even DC franchise films such as Joker have made Rs 55.4 crore this year, in line with Bollywood sleeper hits such as Judgementall Hai Kya (Rs 33 crore) and Article 15 (Rs 65 crore).
Duggal believes that Hollywood's super run in the country is because, in the last five to seven years, there has been a growth in the number of digitally savvy young people with global exposure in tier I, II and III cities who relate to products and content from outside India.
Localisation also helps this 'relatability'.
"Eight-ten years back, a Hollywood movie would release in English and only a certain section of the society would watch it.
"Now that section itself has also become mass enough. Even an English release of a Marvel film is watched by millions," he added.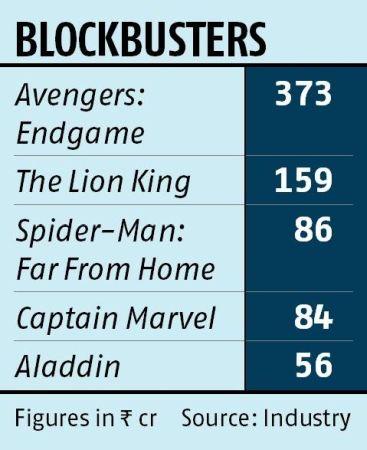 Localisation is more than just releasing the movie in many languages.
Studios are setting aside big budgets to create a local pull for their global releases.
As Duggal explains, they are getting top notch talent to create a product specifically for Indian audiences.
It makes eminent business sense to do that as, for Disney, for films such as The Lion King or Avengers: Endgame, more than half the total audience is not seeing the film in English.
"This has given us the impetus to go and get the best talent to create these products, Shah Rukh Khan as Mufasa in The Lion King or Aryan Khan as Simba.
"It is no longer a tactical move, but an important strategic initiative.
"We are localising the product in a way that a person who walks into the theatre feels that this product was specifically created for me," Duggal said.
The strategy for the Hollywood studios has been is to tap into the emotional connect that audiences have with global franchises and use marketing and merchandising to build contextual relevance.
The marketing efforts are more than just dubbed versions of the original storyline.
Endgame, for instance, had AR Rahman crooning its promotional anthem.
Hollywood, it would seem, is finally tuning in to what Indian audiences want.