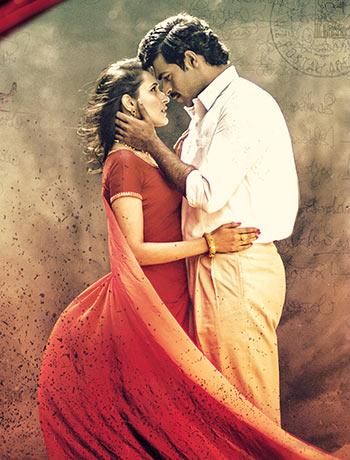 'The Second World War is the biggest event that happened in the recent history. Not many know that 25 lakh Indian soldiers fought in it. So there are 25 lakh stories.'
Telugu director Krish Jagarlamudi talks about his film, Kanche.
Krish Jagarlamudi has always walked a different path in Telugu cinema by making content-oriented, meaningful yet entertaining films. His films Gamyam, Vedam or Krishnam Vande Jagadgrum have been rooted in reality and have given the audience something to take home.
His latest film Kanche -- starring Chiranjeevi's nephew Varun Tej, newcomer Pragya Jaiswal and Nikitin Dheer -- is a love story set against the World War II, and is one of its kind.
In this interview with Rediff.com contributor Radhika Rajamani, Krish tells us more about the film, releasing October 22.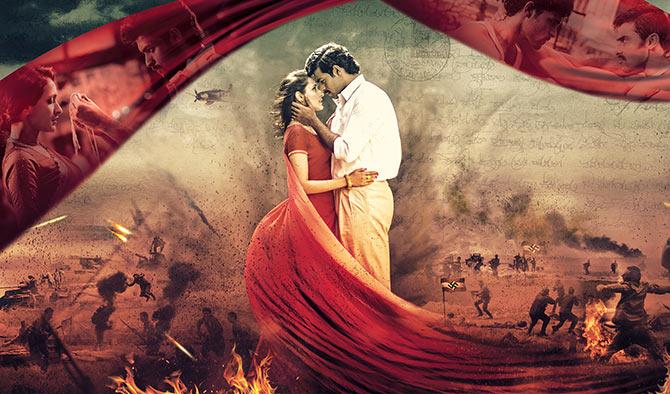 Image: Varun Tej and Pragya Jaiswa in Kanche
Why did you decide to make a love story set against the backdrop of World War II?
The Second World War is the biggest event that happened in the recent history. Not many know that 25 lakh Indian soldiers fought in it. So there are 25 lakh stories. I thought about the story of a soldier Dhupati Hari Babu, who left and fought in the war for someone else.
While filming Vedam, I saw a bomb dropped at Vizag by the Japanese in a museum. There was a Pearl Harbour-like situation to be created in Vizag. So I did some research. There is a village Military Madhavaram near Tadepalligudem which sent 2,000 Telugu soldiers to the war.
Is your film partly fictional and partly real?
It is fictional, a love story in a retro war drama. I have dealt with macro to micro divisions between people, between countries, between races and between religions.
What is the kind of research you did for this film?
Everything is available on Google. I had two strong teams -- one for the Indian portions and one for the shoot abroad. We ensured that the film is as authentic as possible.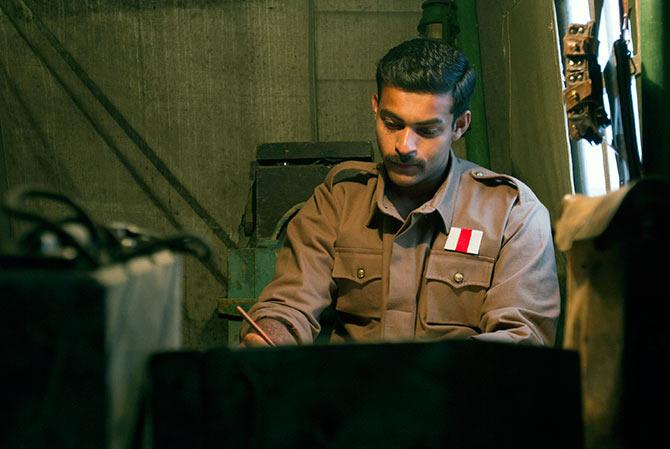 Image: Varun Tej in Kanche

Were you inspired by any war films?
Absolutely not. It is 70 years since the World War II. Hundreds of films must have been made in different languages.
In India, nobody has told a story like this. This was a huge project.
The driving force for the team was that we were trying to do something not seen on Indian screen with honesty and integrity.
How did you conceptualise the script and how long did you take to complete it?
I wrote the story fast, but the detailing and nuances took time. It took about nine months to write the script. The film begins with a flashback in a no man's land in Italy where there are 5,000 soldiers and Dhupati Hari Babu is one of them.
Was it tough finding the locations and the weaponry?
For the war sequence shot in Eastern Russia (Georgia), we took the help of the government. Huge sets were put up along with a German base camp. Kilometres of trenches were dug up and there were bunkers.
Some tanks were designed and we modified vehicles. Original weapons and guns were used to create the World War feel and look. Uniforms, boots, belts, badges etc. were designed.
Where else did you shoot?
In Andhra Pradesh, we shot in Peruru Agraharam near Pallakollu as we needed a village with the 1940s look with no electrical wires, roads laid with mud and palaces. Then we put up fruit and flower shops. We hunted for antiques in flea markets.
The film was also shot in Draksharama and Kapotavaram in Andhra Pradesh.
My Director of Photography Gnanasekar and art director S Suresh have done a grand job.
Was Varun Tej the first choice for the lead role?
He was the only choice. He has great eyes and can play lover and soldier. I felt that he would perform well.
Varun pulled off an extraordinary performance.
How did you decide on Pragya Jaiswal?
I had auditioned Pragya for Gabbar Is Back but it didn't work out then. I later approached her for the role of Sita Devi. She is a great find for Telugu cinema.
Did Varun and Pragya go through workshops?
I don't believe in workshops. Both of them met on the sets.
How did you select Nikitin Dheer?
I saw him in Chennai Express. I wanted someone to stand against Varun's persona. I needed a good actor. So I chose Nikitin, who is a good find for Telugu cinema.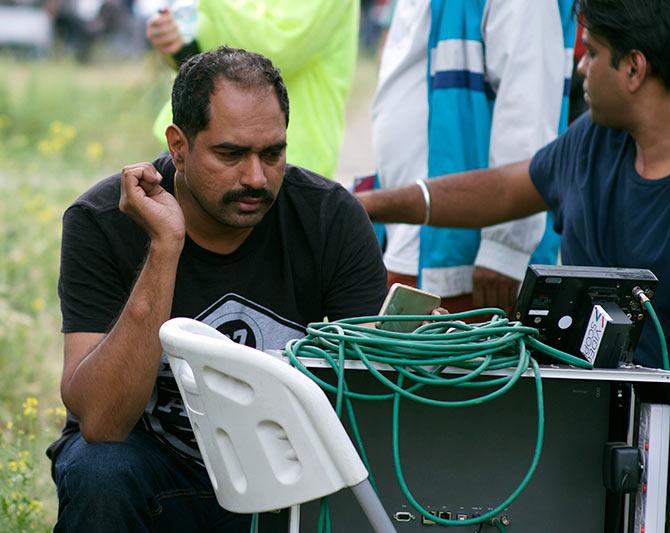 Image: Director

K

rish Jagarlamudi on the sets of Kanche
How demanding was it to shoot this film, especially the war scenes?
It was physically and mentally demanding. The detailing had to be authentic. A huge amount of money has been spent on the film. But there was satisfaction at the end of it.
Could you throw light any interesting episodes in the film?
There is a 12-minute war sequence, and it's a near perfect execution.
The run time of the film is two hours five minutes.
The dialogues by Sai Madhav Burra are excellent.
Brinda has choreographed the songs.
I must thank my producers Sai Babu Jagarlamudi and Y Rajeev Reddy for producing a film of this scale.