'Mr Shankar is equivalent to James Cameron given steroids!'
'Trust me, in this Rs 510 crore, Hollywood cannot make what we have produced here.'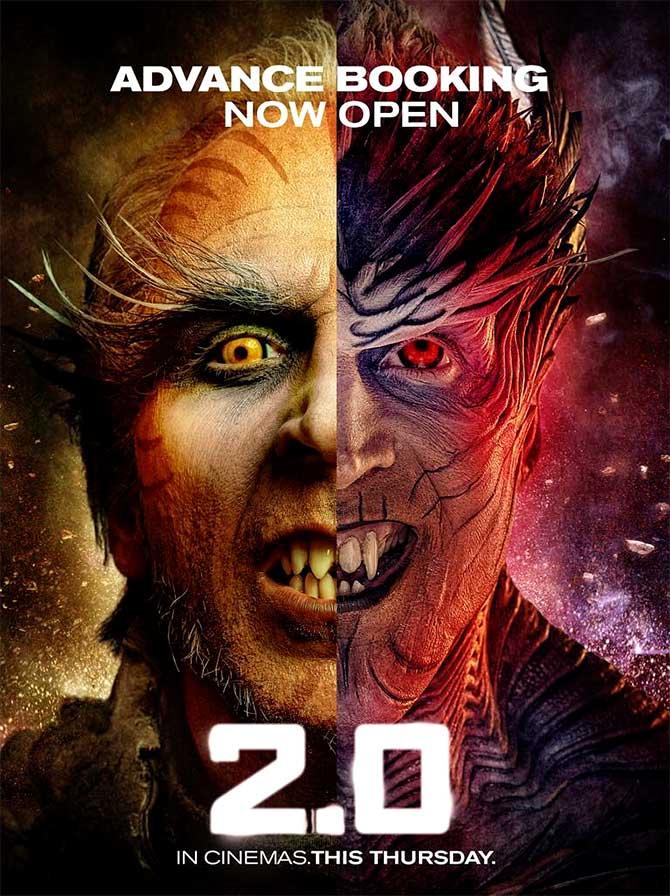 Akshay Kumar is all set to surprise audiences with his evil avatar in the Rajinikanth starrer 2.0.
As he settles down for an interview with Rediff.com Contributor Urvi Parikh, Akshay reveals that his costume in 2.0 was no picnic.
"When I used to remove the prosthetics, my body used to smell of sweat. I couldn't eat because the body has to be intact. I had to be on liquid diet: Only milkshakes and juices," he says.
What aspect of the role excited you?
First of all, I haven't heard this kind of screenplay.
I have done many social films, but this was a social film with an international message.
I wondered how come no one had thought of this concept and message.
(Director) Mr Shankar thought of it. He came up with such a brilliant idea.
I can't talk about it, you have to watch the film.
I was very happy to work with Rajinikanthji and Mr Shankar, one of our country's best directors.
They told me it would be India's most expensive film. I got a chance to be a part of it, so I am very happy and excited.
Were you apprehensive about playing a negative character?
No.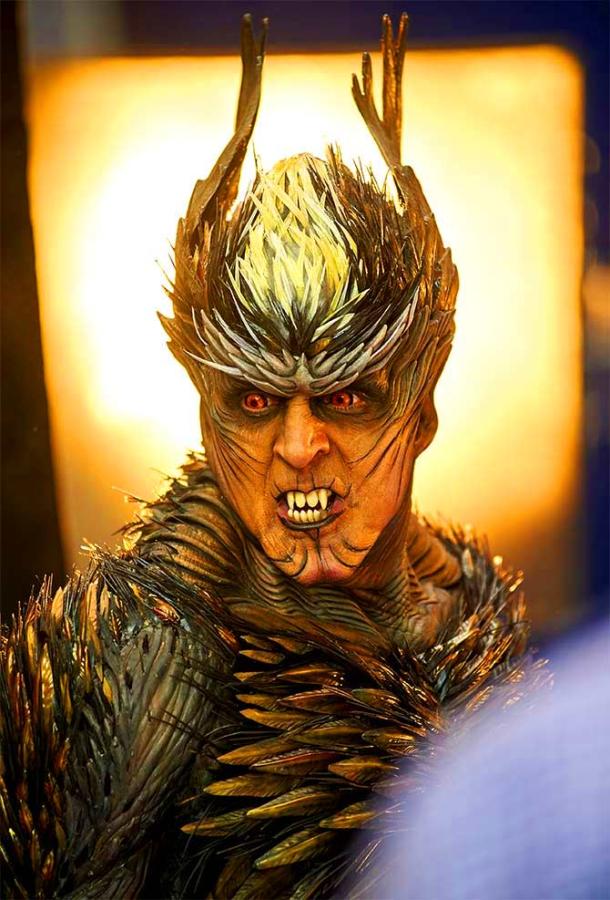 Shankar said you suffered with the prosthetic. Is that true?
Not suffered. It was very hard.
I had to sit in one place, patiently, without doing anything for three-and-a-half hours.
Three people, working on my makeup and prosthetic, were doing their job. I just had to sit quietly.
I am a very patient man in general.
While playing this character, I became more subtle, mellow.
Then, after the shoot, I had to sit for an hour-and-a-half (to remove it).
Phir aap raat ko sone jao, and you know that the next morning, you have to do the same thing again!
Toh yeh continuous 38-40 din karna hai. That was a painful process.
Your pores cannot breathe, there is no oxygen.
Sab kuch packed hai.
Toh paanch ghante joh main kaam karta tha, all the sweat used to be inside the body and didn't have a way to come out.
When I used to remove the prosthetics, my body used to smell of sweat.
I couldn't eat because the body has to be intact.
The prosthetics were made according to my body size.
I had to be on a liquid diet: only milkshakes and juices.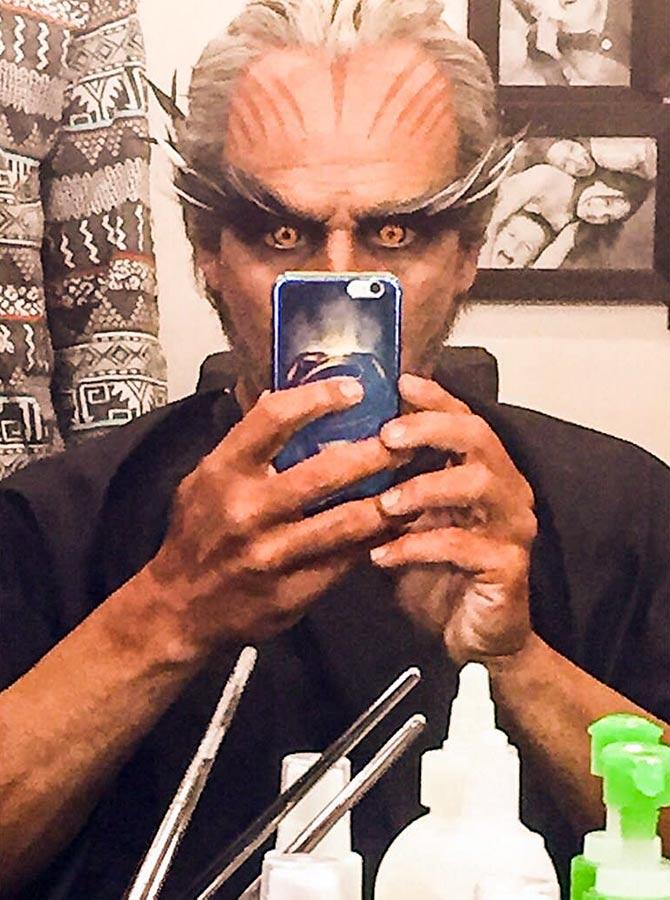 What was your first reaction when you saw yourself in that get up?
I was clicking selfies!
My family was with me.
I kept clicking selfies with my wife and my children.
What was your daughter Nitara's reaction? Was she scared?
No. she watched me put on the makeup, she watched the process. She knew something was happening to her father.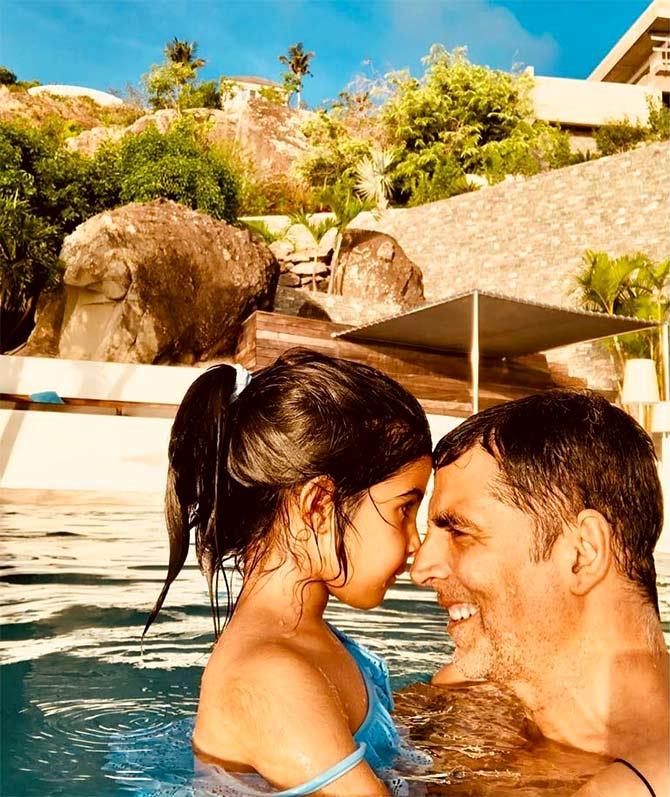 Is your look the highlight of 2.0?
The movie and the way it has been made is the highlight.
This is the best technical film India has produced.
It's a 3D film; it's not a film transformed to 3D.
I would say Mr Shankar is equivalent to James Cameron given steroids!
Everything is larger than life.
Like when you watch Transformers, there are two robots fighting each other. We came out saying 'Wow! You can't compete with them (Hollywood) because their budget is 17 times higher than ours.'
Trust me, in this Rs 510 crore, they cannot make what we have produced here.
What is the most thrilling part about playing a villain?
If you have to play a villain, you are required for lesser days.
I just shot for 38 days; Mr Rajinikanth shot for maybe double (the number of days).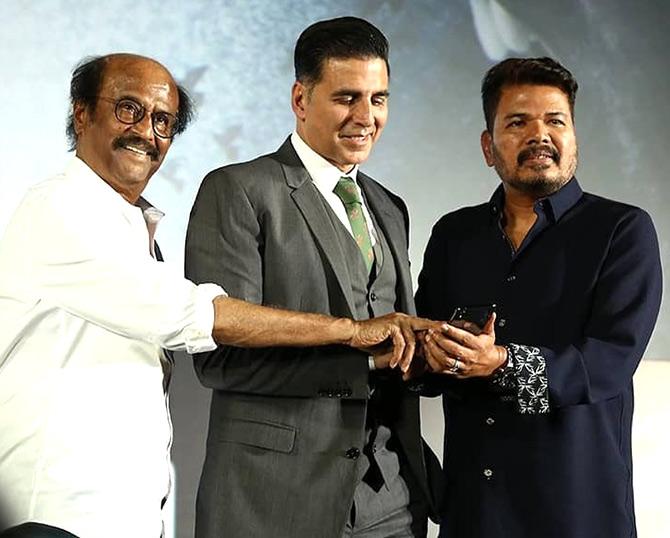 Rajinikanth says 2.0 is your film. What was it like working with him?
He is being humble.
It is very much his film because the title is 2.0.
He is 2.0, not me.
He is just being nice and kind to me.
I am the Amrish Puri of this film.
Whenever we would chat, we would talk in Marathi because he is Maharashtrian.
Even something simple sounds great when he says it.
You give Rajni sir a line and he will make it an epic dialogue.
What is the one you admire about him?
He is very professional and humble.
He is what he is, including his look.
He is not worried about how his hair is.
He will come in front of you just like he is, and that speaks volumes about him.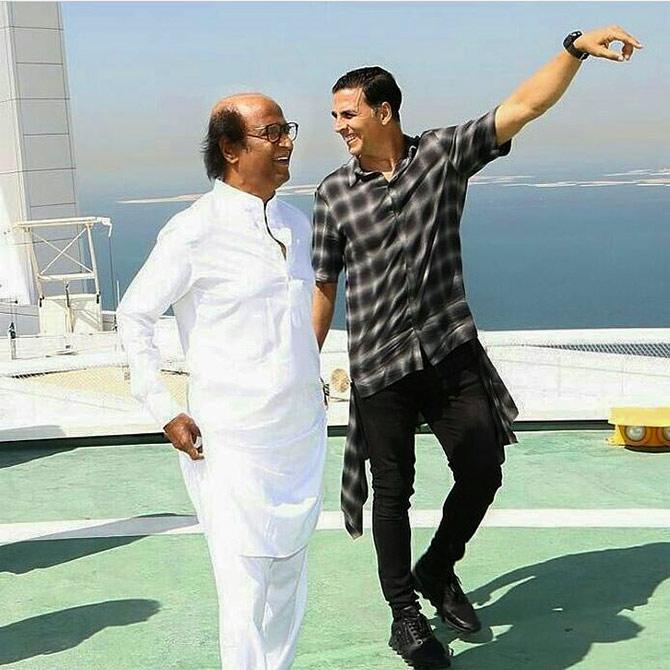 Do you think film-makers in Bollywood have a lot to learn from their counterparts in the south? Do you think we lack that vision?
Not vision. The technology down south is advanced.
They are also very professional -- a 7:30 shoot starts exactly at 7:30. Here, 7:30 means aa jana, 9.30-10:00 tak.
You can learn a lot from there.
Sometimes I feel a newcomer should do five films there and then come to Bollywood.
In one day, they take around 35, 40 shots. Compared to that, we do 12, 13 shots.
They don't take others for granted, they value people's time.
Since the budget is very high, are you nervous?
More than me, my producer must be.
But the last time I spoke to him, he was very happy because he has already sold the digital and satellite (rights), along with Tamil and Telugu, overseas, music...
I don't know how they will recover it (the money spent on the movie), but he seems happy.
What was Shankar's brief to you about the character?
He narrated the whole story in about two-and-a-half hours. I knew about everybody's characters.
I was bowled over.
The world is not for humans only.
Animals and birds are saying Earth does not belong to you alone, we also live here. Just because we cannot speak or do something about it, don't take advantage of it.
Don't play with nature. That was the whole idea.
Indian cinema has not dealt with sci-fi so much. Now that you have, would you like to do more?
Yeah, if anything comes by.
Superheroes are not the only sci-fi, there are other ways to do it too.
I would love to do a film on plague, or the end of the world or a disaster film -- like something humans have done and the whole thing goes wrong and we become zombies! I love that!
Has 2.0 raised the benchmark for you?
It depends. If it works, I will get motivated. If it doesn't, back to square one.
Has 2.0 changed the way you look at technology?
Yes. I have learnt a lot.
I have learnt what a green screen can do to you. It can change your whole persona.
Technology can change the whole environment.
300 was made entirely on a green screen. It is an amazing concept.
Talking about the green screen, you have done double roles in films. How different was the technology?
That was child's work. We didn't even know what we were doing.
How is Mission Mangal shaping up?
The shooting is still on.
What about Mission Mangal appealed to you? It is led by so many women. Few superstars would back a film with so many women.
They are the real heroes.
I am very happy to see these five girls; they are big in their own way.
They are not bothered that there are five heroines, why should we do it?
I don't think five heroes would come together.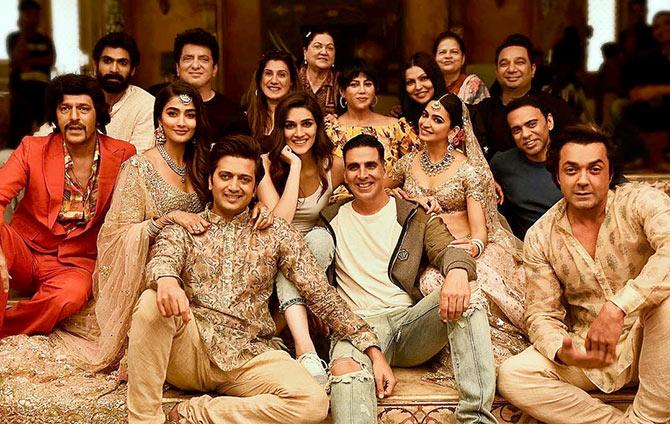 What was your reaction to the #MeToo allegations about your friends, Nana Patekar and Sajid Khan?
I have given a statement on that.
Housefull 4 is complete. Are you excited?
It will take another year to release. It will release next Diwali.
How is Kesari shaping up?
Six days of shoot is left. I am doing that in December.
You are doing a biopic on Prithviraj Chauhan. When will you begin that?
We are still finalising it. We will start maybe at the end of next year.
You are doing a film with Karan Johar and Kareena Kapoor.
I can't give you any news about it because everything is under wraps. I will begin shooting for that next year as well.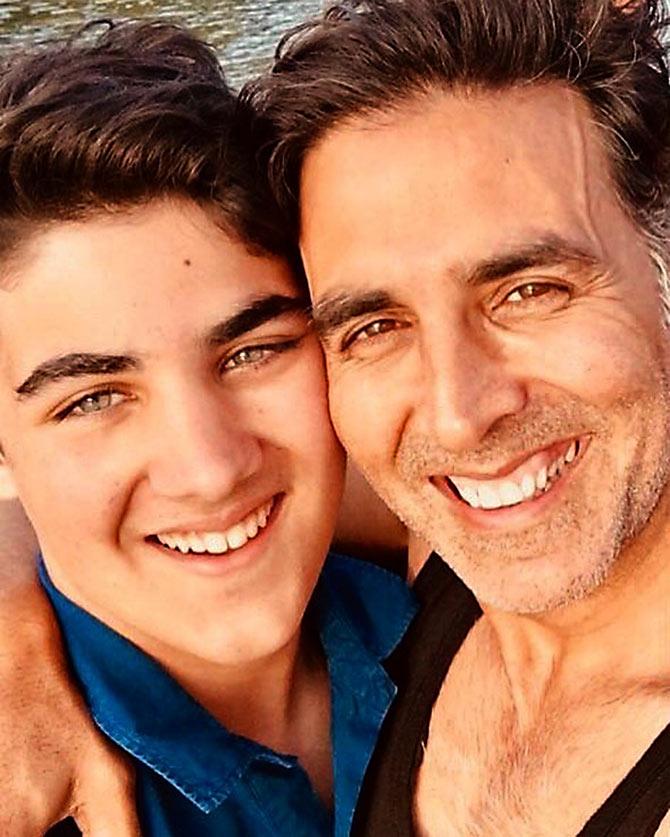 Is your son Aarav interested in Bollywood?
He is 16 years old. I would like to let him live his life rather than put him under that pressure.
I am not interested in asking him if he is interested in films. I am not that kind of father.
I let him live.
At the moment, he is more interested in being with friends, enjoying life and studying.