'It's not about how many times you get rejected or you fall down or you're beaten up.'
'It's about how many times you stand up and are brave and you keep on going.'
The 91st Annual Academy Awards saw some winning speeches.
They were inspiring, encouraged love versus hate, cautioned about the 2020 presidential elections, and seemed truly grateful.
Here's looking at the best ones.
Olivia Colman, Best Actress for The Favourite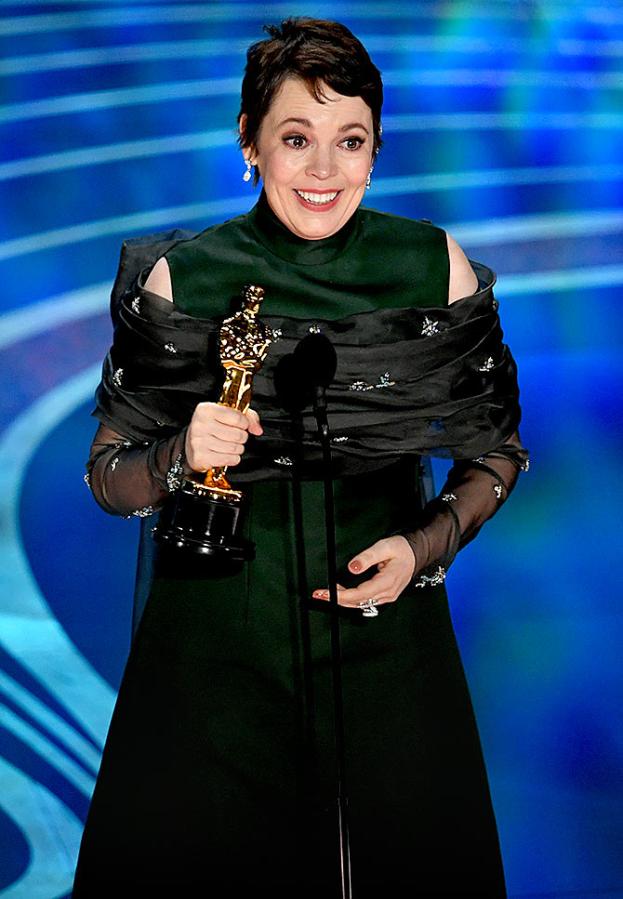 It's genuinely quite stressful. This is hilarious. I've got an Oscar! I have to thank lots of people.
If, by the way, I forget anybody, I'm gonna find you later and give you all a massive snog, and I'm massively sorry if I forget you now.
Yorgos, my best director in the best film.
And with Emma and Rachel, the two loveliest women in the world to fall in love with and to go to work with every day.
You could imagine, such hardship to be in a category with these extraordinary women.
Glenn Close, you've been my idol for so long and this isn't how I wanted it to be. I think you're amazing and I love you very much. I love you all.
Thank you Lindy King, my agent who took me on over 20 years ago, I love you very much! My mum and my dad ... well, you know. My kids who are at home and watching! Well, if you're not, then, well done. This is not gonna happen again.
Any little girl who's practicing their speech on the telly, you never know.
I used to work as a cleaner, and I loved that job.
I did quite a lot of my time imagining this.
My husband, Ed, my best friend. I love you so much. 25 years you've been my supporter. He's gonna cry, I'm not. Thank you so much -- Fox, everybody, the cast and crew. Thank you. Argh, thank you so much. Lady Gaga! And Melissa! Thank you.
Did you know? Even though The Favourite got 10 nominations, it managed just one win: Olivia Colman's Best Actress trophy. This is her first ever nomination and win.
Rami Malek, Best Actor for Bohemian Rhapsody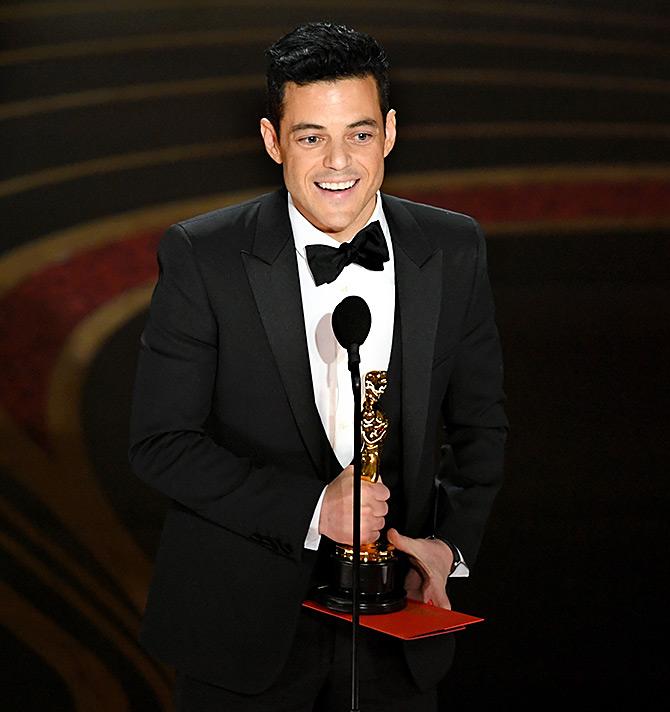 My mom is somewhere here... I love you, lady! My family, thank you for all of this.
You know, my dad didn't get to see me do any of this, but I think he's looking down on this right now, so this is a monumental moment.
I'm so appreciative to all of you -- to everyone who has had a hand in getting me here to the Academy, to people who took a chance on me every step of the way
Graham King, Dennis O'Sullivan, everyone at Fox and New Regency, thank you guys so much.
I may not have been the obvious choice, but I guess it worked out.
Thank you, Queen.
Thank you guys for for allowing me to be the tiniest part of your phenomenal, extraordinary legacy. I am forever in your debt.
My crew and my cast, I love you, you are my equals, my betters. I could have never been here without you.
I think about what it would have been like to tell little bubba Rami that one day this might happen to him, and I think his curly haired little mind would be blown; that kid was struggling with his identity trying to figure himself out.
We made a film about a gay man, an immigrant who lived his life just unapologetically himself.
The fact I'm celebrating him and this story tonight is proof that we're longing for stories like this.
I am the son of immigrants from Egypt, I'm a first generation American -- and part of my story is being written right now.
And I could not be more grateful to each and every one of you, and everyone who believed in me for this moment.
It's something I'll treasure for the rest of my life.
Lucy Boynton, you're the heart of this film, you are beyond immensely talented, you have captured my heart. Thank you so much.
Did you know? Rami Malek is second actor of Arab descent to be nominated and the first to win, after Omar Sharif, who starred in Lawrence Of Arabia.
In his thank you speech, Rami did not mention the film's director, Bryan Singer, as he was fired due to allegations of sexual misconduct.
Spike Lee, Best Adapted Screenplay award for BlacKkKlansmann
The word today is 'irony.'
The date, the 24th.
The month, February, which also happens to be the shortest month of the year, which also happens to be Black History month.
The year, 2019. The year, 1619. History. Her story. 1619. 2019. 400 years.
Four hundred years.
Our ancestors were stolen from Mother Africa and bought to Jamestown, Virginia, enslaved. Our ancestors worked the land from can't see in the morning to can't see at night.
My grandmother, who lived to be 100 years young, who was a Spelman College graduate even though her mother was a slave.
My grandmother, who saved 50 years of social security checks to put her first grandchild -- she called me Spikie-poo -- she put me through Morehouse College and NYU grad film. NYU!
Before the world tonight, I give praise to our ancestors who have built this country into what it is today along with the genocide of its native people.
We all connect with our ancestors.
We will have love and wisdom regained, we will regain our humanity. It will be a powerful moment.
The 2020 presidential election is around the corner. Let's all mobilize. Let's all be on the right side of history.
Make the moral choice between love versus hate. Let's do the right thing!
You know I had to get that in there.
Did you know? Spike Lee won the Best Adapted Screenplay award for BlacKkKlansmann, along with David Rabinowitz, Kevin Willmott and Charlie Wachtel.
Lady Gaga, Best Original Song for Shallow, A Star is Born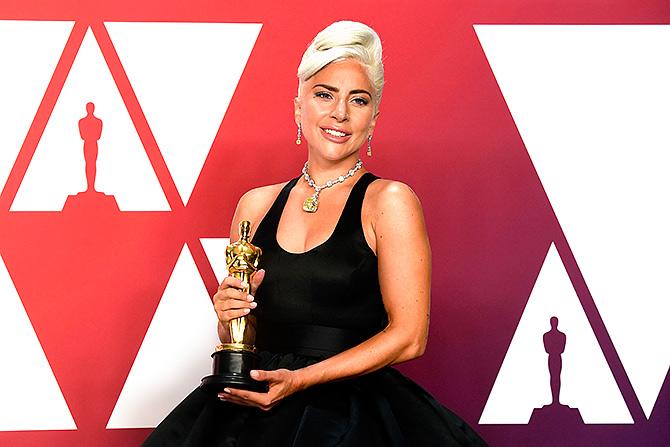 To my sister, my soulmate, I love you. My family's here, I love you, Mom and Dad.
Bradley, there is not a single person on the planet that could've sang this song with me but you. Thank you for believing in us. Thank you so much.
And if you are at home, and you're sitting on your couch and you're watching this right now, all I have to say is that this is hard work.
I've worked hard for a long time, and it's not about, you know...it's not about winning.
But what it's about is not giving up.
If you have a dream, fight for it.
There's a discipline for passion.
And it's not about how many times you get rejected or you fall down or you're beaten up.
It's about how many times you stand up and are brave and you keep on going. Thank you!
Did you know? Lady Gaga's performance with Bradley Cooper had so much chemistry, it drove social media wild!