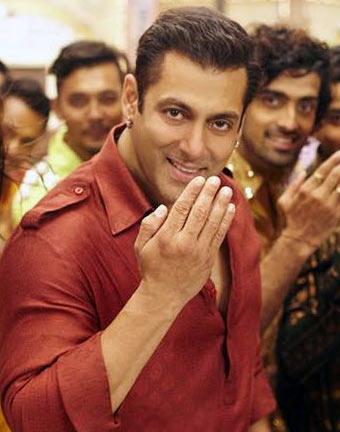 'Bajrangi Bhaijaan will bring back the innocence that I had in Maine Pyar Kiya. It's the biggest character I have played.'
Salman Khan, in Bhaijaan mode.
It's always fun to interview Salman Khan when he's in the mood to talk.
The superstar gives such fun and revealing insights into his life that it ceases to be an interview, and goes on to be a really entertaining story-telling session!
And that's how Sonil Dedhia/ Rediff.com caught Khan, when he interviewed him on his upcoming mega movie Bajrangi Bhaijaan.
Read on:
Kabir Khan mentioned in an interview that Bajrangi Bhaijaan is not a typical Salman Khan film where he plays a larger-than-life character.
Even though I play a realistic character, he is still larger-than-life. It's the biggest character I have played.
I had to put in a lot of hard work. My earlier films like Kick, Dabangg and Ready, to name a few, were all chalta purza (mediocre) characters.
Bajrangi Bhaijaan will bring back the innocence that I had in Maine Pyar Kiya.
The audience has three different types of reactions when they come out of the theatre: mazaa nahi aaya (didn't like the film), achi film hai (it's a nice film) and the third one iskya kar diya in logon ne? Ekdum zabardast (What have they done? It's mind-blowing).
People who have seen the rushes of Bajrangi Bhaijaan have had the third reaction.
This assures us that we have made a good movie and people will watch it again and again.
I learnt the lesson of showing the rushes of a film during Maine Pyar Kiya. Sooraj (director Sooraj Barjatya) would show the rushes and people would want to see it again.
When you see a repeat audience during the rushes, where the movie is shown without sound or editing, it means that the film has something in it.
Humari zindagi main kabhi kabhi aisa hota hai ki koi chehra baar baar dekhne ka mann karta hai… jaise ki inka chehra (In our life it sometimes happens that we keep wanting to see a face again and again... like her face) (pointing to a beautiful PR girl).
That's the same quality Bajrangi Bhaijaan has. I am sure people will come and watch the film again and again.
What are the parameters that you consider when signing a film?
Earlier, we would sign films because producers and directors requested us to do it.
Later on, while shooting the film, we would realise our mistake.
But that's not the case with me anymore. If I like the script and know it has the potential to do well, I will give it my best.
A film is made on the writing table and the editing table. Even if the script isn't good and the makers have started shooting it, they should be ready to change it.
It will take around 15-20 days to reshoot those portions, which is better than releasing a bad film.
Do you ever feel pressurised to do the kind of films that your fans demand?
I feel we are in tandem. The films that I do are the only films that I would watch.
I don't want to do films where people see the trailer and say 'sweet film lag rahi hai badh main kabhi time rahega toh dekh lege (the film looks sweet; will watch it when I have time later).
I want to do films where people have the urgency of watching it.
'
Andaz Apna Apna
released on Friday and was out of theatres on Monday morning. It is supposed to be a cult film.
Yeh kaisa cult hai
? Poor Vinay Sinha (
producer
) wasn't able to make a film after that.'
Expectations from your films are sky high. Do you feel any pressure?
No, I just feel the work should be appreciated.
No one makes a film to make a flop, or with the intention of shutting down the production house. The intent is always to make something that will earn money. But there is no guarantee that a film will be a big hit.
I remember we had made Hello Brother (directed by Salman's brother Sohail Khan) and at that point, we had arranged for as many as 60 special screenings.
We used to arrange money to make the film, so to arrange a trial we used to wonder from where to get money. In all the trials, we would see people laughing and falling from their chairs.
We thought the film would be a big hit. We had a big premiere but 20 minutes into the film, not one person was laughing.
Arbaaz, Sohail and I looked at each other and we thought it is over. Arbaaz said, 'I told you that only people staying in Galaxy (Galaxy Apartments where the Khans reside) would laugh.'
The film was a big flop. The same film was later released on television and became a big hit. It is one of the biggest grossers on television.
Andaz Apna Apna, my film with Aamir Khan, released on Friday and was out of theatres on Monday morning.
It is supposed to be a cult film. Yeh kaisa cult hai? Poor Vinay Sinha (producer) wasn't able to make a film after that.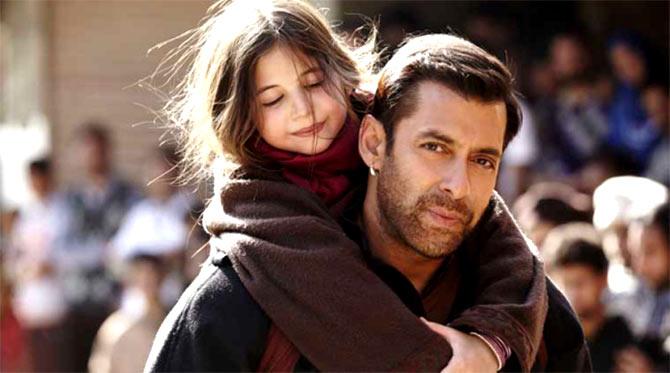 Image: Harshali Malhotra and Salman Khan in Bajrangi Bhaijaan
What was your experience of working with the child actor Harshali Malhotra in Bajrangi Bhaijaan?
She is like a diva. If she becomes a lead actress, she will give all the other actresses a run for their money.
The first thing she told me when I met her was, 'Aap mujhe aap ki tarah ek superstar bana do na (make me a superstar like yourself).'
I thought her mother had taught her to say that, but that wasn't the case.
She has set her goals at such a young age. I hope she doesn't lose her innocence with all the attention she is getting.
You worked with Nawazuddin Siddiqui in Kick and it was felt that he took away the limelight from you…
(Interrupts) That's not true. If that was the case, he would have been doing my role and I would be doing the films that he is doing.
What is it like working with him again in Bajrangi Bhaijaan?
He is a positive and hardworking guy. The good part is that he hasn't allowed success to go to his head. He likes his work and is not bothered about the result.
You complete 27 years in Bollywood.
I remember it was April 4, 1988 when I signed Maine Pyar Kiya but I am still trying to find out the date on which I met director J K Bihari and signed my first film, Biwi Ho Toh Aisi.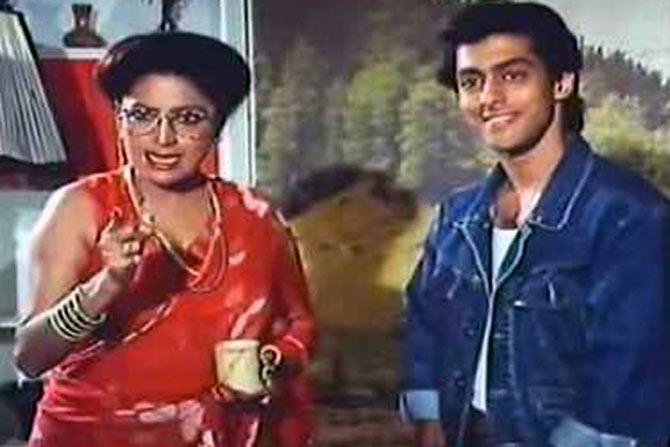 Image: Bindu and Salman Khan in Biwi Ho Toh Aisi
Do you remember how you signed your first film?
Yes, it's an amazing story.
J K Bihari had approached a lot of actors but they all refused it. I remember he had his office in a garage.
A couple of actors had met him but things couldn't be finalised. Out of frustration, he said, 'Ab koi bhi next idiot ayega, main usko sign kar dunga.' (I will sign up the next idiot who comes)
After some time, I walked in. I was the lucky idiot (laughs).
I was really lucky because Maine Pyar Kiya did really well. No Rajshri (Barjatya's production house) hero has ever become a star apart from me.
If Maine Pyar Kiya was my first film, perhaps I would also have failed (laughs).
'I had taken my family to see
Biwi Ho Toh Aisi
and halfway through, they were all dozing off. Later, I took them to watch the first cut of
Maine Pyar Kiya
and they were sleeping in that film also.'
How did you feel after signing your first film?
I was playing a supporting character in Biwi Ho Toh Aisi, and was there in just a few scenes.
I was happy that I had signed my first film. I did my homework but when I reached the sets, waha pe toh kuch aur scene tha. Jo bhi soch ke gaya tha woh sab phus (some other scene was on. Whatever I had prepared was of no use).
I thought it would be my first and last film.
I thought of becoming a writer and getting into direction and also getting back to modelling. I called Sooraj Barjatya and told him not to cast me in Maine Pyar Kiya as his father (Tarachand Barjatya) was spending a lot of money.
I told him I would work with him as an assistant director on the film. He asked me whether he could watch Biwi Ho Toh Aisi and I obliged.
During the screening he asked me, 'Why are your eyes looking so big?'
I was shocked. I asked him if that was the only thing he noticed.
He said that the film was like a screen test and he was confident of casting me in his film. I was like 'Bach gaye yaar' (laughs).
What was your family's reaction to Biwi Ho Toh Aisi?
I had taken them to see the film and halfway through, they were all dozing off (laughs).
Later, I took them to watch the first cut of Maine Pyar Kiya and they were sleeping in that film also.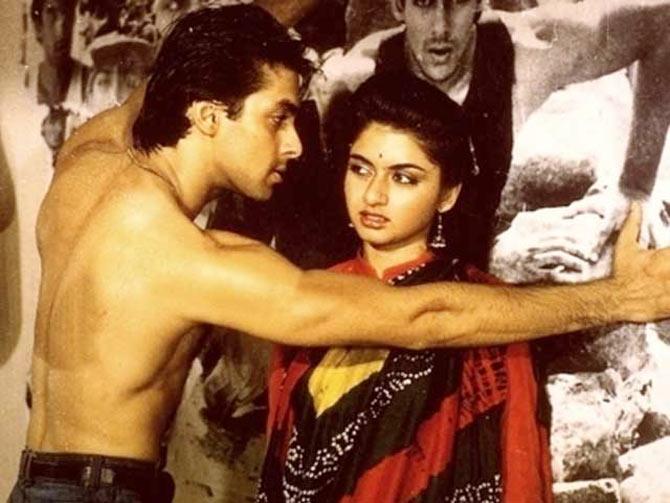 Image: Salman Khan and Bhagyashree in Maine Pyar Kiya
But you did a good job in Maine Pyar Kiya.
The first cut of Maine Pyar Kiya was four hours and some minutes (laughs). I remember asking Arbaaz how he liked the film and he said, 'It started really well but Biwi Ho Toh Aisi was better.'
Sooraj told me he would edit the film and I heaved a sigh of relief.
Tabhi life ka ambition tha Rs 10 lakh kamana, which I did in my two films. I thought I'll put the money in the bank and get back to writing and modelling.
At that time, Aamir Khan, a Bandra boy, had become a star. We never thought it would happen (laughs). So it was a big boj on my chaati (burden on my chest).
I felt if I didn't do well, I would be screwed. I was like Bandra main toh koi nahi puchega toh Bhayandar main jaake rehna padega (No one will ask for me in Bandra; I'll have to live in Bhayandar). (laughs).
Luckily, Maine Pyar Kiya was a huge hit but our actress Bhagyashee decided to quit...did you notice the rhyming (laughs)?
So like Aamir you too became a big star after Maine Pyar Kiya.
I didn't have work for six months after Maine Pyar Kiya released. Can you imagine the lead actor of a film which broke the record of Sholay being out of work?
I thought Rajshri heroes ka jinx true ho gaya (laughs). Then my father (Salim Khan) decided to take things in hand.
He went to producer G P Sippy and told him to give a fake announcement in the trade magazines that he had signed me for one of his upcoming films, and he agreed.
The advertisement appeared and the next day Ramesh Taurani (owner of Tips music) landed up in his office with Rs 5 lakh for the music rights of the film.
G P Sippy started the film with that money but it never got made.
Later, director Deepak Shivdasani came to me with the remake of a Bengali film. Mithun Chakraborty was the hero, who had 17 brothers in the film and I had to play the role of the youngest brother.
I told Deepak, 'Aise movies karne se acha hai I get back to writing.' He was impressed and he told me that he would like to listen to some story.
I remember we were sitting at Sea Rock Hotel's coffee shop. I saw a girl passing in a red sari with which I made up a story.
I told him that I have a love story of a guy who falls in love with a prostitute.
He loved the idea and told me that he would like to read the entire script. Ab mere pass toh koi script nahi thi (Now, I didn't have a script). I told him to come back after two days.
I rushed home and started writing. It was barely readable because of my pathetic handwriting. I requested my father's secretary to write it for me.
The film was later written by Javed Siddiqui and titled Baaghi.
Image: Movie poster of Baaghi
You are working with Kabir Khan for the second time in Bajrangi Bhaijaan…
(Interrupts) Let me go step by step.
After Baaghi, my next film was Suryvanshi, directed by Rakesh Kumar.
He saw G P Sippy's announcement (laughs). Vijay Kumar Galani (producer of Suryavanshi) booked a room in Sea Rock Hotel for our meeting.
At that time when a producer could book a room in a five star hotel, we would think, 'Ye badi maaldaar party hai.'
Director Rakesh Kumar had made big films like Khoon Pasina, Yaarana, Mr Natwarlal and Do Aur Do Paanch. He hadn't made a film for a while so I thought Suryvanshi would be his comeback film.
My price at that time was Rs 4 lakh but I had signed the film for Rs 11 lakh.
Today, Vijay Galani who produced Veer owes me Rs 15 crore for the movie. Instead of paying me the money, he has sued me for Rs 200 crore. Rs 11 lakh ka badla Rs 200 crore (laughs).
(Vijay Galani, who produced Veer, claims he had paid the actor Rs 10 crore as a signing amount. When the contract was drawn, he offered Rs 15 crore from profits if the film did well. The film flopped, so Galani did not pay Salman.
Salman then sent Galani a letter claiming that he didn't agree to any clause and that Galani owed him Rs 15 crore.
Galani slapped a defamation case of Rs 250 crore against the actor, accusing him of causing mental agony and harassment.)
He has been a dear friend of mine for 15 years but I am not going to leave my money nor am I going to leave my friendship with him.
After Vijay Galani's episode, I shot for Ek Tha Tiger with Kabir Khan which was a nice movie.
Now I am back with Kabir for Bajrangi Bhaijaan. The script is written by Rajendra Prasad (father of director S S Rajamouli, whose Bahubali releases July 10).
It is such a beautiful plot that I wanted to produce it myself.
Now if I do another film with Kabir, then you will ask me, you have done three films with him and how did it happen (laughs).
My question actually is that both your films with Kabir Khan have tried to show the friendly relations between India and Pakistan. While we are making films which show bhaichaara (brotherhood), Pakistan is still talking aboutbhaigiri (terrorism).
In Pakistan, 550 blasts happen every year. They are hurting their own people.
Besides one or two elements, people there want peace too. Why should one mess up the rest of the 99.9 percent people?
Things can be handled peacefully, and music, films, cricket, transport are influential mediums. Then why ban them? We need to ban the war between the two countries.
If people are expecting a war film in Bajrangi Bhaijaan, I would ask them not to watch this film. If you want to see India bashing Pakistan, don't come and see this film. This is a very positive film, like Ek Tha Tiger.
In India, we talk about caste. My parents got married some 51 years back when all this was at his peak. But at that time, the problem was not that my mother was a Hindu or my father was a Muslim. The problem was that my father was in the movie business. Despite that, both families agreed.
No one in the film industry fights on religion. Why don't people understand and learn from this?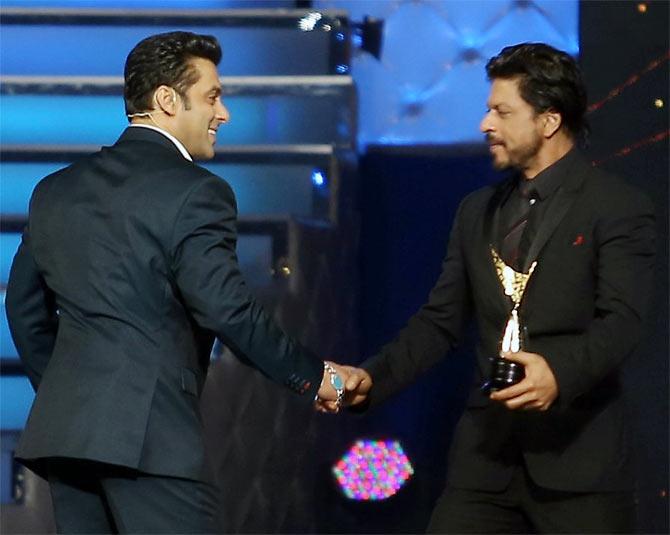 Image: Salman and Shah Rukh Khan. Photograph: Pradeep Bandekar
Your film Sultan and Shah Rukh Khan's Raees will clash at the box office next Eid. What is your say?
I have released two films at the same time as Shah Rukh -- Jaaneman with Donand Saawariya with Om Shaanti Om. And both times, SRK's track record is 100 per cent.
So he has got nothing to worry about. If anyone is going to worry, then it is me.
Your father was quoted as saying, 'Agar Gabbar ko koi maar sakta hai toh who hai Gabbar khud.' In the same context he said, 'Salman's worst enemy is Salman'. Do you agree with him?
(Laughs) One day, I met Arbaaz while I was coming down from my house. He looked at me and said, 'Agar Gabbar ko koi maar sakta hai toh who hai Gabbar khud.'
I didn't understand him.
Later, my father told me the same thing. I realised he was trying to poke fun at me.
Director K S Adhiyaman requested me to finish off a small shooting for his film Shaadi Karke Phas Gaya Yaar. I told him that I was too tired and had taken a break from shooting. He insisted I do it the next day.
I told him I would come at 6 am. He left. That same day I shaved my head.
When he saw me in the morning, he cancelled the shooting.
That's when I said yes to Tere Naam.
To answer your question, no, I am not my biggest enemy. But if my father has said that then it is probably right.
'When Sunny Deol, Jackie Shroff, Sanjay Dutt, Aamir Khan and I entered the industry, we looked like boys. Actors who came before us looked like men.'
Karan Johar recently said that Bollywood focuses more on stars than content.
Who is Karan Johar? Is he the spokesperson for the industry?
Actors get stardom because of the audience. They become huge because the audience and fans can connect with them.
My stardom has soared in the last five years but I've taken a good 20 years to get this reception.
When Sunny Deol, Jackie Shroff, Sanjay Dutt, Aamir Khan and I entered the industry, we looked like boys. Actors who came before us looked like men.
If we had done action films, people would have said, he is trying to be like Amitabh Bachchan.
At that time we couldn't play inspectors, lawyers and local dons so we started off as romantic heroes and graduated to doing comedy and action films.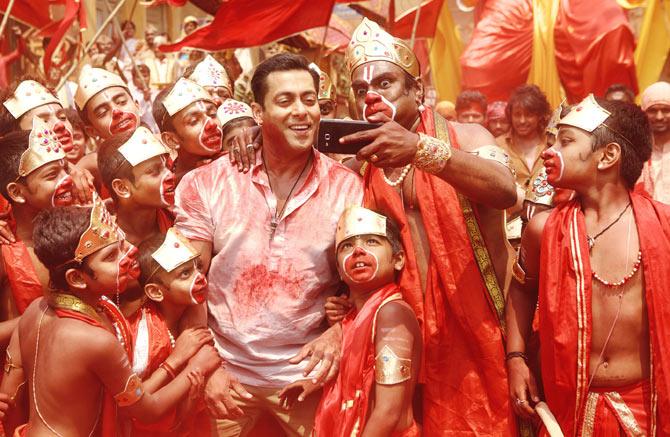 Image: Salman Khan in Bajrangi Bhaijaan
You bring back the essence of Maine Pyaar Kiya, Hum Aapke Hai Koun with your next film Prem Ratan Dhan Payo.
It was very difficult for me to do Prem Ratan Dhan Paayo as I had moved on to doing comedy, drama, and action films.
But I just had to look at Sooraj, follow his instructions and the Prem (his character) in me came back.
You will be playing a boxer in Sultan. What kind of preparation are you doing for it?
I have to put on 10 kilos and a lot of muscle. We start shooting in November.
Is it difficult to put on and lose weight at your age?
What age? I am just 27 (laughs).
What's happening with Kick 2, Bodyguard 2 and Dabangg 3?
I don't know about Bodyguard 2 but I am working with Atul Agnihotri (his brother-in-law and producer) in his next film.
Dabangg 3 will happen in some time. I am working with Sajid Nadiadwala (director of Kick) but I don't think it is Kick 2.