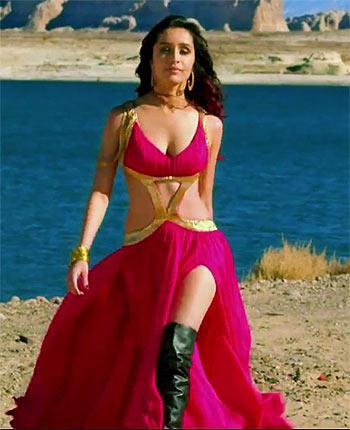 'I would like to do a biopic (on) Parveen Babi. She was such a gorgeous woman. She was also my neighbour.'
'It was very sad when she died. It is so tragic when you are young and have fame, fortune, praise and everything and then you are alone.'
Riding high on her success wave, Shraddha Kapoor discusses her movies.
Shraddha Kapoor is enjoying the success of her latest film, ABCD 2.
This will be her fourth hit film, after Aashiqui 2, Haider and Ek Villain, and Shraddha has not lost her focus.
She talks to Rediff.com contributor Rajul Hegde about her success, and her future plans.
ABCD 2 is doing well and your performance has been praised.
I feel so good. It was raining on the day of the release so I kept my fingers crossed and prayed that it shouldn't rain much.
I am happy to receive this kind of love and appreciation from audiences. It encourages me to work harder and put my best foot forward each time.
ABCD 2 is a heart-warming film. It has inspired Varun (Dhawan), director Remo D'Souza and me. I hope everybody is inspired by this film.
Do you love dance more after this film?
I used to love dancing in front of the mirror when I was growing up, and in annual day functions in school. But during the making of ABCD 2 I have fallen in love with it and have improved too.
Your chemistry with your co-star Varun Dhawan is amazing. What's your relationship in real life?
Varun is one of my closest friends. We grew up together. Our dads (David Dhawan and Shakti Kapoor) have done films together.
The other day I was going through our photo albums and I came across a picture of Varun and me together. We were with our friends...we had just started clubbing.
I laughed seeing that picture. Now I have to tell myself that we have done a film together.
What was it like working with Prabhu Dheva?
Amazing! He is so unaffected by his stardom.
I guess that's why he is so great. He is humble and inspiring.
You have received compliments from industry people like Karan Johar, Sajid Nadiadwala and Aditya Chopra...
Adi sir messaged me after Aashiqui 2, which meant the world to me. But it's the first time that Karan sir and Sajid sir called. They said they enjoyed the film and the dance. And also that the hard work showed; that was the most meaningful compliment.
My dad said you look like part of the team. You came across as a proper dancer.
Who gives you honest feedback on your films?
My dad is my biggest critic. He gives a cut-to-cut feedback, like how one professional actor gives another.
How was your experience of shooting for the film?
We stayed in Remo sir's studio. We ate, drank, breathed and slept dance. All of us were obsessed with ABCD 2. My brother told friends he saw me only in rehearsal clothes.
Las Vegas was a larger-than-life experience.
We had a lot of fun, went out and explored Las Vegas on the days when we were not working. We spent a lot of time with each other. We were all put up in the same hotel. It was fun.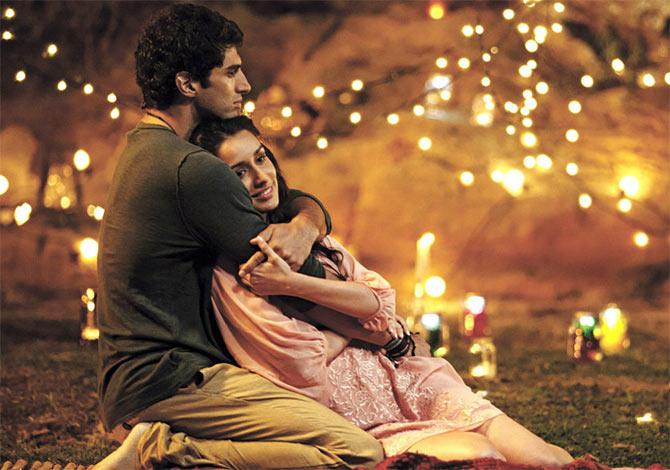 Image: Aditya Roy Kapoor and Shraddha Kapoor in Aashiqui 2
Did you expect the movie to do so well?
I felt what I felt when I watched Aashiqui 2. I felt it would touch people's hearts. I think that has happened, and that's nice.
Has the perception about you changed after four hits?
(Thinks) Some people think Aashiqui 2 was my first film. I just say thank you.
A few people know that Teen Patti and Luv Ka The End were my first two films.
If I really want to be part of a film, I will chase it down.
I would not have second thoughts about calling filmmakers -- that's actually how Rock On 2 and Haider happened.
This is your fourth consecutive hit. Does the numbers game put pressure on you?
No. People are taking the pressure for me (laughs).
The focus is all wrong when people say aap ka film 100 crore touch karnay wala hai. People used to judge a film from the artistic point of view...don't you think that has become less now?
People now talk more about numbers. I watched Margarita, With A Straw. Oh My God! That is cinema, that art is amazing.
Attention should be given to the art aspect of films. It would be nice if I get a chance to be part of a film like that.
What kind of preparation is going into your singing for Rock On 2?
I have put a lot of restrictions on myself since I started vocal classes. I am learning about rock from Samantha Edward. I am trying to find my voice through classes.
I avoid spicy food, aerated drinks and cold stuff.
Classes are fun. I have to do a lot of breathing and buzzing bee exercises to strengthen the diaphragm.
I rehearse a lot. I am excited because I have the opportunity to rehearse with Farhan Akhtar.
How much do you think you have grown as an actor since Teen Patti?
Maybe five on the scale (smiles). Actually, I don't think I can judge myself.
I hope that after every film people say that I have put in effort to do something different.
Would you like to do a biopic?
Yes.
(Thinks) Parveen Babi had an interesting life. She was such a gorgeous woman. She was also my neighbour.
It was very sad when she died. It is so tragic when you are young and have fame, fortune, praise and everything and then you are alone.
Did you feel bad that Vishal Bhardwaj chose Kangana Ranaut instead of you in Rangoon?
No, because I love Kangana.
Actually, a bit of both (laughs).
I felt better that Kangana is doing it because she will do a good job. Vishal sir takes the right people for the right characters.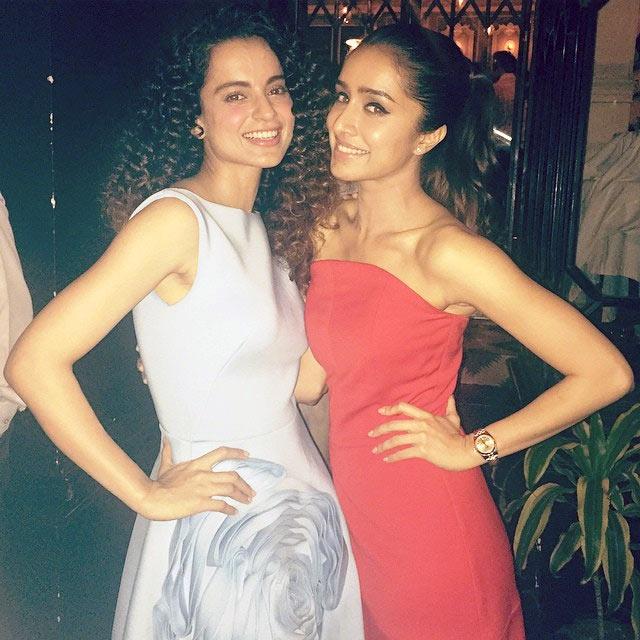 Could you talk about your film Baagi with Tiger Shroff?
The shooting has already begun but I will join in August.
I lost weight for ABCD 2 and the requirement is different for this film.
Tiger Shroff is a superb dancer. I am quite scared about dancing with him. He is quite friendly. My dad knows his dad (Jackie Shroff). We have grown up together and been to the same birthday parties.
Who is your toughest competitor?
Can I say that who I admire instead?
Parineeti Chopra is a fantastic actress, amazing on the screen.
Alia Bhat is nice to watch on the screen. It's just healthy competition, nothing more to it.