'Only when I lose the girl does the story move ahead.'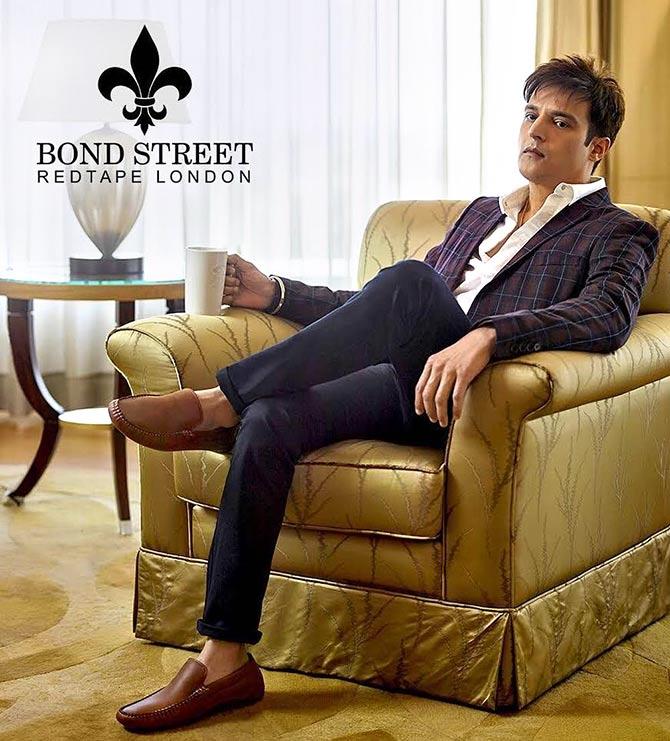 Jimmy Shergill didn't get the girl in Happy Bhaag Jayegi, but he's trying his luck again in the film's sequel.
Happy Phirr Bhag Jayegi is a story about mistaken identity, and Sonakshi Sinha joins the original cast.
"I am the same Bagga from the first part. Both movies are written by Mudassar (Aziz, director) and hence, the personality remains the same. Only the situation changes. This time, they go to China, so that's the confusion," Jimmy tells Rediff.com contributor Urvi Parikh.
Is there added pressure when you work on a sequel?
Only when a movie gets love and performs well at the box office, a sequel is decided.
In this case, Mudassar wasn't planning a sequel despite the first part doing well.
He was working on another script.
While work on that was going on, this thought suddenly came to mind.
But until there is a good thought and plot, they cannot go ahead with it.
For instance, (Director) Aanand L Rai and (Writer) Himanshu Sharma will not make a Tanu Weds Manu 3 until they have a good track in mind.
And these ideas come suddenly.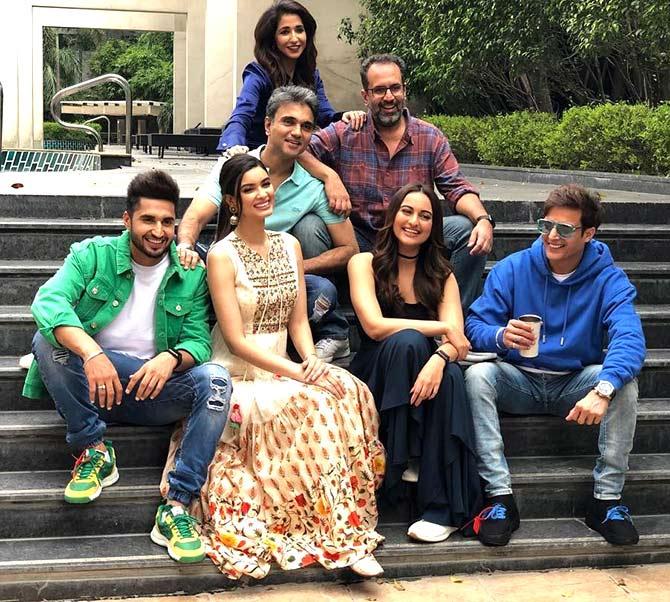 Doesn't it get boring to play the same characters again?
No. I toh love it.
We are not doing it every day.
Also, people have loved the character.
And you want to take it to the next level.
If I have to choose between Happy 1 and 2, I will choose the second.
Even if I am not a part of the movie as an actor, I would want to produce it.
You always end up losing the girl.
Only when I lose the girl does the story move ahead.
If I get the girl, how will the movie work?
And these guys tell me first only -- either take the girl or take the dialogues (laughs).
I say, give me the punchlines, leave the girl.
People have fun with the dialogues.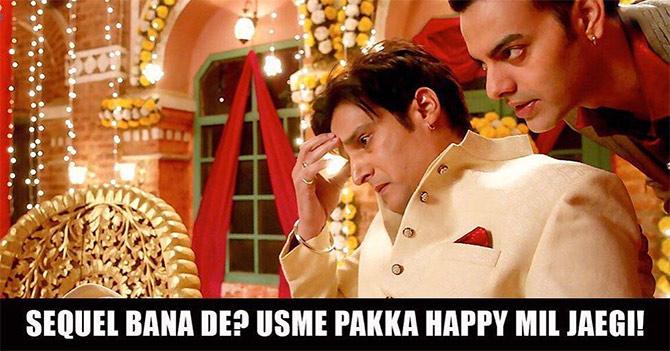 Your swag is different in each character you play. How do you get it different every time?
This is the fun of acting.
Luckily, this is back-to-back, so you can tell the difference.
I like surprising people.
In Saheb Biwi Aur Gangster, I was different. In this, I have changed completely.
No one can tell this is the same guy, and that's when you can enjoy as an actor.
That's exciting for me.
I started the year playing an evil guy in Mukkabaaz.
Then, I played Saheb with swag and now, a chichora Bagga in Happy Phirr Bhag Jayegi.
That's the fun of it.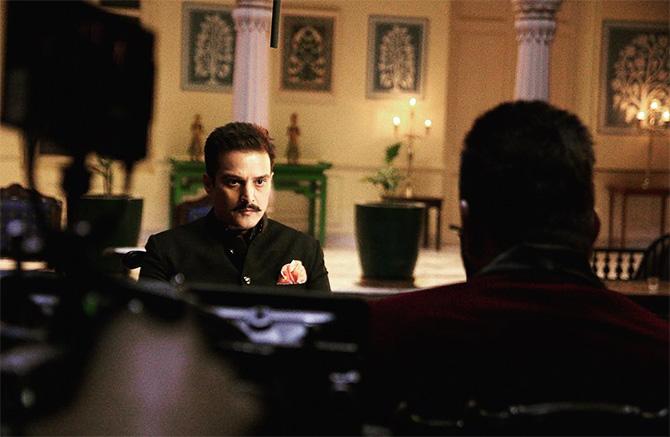 Is there any genre you want to explore?
I want to keep doing lighter films.
I try to have fun even while doing serious movies, but the hard work is different in a serious movie.
When do we get to see you in a romantic film like Mohabbatein?
Even I want to see myself in a romantic film.
If I get a role like that, I will put in that kind of effort.
But no one is giving those sort of characters (laughs).
They offer me mature characters for which I have to grow a beard or moustache, or put on weight because of which I look old.
If someone gives me a younger role, it will be fun.
I do get approached, but they are those done-to-death roles and films.
When I did Mohabbatein, I knew I didn't want to get stuck in that zone.
I used to be approached with films in lead roles, but in a bid to different, I always would pick up characters that would interest me, even if it was a supporting one.
That's my crazy side.
Maybe because of that, people ran away.
If you make a place for yourself as an actor, the longevity increases.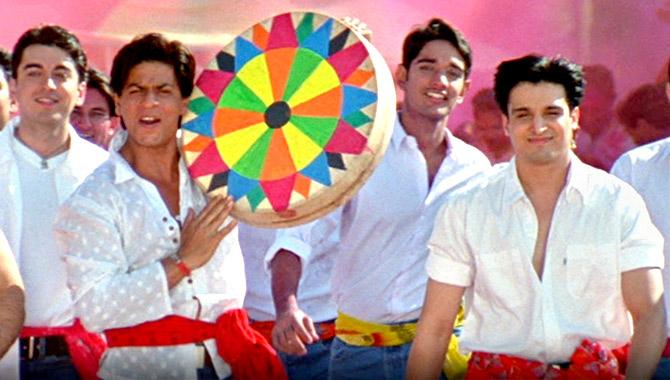 Do you think you have got your due as an actor in Bollywood? Or do you think you are still under-rated?
I take it as a compliment when people say I am under-rated.
No one says I am over-rated, which is a good thing (laughs).
I feel whatever you ask from life should be well thought out.
When I was doing Maachis, I used to ask God that people should love me as an actor and never think that I am a bad actor.
Now I feel I should have asked for something more too (laughs).
I am thankful to God that no one says I am a bad actor.
After Mohabbatein, I read tags like 'lover boy' or 'chocolate boy' for me.
I thought if this is how it will continue, then I will be sitting at home in a few years.
That is when I picked up different films like Haasil, A Wednesday, Yahaan, Charas, Munnabhai MBBS...
These films kept changing my image.
It was a conscious thing, though at that time, I did feel nervous.
I did not want to be stereotyped in a particular image.
As an actor, I can only choose the best of what is being offered to me.
For instance, I wouldn't have got the Happy sequel had I not done the first part.
I did the first movie because I thought I had never done this sort of a character before.