'What I see in Bollywood is that there's this assembly line -- there's a lyrics writer, there's a composer, then there's playback singer who is selected on mutual discussion, and then there's a producer who oversees the entire thing.'
Grammy-winner Ricky Kej would rather make his own music than pander to the Indian film industry.

His recent Grammy win, for his album Winds of Samsara, may have put him on the global map, but 33-year-old Bengaluru-based musician Ricky Kej has always found it difficult to explain what he *really* does for a living.

By his own admission, since the music scene here is largely dominated by films in India, Kej had to compose for three Kannada films so he could tell people that he was a music composer.

In this interview to Rediff.com contributor Paloma Sharma, the talented musician explains why he'd never compose music for a big banner, his meeting with music legend Hans Zimmer, and what the Grammy means to an independent musician like him.
Did you expect a Grammy nomination for Winds of Samsara?
No. We were hoping for the usual stuff, that it spreads far and wide and lots of people listen to it.
We were hoping that the critics also like it, because that would sort of validate the musicians in us.
We were fortunate that people liked the album enough to purchase it. That's why we were number one on the Billboard charts and we actually stayed in the top 10 for 12 weeks. We are very, very successful in America.
The Grammy seemed to us like an unattainable dream. When we got the nomination, it was a shock!
What did it feel like when they announced your name as the winner?
It was an extremely surreal feeling. It's the biggest award in the world when it comes to music.
I was not nervous until the time we actually sat down in the auditorium because that's when you see your musical idols passing by in the aisles or sitting around you.
Who did you call first with the good news?
The most important person is my wife, who was sitting beside me when it was announced.
After I finished the press interactions, I telephoned my colleague Vanil, at my studio.
He was involved in almost every song, in the sense that he engineered and played a couple of instruments on the album. He was the first person I called.
How did you celebrate your win?
There was a Grammy after-party which is like the mother of all after-parties.
It's unbelievable how huge it is (laughs). It was bigger than the biggest concerts I've ever seen!
It was huge and was held in the LA convention centre. We celebrated up to 2 am.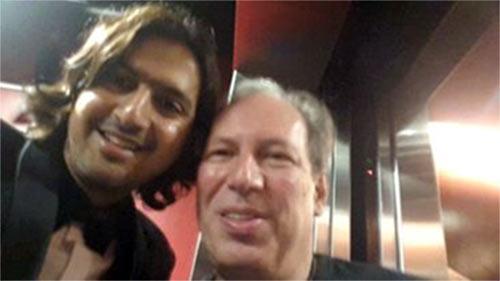 Image: Ricky Kej with Hans Zimmer at the Grammys.
Apart from the award, what is your best memory of the night?
Meeting Hans Zimmer.
After I won the award and was taken backstage for the press interactions, I saw from the corner of my eye, Hans Zimmer getting into the elevator backstage.
I wondered if I should approach him or whether it would look too stupid because I'd just won a Grammy and I was acting like a fan boy (laughs).
Luckily for me, Hans Zimmer stopped the lift and turned towards me and said, "Congratulations."
I immediately ran to him and told him I wanted a selfie with him and he said "sure."
That's a great memory.
Which designer were you wearing on the red carpet?
I was wearing a Bangalore-based designer, a guy called Bassam.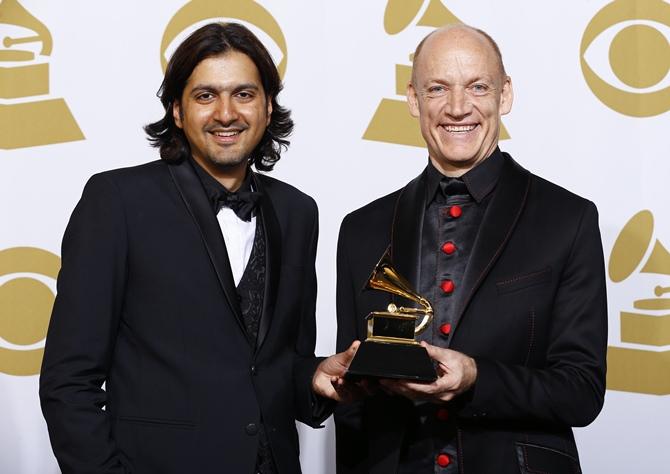 Image: Ricky Kej and Wouter Kellerman. Photograph: Mike Blake/Reuters
What was the inspiration behind Winds of Samsara?
Three years ago, I met (African flautist) Wouton Kellerman. We struck a chord when we talked about Nelson Mandela and Mahatma Gandhi.
He's a huge fan of Mandela and I'm a fan of Gandhi. We realised Gandhi had spent the first half of his life in South Africa and Mandela was heavily inspired by Gandhi.
We decided to write a song about Mandela and Gandhi.
While we were doing that, it was so much of fun that we kept sending each other more and more compositions.
We also travelled all over the world together -- to Europe, America, South Africa, Australia and India.
We recorded several different musicians all over the place. It took us two years, and our album was ready.
Indians are celebrating your Grammy but not many have actually heard your music. How do you feel about that?
(Laughs) Well, that is quite disappointing because especially on radio, I get tons of interview requests and they're not even playing my music.
So I'm like what's the point of me even being on your station? I want people to listen to my music.
I have stopped doing interviews on radio because the precondition is that if you play my music, I'll do the interview otherwise I'm not going to do it.
Some radio stations cannot play anything but film music. It's ridiculous that only in India everything to do with music is associated with the film industry.
When I say that I'm a musician or a composer, the first question I'm asked is, which film have you composed for.
Do you think Indians will ever look beyond Bollywood?
It's difficult to say because the Bollywood content is really, really good quality.
The music is very catchy, the productions are of international standards, and it's right up there with any of the best music producers in the world.
People like Vishal-Shekhar, Pritam, Shankar-Ehsaan-Loy are awesome.
At the same time, what's lacking in Bollywood is music that is created from the heart.
In the West, you look at any artist -- like John Meyer or Adele -- each time they fall in love or break up with somebody, they write a whole album about that.
Sam Smith won his fourth Grammy this year. In his acceptance speech, he said that he would like to thank his ex-boyfriend for breaking up with him because that was why he wrote this album and won four Grammys!
What I see in Bollywood is that there's this assembly line -- there's a lyrics writer, there's a composer, then there's playback singer who is selected on mutual discussion, and then there's a producer who oversees the entire thing.
Everything is created like it is a factory and nothing is created from the heart.
You have worked on Kannada films...
Yes. Too many people were asking me what I do, and it was becoming very difficult to explain. So I met with this brilliant Kannada film director called Ramesh Arvind and did three films with him.
Now if somebody asks me what I do, at least I can say I'm a music director.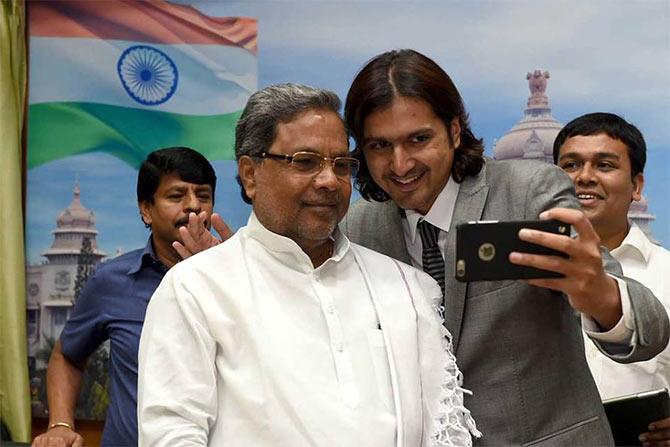 Image: Ricky Kej takes a selfie with Karnataka Chief Minister Siddaramaiah. Photograph: Ricky Kej's official Facebook page
Are you satisfied with the work you did on these films?
I am satisfied that I went by the brief that was given to me.
But I'm not exactly satisfied with the music I've done because I could have spent all that time and energy making better music, which was not associated with the movie, but which came from the heart.
I've taken a break from doing it because it's not something I'm interested in doing.
If a major production house like Yash Raj Films or Red Chillies asked you to provide music for an out-and-out masala Bollywood movie, would you do it?
No, simply because my music is not like that. The bigger the banner is, the more I would distance myself from it.
But if somebody wants to use my existing music for a movie, and even change the lyrics, they are free to do so.
The Grammy win has validated everything I've been doing up until now. It's almost like somebody has pointed a finger at me and told me that I'm doing a good job by not doing commercial music. To actually sign a big banner film is going contrary to what the Grammy has given me.
If anybody asks me now what I do, I'll say I'm a Grammy winner (laughs).
You are based in Bangalore but you are an American citizen?
Yes, I'm an American citizen but I've got an overseas citizenship of India so I'm basically a dual citizen.
Which country or culture do you identify with more?
Definitely, India. That's why I'm still living here.
I'm never going to move away from Bangalore. My music is very heavily Indian.
If I want to continue with my form of music then I have to work with musicians in India.
Are your parents from Bangalore?
No. My mom is Punjabi and my dad is Marwari. They lived in America for much of their lives.
They moved to India when I was eight years old and chose Bangalore because it was the only city where we had no relatives (laughs). They wanted to have a quiet life!
Who influenced you when you were growing up?
My biggest influences are Nusrat Fateh Ali Khan and Peter Gabriel because they were never afraid to experiment.
Another person, obviously, is Pandit Ravi Shankar. It's because of people like him that people like us can do Indian music abroad.
He sort of opened the doors for all of us and single-handedly brought Indian music to pop culture in the western countries.
Then, there is A R Rahman. Every single composer, singer, musician, without exception in India, has been influenced by him. Anybody who says that they haven't been influenced by him is lying.
Do you remember the first cassette you owned?
Yeah, it was Michael Jackson's Thriller.
Every Indian who has been introduced to English music has been introduced through Michael Jackson, at least in my generation.
I completely wore out that cassette.
Were your parents musically inclined?
My father listened to a lot of music. He had the largest LP collection I've ever seen.
After LPs, there was this thing called 8-Track cartridges. He still has one of the largest 8-track cartridge collections I've ever seen. He used to collect music.
Can you share an instance in your life that had a lasting impact on your music?
One would be watching (Pakistani rock band) Junoon for the first time on television.
At that time, I used to play in a rock band in school and our minds were not expansive enough to understand what Junoon was all about.
I was completely mesmerised by the Sufi vocals with rock guitars, tabla and bass guitar. Suddenly I started realising that music does not need to be defined by genres.
You can just do anything as long as the emotional response is strong enough and whatever message you're trying to give through your music is being felt strongly.
With Junoon, there's a message in every single song. You could easily feel that every song was written from the heart. That's why they were so successful.
When did you decide to become a professional musician?
Around the time I was in the 11th and 12th standards. I decided that I wanted to do this full time.
You were playing with your band then?
Yeah, it was called Angel Dust. I didn't form the band; I joined five years after it was formed. I was the youngest member of the band, at 19.
I was a keyboard player at that time. I had no professional training.
It was much later that I decided I needed formal education and I started going for piano classes.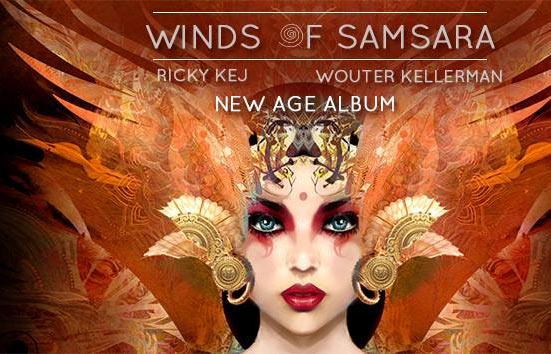 Image: The Winds of Samsara album cover
Why the degree in dentistry if you had decided so early on that you wanted to be a professional musician?
Music was not seen as a valid profession. My parents were very against me taking it up as a profession.
I had to strike a deal with my father that I would finish a dental degree and then get into music full time.
That's exactly what I did. I didn't practice dentistry for even a single day.
What are you working on right now?
Nothing actually (laughs).
The Grammy has turned everything topsy-turvy. I'm concentrating on that and trying to give Winds of Samsara the best chance possible to get heard everywhere in the world.
On a more personal note, did Mrs Kej become your manager or did your manager become Mrs Kej?
My wife became my manager.
Varsha was working as the marketing director of a television company in Bangalore. After that, she joined a PR firm as an assistant vice president. So she had a pretty good career in marketing and public relations.
After we got married, we had to travel a lot for my work so she took a break from her career.
I asked her to work for me because she would be an extremely good addition to my company. In this kind of job you require someone whom you can trust implicitly. Things have been fantastic after she joined.